Written by Clare Isabel Ee | Images provided by Asia-LatAm Connection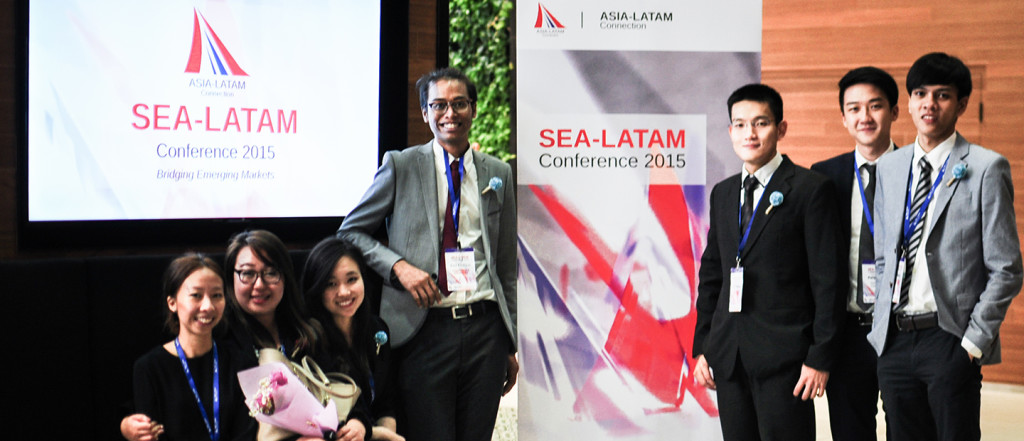 100 executives from small and medium-sized enterprises (SMEs) gathered on 14 September 2015 at the Singapore Exchange (SGX) Centre for the inaugural Southeast Asia – Latin America Conference (SEA-LATAM) 2015.
Themed 'Bridging Emerging Markets', it was organised by the Asia-LatAm Connection (ALC) in partnership with the Latin American Chamber of Commerce, and the INSEAD Emerging Markets Institute as the official knowledge partner.
ALC was founded by two Yale-NUS students, Sheryl Foo and Shermin Chan (Class of 2017), whose mutual interest in SMEs, global business trends and emerging markets led them to conceptualise SEA-LATAM.
"This conference establishes our first foray into bringing together business leaders, government and trade representatives and thought leaders," said Sheryl, Founder and Director of ALC and an Environmental Studies major.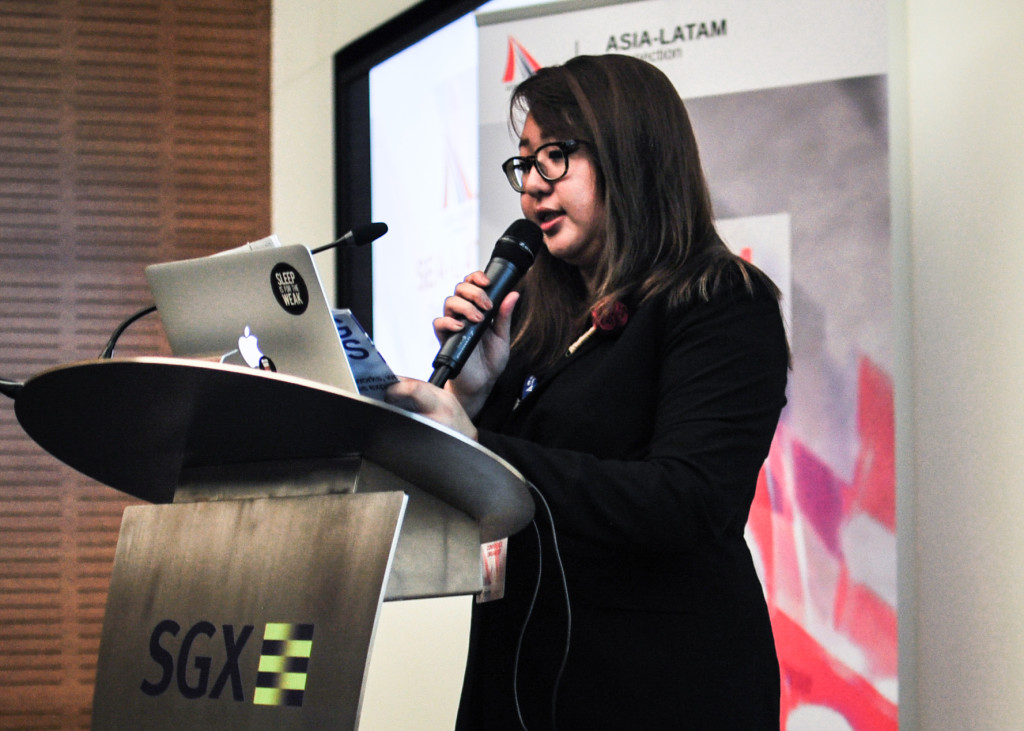 Sheryl Foo (Class of 2017) giving her welcome remarks. 
In her welcome remarks at the conference, Sheryl expanded on the benefits to be gained from having such a platform for discussion.
"More Singapore-based companies have looked at expanding their markets in Latin America, to diversify their operations and skills," she said, "and many early movers have successfully shifted their values and activities to these competitive markets."
She added: "With the rapidly-developing, inter-regional government engagements such as the Pacific Alliance and the ASEAN economic community, there is no better time to follow suit."
The day's programme featured panellists and speakers who shared valuable insights on the new opportunities available in emerging markets. The prolific speakers came from various high-profile companies and organisations, including DHL, Proctor & Gamble (P&G), Kensteel Group, ProMéxico, the Asian Trade Center, and Ernst & Young.
Mr Emmanuel Daniel, Founder and CEO of the world-renowned The Asian Banker, remarked in his opening address: "When we look at Latin America and parts of Asia, we do not necessarily look at countries that are middle income or high income, there are opportunities to be found in countries that are low income, depending on where in the value chain you want to play."
It was a theme echoed throughout the rest of the day, with panels focused on 'Emerging Business Opportunities', 'Business Development Strategies in Emerging Markets' and 'Insights into Financial Issues for SMEs'.
Latin American ambassadors to Singapore also graced the conference, namely His Excellencies Luis Fernando Serra (Brazil), Rogelio Granguillhome Morfín (Mexico), Jairo Hernandez Milian (Costa Rica), Manuel Gerardo Talavera Espinar (Peru), and Singapore's Non-Resident Ambassador to Peru, Mr Giam Chin Toon.
ALC is composed of seven students from local universities: four from Yale-NUS College, two from Nanyang Technological University (NTU) and one from the National University of Singapore (NUS).
Official sponsors for the conference include SGX as the official venue sponsor, P&G and DHL. Other official supporters include the ASEAN Business Advisory Council, the Singapore Indian Chamber of Commerce & Industry, the Asian Trade Centre, Kensteel Group, and the Singapore Embassies of Brazil, Costa Rica and the Republic of Peru.
The next edition of the SEA-LATAM Conference will be held in early-2016 in Mexico City. Stay tuned to the ALC website for more details!