By Lim Wei Da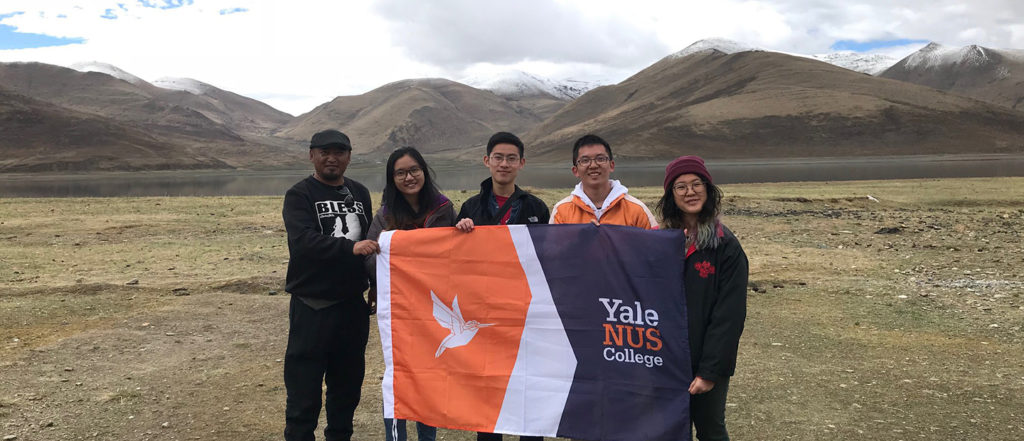 Image provided by Yeo Rui Qi.
Over the summer, one group of Yale-NUS students went to China for a travel fellowship and another went to Greece for a writing fellowship with the goal of exploring a new horizon or academic pursuit.
The Travel Fellowship and Writing Fellowship programmes are both offered by the Centre for International & Professional Experience (CIPE) to encourage students to craft their own journey.
This year, Ng Yi Ming, Cheong Zi Gi, Yeo Rui Qi, and Joseph Han (all from the Class of 2021) were awarded the Travel Fellowship for 'Lives Well Lived', a project that examined spirituality in Western China, including Sichuan, Shaanxi and the Tibet Autonomous Region.
Aided by insights from Common Curriculum modules such as philosophy, sociology, and literature, the quartet travelled for a month to discover what a life well lived meant in these contexts. From multi-day hikes to high speed railways, travelling became an avenue for introspection, allowing for the co-creation of ideas and experiences with fellow travellers.
Joseph, who plans to major in Philosophy, says, "My experience has strengthened my conviction that any deep investigation of life at the fundamental level must involve philosophy. The trip helped me better understand the relevance of philosophy to real life."
"The experiences I had on the trip have drawn me to the idea that the ultimate meaning is to be found in our ordinary human existence. We can adopt the spirit of traveling without setting foot outside our home country; we can embrace the spirit of religion without believing in any transcendent entities. With the right mindset, meaning can be found in the smallest and humblest of things."
During his trip, Joseph felt that he was able to interpret his experiences in connection with thinkers from the Common Curriculum such as Confucius , Mencius, Nietzsche and Arendt.
"I really appreciated the many opportunities for quiet contemplation. There were some budding thoughts – about life, and the world in general – that I had been stewing over for a while. I think the trip was instrumental in helping those thoughts mature, and in forming them into a coherent worldview that was truly my own."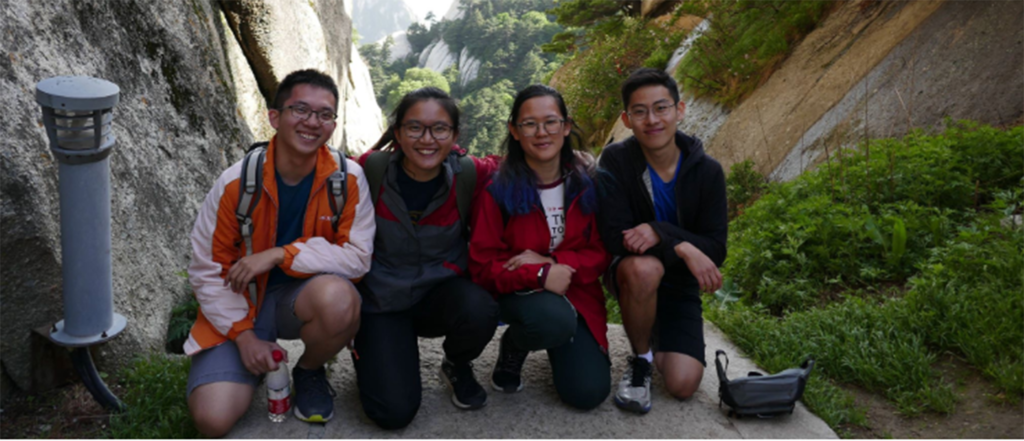 Yi Ming, Rui Qi, Zi Gi, and Joseph at Mount Hua, Shaanxi. Image provided by Yeo Rui Qi.
Yi Ming, who is president of the student organisation Ashen Light: Yale-NUS Astronomy, feels the travel fellowship has made him more passionate about life and the cosmos.
"Travelling for a month through China and witnessing how people construct a good life for themselves gave us priceless insights into how to live life well. From everyday experience, I learnt to identify what really matters through introspection. I witnessed the importance of living with principled adherence to values to shape a better world for all – and to live life while appreciating every moment."
One person he met really stood out—a man who worked at the Huayan Temple in Chongqing. "He talked about finding the balance between the passionate pursuit of dreams and taking care of oneself. He believes that we are all like candles in that our happiness in life comes from sacrificing ourselves to light others up," Yi Ming said.
After their travel fellowship, Yi Ming and Zi Gi were inspired to set up the Stargazer's League, a semester-long programme to teach Yale-NUS College students the basics of astronomy.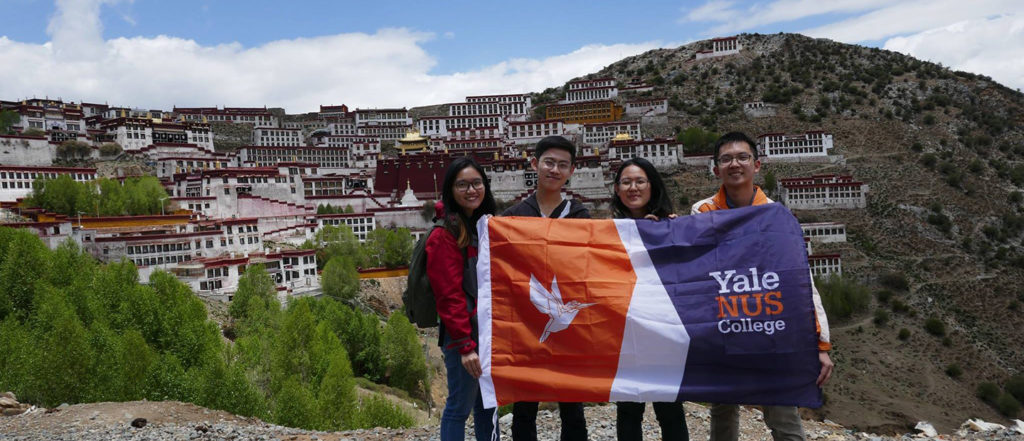 Rui Qi, Joseph, Zi Gi, and Yi Ming holding the Yale-NUS flag high at Ganden Monastery, Tibet. Image provided by Yeo Rui Qi.
Besides exploring the Common Curriculum, the other group of students also travelled overseas to hone their writing skills at the Writing Workshops in Greece programme, offered under CIPE's Writing Fellowship.
"The Writing Fellowship is an incredible experience that I will hold dear for the rest of my life," said Adeline Loh (Class of 2021). "When we first arrived at Thasos in Greece, our programme director told us that our month here would be 'spiritually devastating', and I remember laughing quietly at the table, unsure of what my time there would bring. And he turned out to be right – I was transformed on the island in so many ways."
One example was being immersed in a daily workshop which, although challenging, was also a chance to try different writing styles. The experience enabled her to grow as a writer and inspired her to keep developing her writing skills while at Yale-NUS College.
"Having the space and time to work on my writing in a quiet, natural environment allowed me to deeply reflect on what I wanted my writing to be and how I wanted it to reflect myself. My professor for poetry was also incredibly patient in guiding me through the writing process. I'm so grateful to have had this experience, and I think I really will spend the rest of my life missing my time on the island."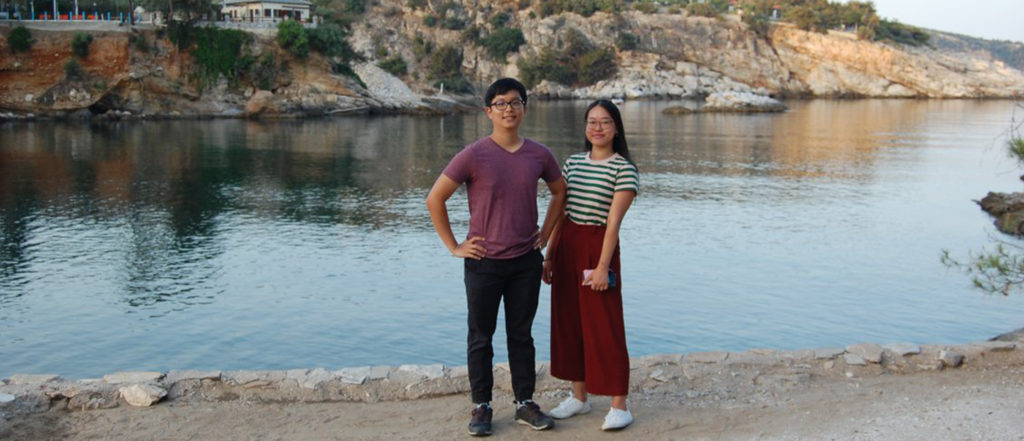 Adeline Loh and Wen Xianda, who both participated in the programme. Image provided by Adeline Loh.