By Melissa Wang | Image by Alyson Rozells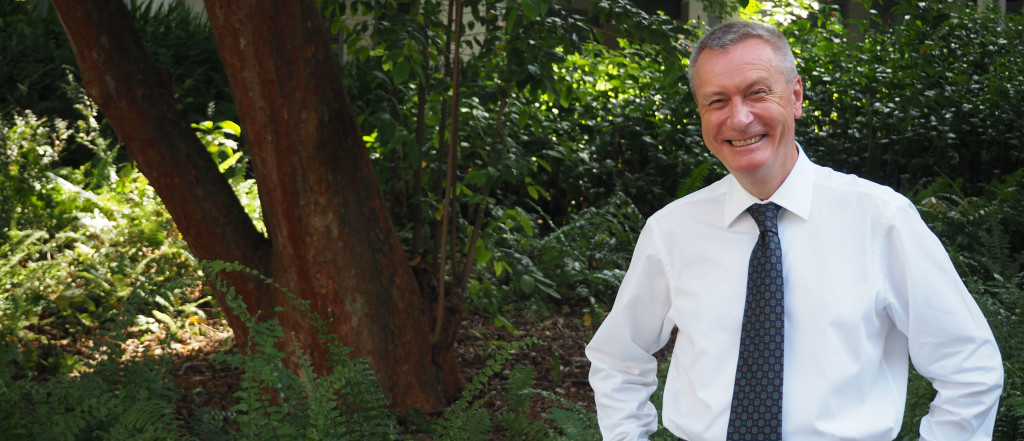 In December 2016, Yale-NUS College welcomed Mr Ronald Milne, Yale-NUS' first Dean of Educational Resources & Technology (ERT). In his role, Dean Milne helms the College's largest staff department, providing leadership to four key areas: the Library, Educational Technology, Arts & Media, and Information Technology (IT) Services. Dean Milne will lead the team in providing for the College's ERT needs, and aims to proactively develop more robust capabilities to further support learning, teaching and research within the College in all four areas of ERT.
With over 30 years of experience working in research libraries, Dean Milne's wide-ranging career has seen a particular interest in collaboration across universities and in the development of library collections. His extensive library experience will help him to better understand the needs and priorities of a young college like Yale-NUS, and find the best solutions that ensure the College community is well supported in its work.
Executive Vice President (Academic Affairs) Tan Tai Yong said, "Ronald has deep and extensive experiences managing large libraries and complex organisations. With his knowledge, experience and network, he will be able to help build the College's library resources and also link us up with major collections in Singapore and beyond."
While he hopes to rapidly build up a Library with more extensive collections to do this, Dean Milne also highlighted the wealth of resources that the College is able to tap on.
"We have to be sensible about collection development and take account of resources, both electronic and print that are already provided, in particular, by NUS libraries," he noted.
Dean Milne will also be looking into developing a robust IT infrastructure within the College. Other priorities include optimising the use of technology in existing College facilities, including classrooms and the various arts and performance spaces. This, he hopes, would enable the College community to make full use of the rich resources available on campus.
While he has separate goals for each of the four key ERT areas, synergy across them will also be one of Dean Milne's most immediate priorities.
"I intend to provide leadership and vision for the whole of ERT, such that we work cohesively as a team. Good communication, top down, bottom up and across the team is essential," Dean Milne surmised.
Professor Tan is confident that Dean Milne will be able to do this, and attested to his strategic vision and leadership, as well as considerable managerial skills.
"He is a good bridge-builder, and will be working closely with faculty, staff students to optimise the use of our resources to support education, research and co-curricular activities in the College."
As the work of ERT affects all aspects of the College, Professor Tan highlighted that Dean Milne will play a major role in shaping policies and operational processes.
This is Dean Milne's second stint in Singapore. Earlier this year, he was based here for six months, when he took up the George Lyndon Hicks Fellowship at the National Library, Singapore where he worked on a framework for the development of the Library's Singapore and Southeast Asia collections.
Dean Milne said, "It was not only a special library experience for me, but also introduced me to Singapore, and to the history and cultures of the city-state and the region."
Originally from Scotland and having lived the past seven years in New Zealand, Dean Milne is a lover of the outdoors and has scaled many mountains, including the highest peaks in the North Island of New Zealand. His spirit of adventure also led him to try working on an oil-rig for six months, prior to his career in research libraries. No stranger to (extreme) changes in environment, Dean Milne is looking forward to a fulfilling experience at Yale-NUS.