By Dodi Yap | Images provided by the Yale-NUS Dean of Students' Office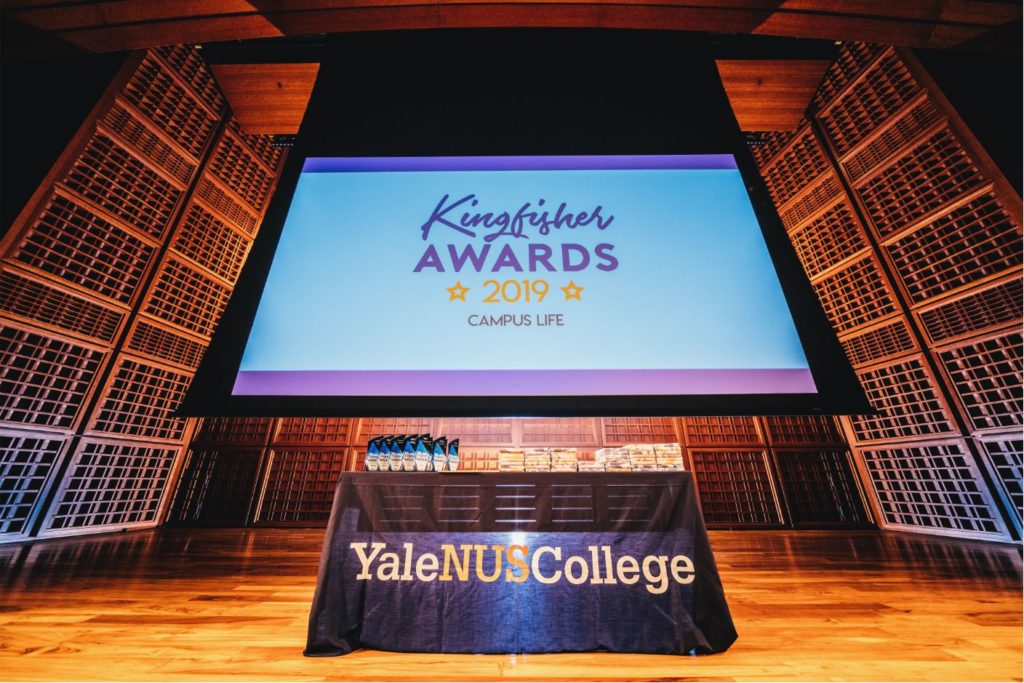 Contributions at Yale-NUS rarely go unnoticed. From sports, special interests, community services to campus life, Yale-NUS offers many opportunities for individuals to contribute to the community while pursuing their interests. These contributions are recognised on both formal and informal levels.
The Kingfisher Awards is one such avenue to recognise the community's achievements. Organised by the Dean of Students Office (DoS), this annual student leadership event recognised staff, student leaders, student organisations and athletic teams for their dedication, commitment and leadership in serving their peers and contributing to campus life. Awards were based on nominations by peers or mentors, which were then evaluated by the Kingfisher Awards Evaluation Committee, comprising faculty and staff members.
Inaugurated in 2018, the Kingfisher Awards held its second annual award ceremony on 24 April 2019. A total of 162 nominations were received across 15 categories, including Outstanding Student Organisation, Student Organisation Leader of the Year, Student Athlete of the Year, and Commitment to Community and Social Change.
It is not an easy task to manage academic and extra-curricular activities concurrently at Yale-NUS, yet student organisations are the lifeblood of campus life and require planning, hard work and dedication to keep running. In recognition of this, the Student Organisation Leader of the Year Award was presented to Dion Ho Jia Xu (Class of 2021), who is the editor of Yale-NUS Lit Collective, senior writer for Yale-NUS student publication The Octant, and Vice President of the Yale-NUS Astronomy Club, Ashen Light.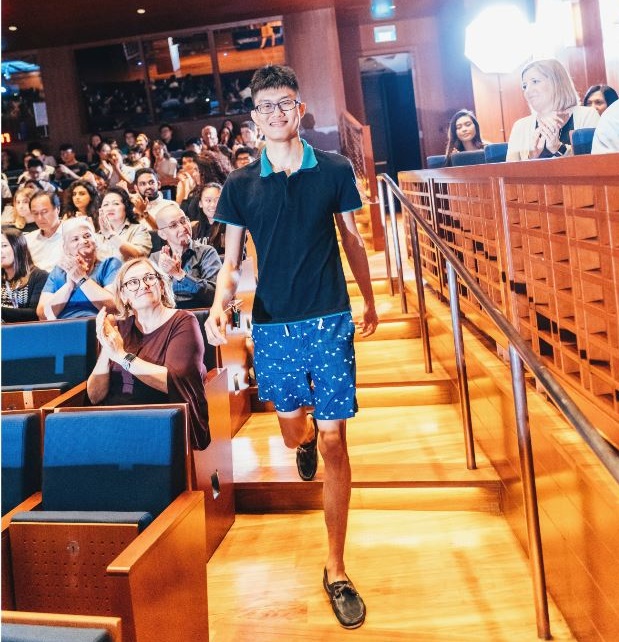 "I am delighted to receive this award as it acknowledges the effort and time I have invested in student organisations over the past two years. The nomination itself is very meaningful as my peers recognise the work I have done," said Dion.
In his leadership roles, Dion introduced exciting events and collaborations among student organisations. This includes the UTown Space Festival, a collaboration between Ashen Light and the National University of Singapore (NUS) Astronomical Society. The event featured a Planetarium Cosmos Show and a stargazing event, drawing participants from both Yale-NUS and the wider NUS community.
"It has not always been easy, but I think the results have proven to be worth it," he added.
One of the hallmarks of Yale-NUS students is their dedication to making the world a better place. Lee Xin Run (Class of 2019) was recognised through the Commitment to Community and Social Change (Individual) Award for her enthusiasm and effort in issues concerning the environment.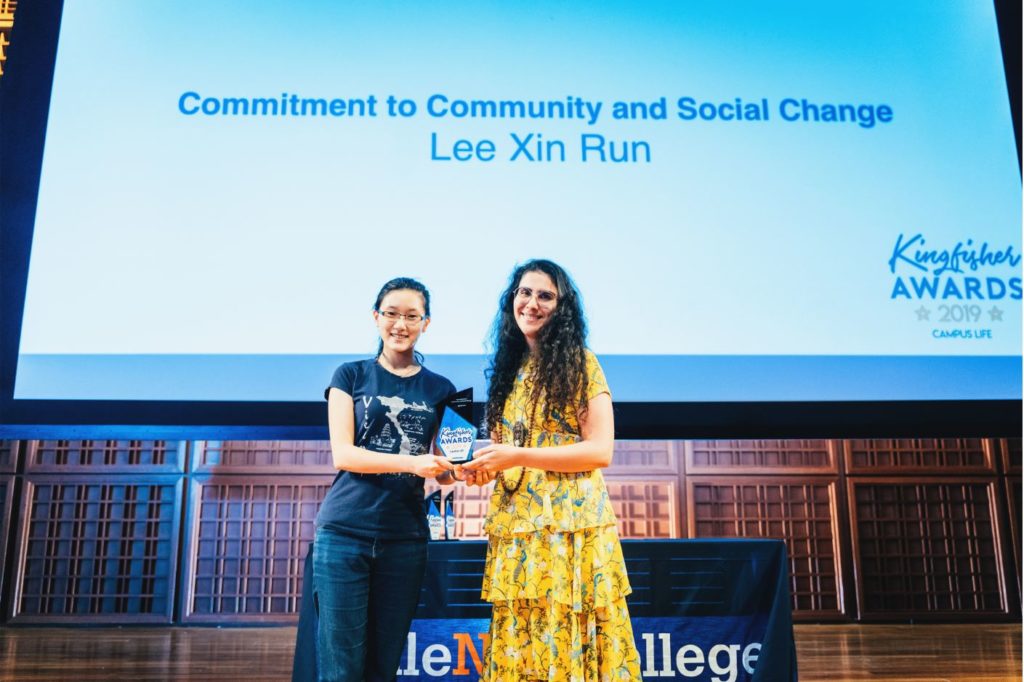 Xin Run's contribution to the community is not something new. Throughout her first three years in college, Xin Run has been involved in the Chilli Padi Academy (CPA), a week-long environmental accelerator programme under I'dECO, the Yale-NUS Sustainability Movement. CPA aims to mentor and empower youths from Southeast Asian countries to become leaders in the environmental scene, and has attracted students from Indonesia, Malaysia and Philippines.
Together with her team, Xin Run oversaw curriculum planning, communications with environmental partners to organise field trips, and other logistics matters for CPA.
"Unlike other student organisations, CPA does not have a fixed leadership structure. All of us have to be aware of our own responsibilities, and this expanded my ability as a leader. I must thank my team, students, and various administrative staff who have contributed their time to exchange perspectives on environmental issues with me."
Xin Run's contribution in CPA has opened up many other opportunities for her. To build on her knowledge and experience in environmental matters, she was able to take part in the 24th Conference of the Parties to the United Nations Framework Convention on Climate (COP24) to understand how negotiation and governmental systems work to address climate issues.
Besides student achievements, the Kingfisher Awards also celebrated staff and faculty achievements. Mr Anthony Wong, Specialist Associate, Building & Facilities Management at the Infrastructure, Safety & Security Office, was honoured with the Unsung Hero Award at the event.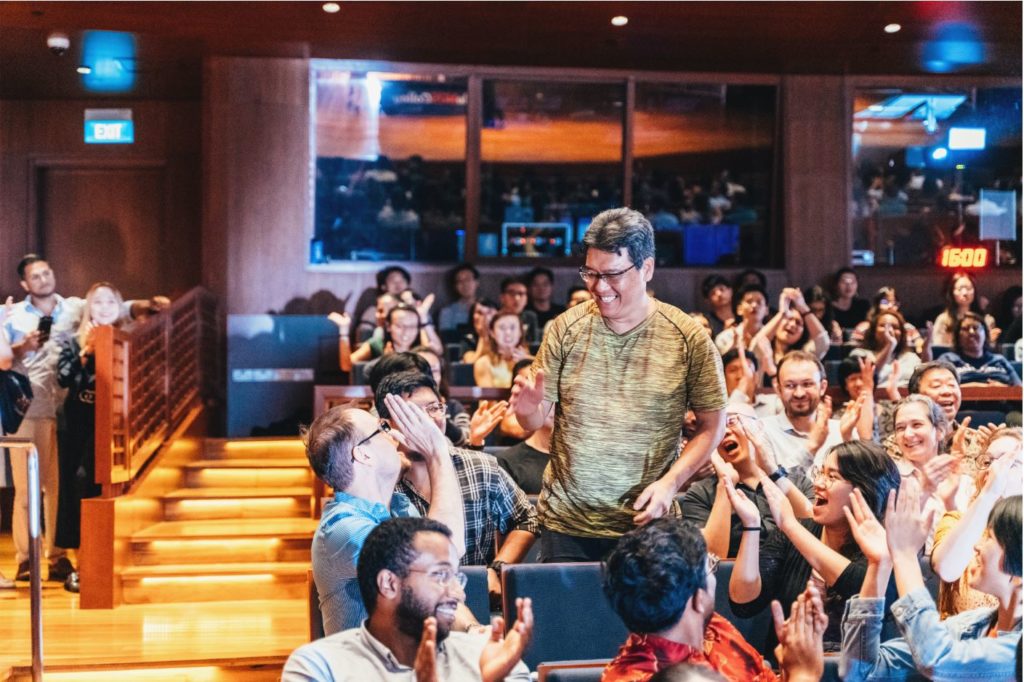 "There are no regular working hours for me. Being on the maintenance team means we have to respond to cases at any time, and that means I am still working even when I am home. However, I use my passion as a guiding motive in my life to help me find a work-life balance," he said.
Apart from assisting in student-related events such as capstone presentations and project exhibitions, Mr Wong has also been involved in the FunOpen Culture Committee (FOC) at Yale-NUS to organise social and bonding events for staff members, including a service project with a community centre in Yishun. He also volunteers in his neighbourhood community in his spare time.
"Since starting work at Yale-NUS in October 2016, I have had a lot of opportunities to be on the front line to contribute directly to students' living experience. I consider Yale-NUS as my second home and the students as my children; I am excited by the different ways I can assist students and watch them grow from the experience," said Mr Wong.
The full list of award categories and winners is as follows:
| Award | Winner |
| --- | --- |
| Outstanding Student Organisation | Yale-NUS Ballroom Society |
| Outstanding Student Organisation Programme | Yale-NUS Debate Society; Yale-NUS Easter's 2019 |
| Outstanding Athletic Team | Basketball (Women) |
| Outstanding Athletic & Recreation Programme | Zumba |
| Commitment to Community and Social Change | Lee Xin Run (Class of 2019) |
| Outstanding Social Impact Programme | Yale-NUS Afro-Society (YAS) |
| Commitment to Diversity and Inclusion | Kristian-Marc James Paul (Class of 2019) |
| Distinguished Residential Life Leadership Award | Sim Gek Theng, Danielle (Class of 2019) |
| Student Organisation Leader of the Year | Ho Jia Xu Dion (Class of 2021) |
| Athletic Captain of the Year | Kurumi Ota (Class of 2021) |
| Student Athlete of the Year | Alexander Christopher Horne (Class of 2021) |
| Student Associate of the Year | Charmaine Chua Wei Ying (Class of 2021); Yang Wei Jian, Daryl (Class of 2019) |
| Advisor of the Year | Neil Mehta |
| Unsung Hero Award | Anthony Wong |
| Distinguished Student Leader | Pang Wei Han (Class of 2019); Lum Xin Hui, Jolene (Class of 2019) |