Written by Sheryl Foo | Images provided by Jeffrey Tong
"Young people like you have to be the ones who lead us forward." – U.S. President Barack Obama, quoted on the YSEALI website.
At Yale-NUS, we are grooming leaders for tomorrow through programmes, fellowships, and learning experiences. The Centre for International and Professional Experience (CIPE) offers a variety of such initiatives for students to learn from and discover their interests and abilities.
The Youth Southeast Asian Leadership Initiative (YSEALI) is one of several external fellowships that CIPE pursues and manages a close relationship with for Yale-NUS students. The five-week YSEALI programme was held on the campus of a U.S. College and included academic residency, leadership development and opportunities to engage with American peers, policymakers, governmental representatives and businesses.
This summer, Yale-NUS students Sheryl Foo and Jeffrey Tong, Class of 2017 and 2018, were the only two Singapore academic fellows in a contingent of 200 participants from the ASEAN region.
Sheryl shares her observations and reflections from the trip.
–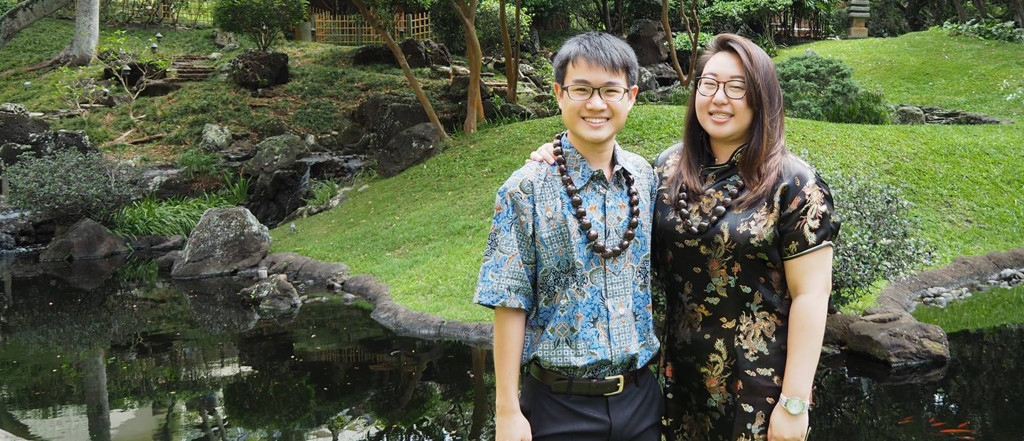 Jeffrey Tong (Class of 2018) and Sheryl Foo (Class of 2017), Singapore academic fellows for the YSEALI programme.
If someone were to tell me I would meet President Barack Obama at the age of 22, I would have laughed disbelievingly. However, this summer has turned out to be one of the most amazing experiences of my life. I was accepted for the US Department of State's YSEALI Academic Fellowship, and was one out of only two Singaporeans selected.
An intensive leadership-training programme for young Southeast Asian leaders, YSEALI is President Obama's signature programme. Being his last term in office, the Department of State arranged for all YSEALI 2015 Fellows to have a town hall session with him.
The programme was administered by the East West Centre, which follows the guiding principles of collaboration, expertise and leadership. These skills were imparted to us during the course of the programme, which took place in three different states, Hawaii, Colorado and Washington, D.C.
We first spent three weeks at the University of Hawaii where we learned to collaborate with other ASEAN youth leaders on workshops and projects. Despite the diversity of the cohort, we collaborated and succeeded in projects, which imparted lessons and skills in conflict resolution and negotiation. Stages in America's environmental history and development formed the content of our leadership course, particularly the problems and issues. Our mentors encouraged us to analyse and critically explore if Southeast Asia is following a similar trajectory, and discuss what could be done about it. This is in stark opposition to the common rhetoric that Southeast Asia should learn and apply wholesale from more developed regions. We were encouraged instead to craft our countries' own solutions suited to our contexts.
We received training on environmental leadership, conflict resolution, negotiation skills, case studies analysis, and exposure to public policy and regional issues. My team won two out of three business plan competitions, and we led the third one, which was very well received. These learning experiences taught me how to work with people from vastly different cultures and perspectives. We also had skills-based learning exercises and led other learning workshops for our peers, which aimed to simulate real-life negotiating exercises.
Hawaii is a beautiful state and an inspiring environment to learn in. There were many opportunities for us to explore the underlying stressful sentiments between the local natives and mainland Americans, as the annexation of Hawaii happened in recent American history. The conflict between development and preservation of local culture and history was very apparent, and is something we can learn from as developing countries in ASEAN focus on economic development. The important lessons that I learned were not taught in the classroom, but in conversations off-campus, on long drives with the local Hawaiians, and learning across the boundaries of time and geography in the beautiful historical sites.
In Colorado, we learned how to collaborate with external stakeholders to develop and manage expertise. Each team was matched with partners in the Boulder community. I worked with George Watt's architectural firm to create a workshop for the rest of the cohort. We worked closely to share lessons gleaned from Watt's game-changing architectural design of a community, aptly called "holiday neighbourhood". Concepts learned in environmental studies class came to life as I observed how small, face-to-face communities generate better overall human interaction, and greater consciousness of energy use and environmental conservation.
In Washington DC where we met with President Obama and the US-ASEAN business council, we were presented with many opportunities for dialogues and interactions with key stakeholders. I was also interviewed by Channel NewsAsia and was present at the Voice of America press release for the programme. As such, I benefited from the extensive professional opportunities offered by the programme.
As a result of the exposure, mentorship, connections, and the experience in development work I gained during my stint in the US, I am currently organising a conference to bridge the two fastest-emerging markets in the world, Southeast Asia and Latin America. The ASEAN-LATAM Conference 2015 aims to provide a platform for dialogue between the two developing regions, since official bilateral regional relations have not yet been established. I am inspired by ideas that change the way we live and the way we see the world, and this conference is a first step towards charting new paths in cross-regional dialogue, and strategic work for the future.
The YSEALI Academic Fellowship 2015 has been an exhilarating and transformative experience personally, academically, and professionally. I am grateful to CIPE, the US State Department, the East West Centre, all mentors, and particularly the Georgette Chen Trust, for enabling my future.