By Kelly Ng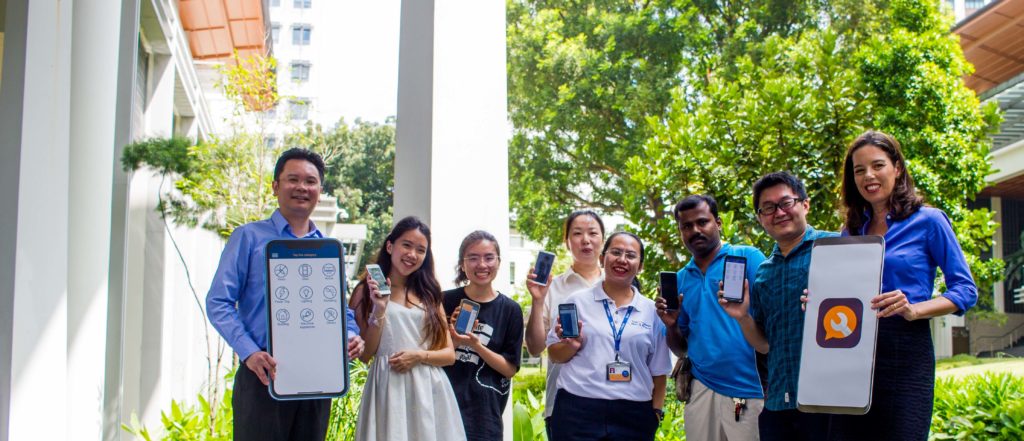 Image by Saksham Mehrotra for Yale-NUS College 
In light of an increasingly digitised and knowledge-based economy, Singapore introduced its Smart Nation initiative, which aims to drive pervasive adoption of digital and smart technologies in the economy. As a college committed to innovation and the spirit to pioneer new ways of doing things better, Yale-NUS College has also made headway towards creating a 'Smart City in a Campus'. In January 2019, the Infrastructure, Safety & Security Office did a pilot roll-out of the 'myInfra' mobile application.
Created for the Yale-NUS community, myInfra is a "snap and send" mobile app that allows users to conveniently and immediately report building defects such as water leakage or fused lightbulbs to the Infrastructure team. Users can also opt to communicate in real-time with the designated officer and be apprised of all the updates leading to the defect turnaround. The fundamental rationale for this mobile app is two-pronged: to increase the efficiency of the defect turnaround system and enhance customer service delivery.
Mr Dennis Aw, Director of Infrastructure, Safety & Security Office, who drives the 'Smart City in a Campus' initiative, noted that the average defect turnaround time was 19 days when he first joined in 2016. The College had just moved to its newly built permanent campus in 2015 and the team was busy settling into the new space. The turnaround time improved to around six days after the implementation of a semi-automated system which used a combination of existing programmes like Microsoft Excel, calendar invites and mobile messaging to register, track and follow-up on feedback.
"We conceptualised the mobile app in early 2017. The mobile app amalgamated all the features of the semi-automated system. Today, after rounds of beta tests and improvements to the mobile app, the average defect turnaround time is less than one day," Mr Aw said.
The team is now focused on scaling up customer service delivery by providing more tools and channels for the College community to communicate, track progress and work in tandem with the Infrastructure team to solve problems more swiftly. For example, there are plans to introduce a chatbot into the app to schedule repair appointments almost immediately without any human intervention. However, the execution of this will be contingent on the volume of app utilisation and feedback from users.
During the two-year development phase of the mobile app, Yale-NUS students played a role in providing constructive feedback. In 2017, the Infrastructure, Safety & Security Office organised a roadshow to introduce the concept of the mobile app, and solicit feedback and ideas from staff and students. A beta version of the app was then tested by several students in 2018. Since its official introduction this January 2019, students have also expressed their satisfaction of the app's augmented ease and efficiency.
"I've used it since the start of this academic year, and it's an incredibly user-friendly interface. I use it to ask Infra [Infrastructure, Safety & Security Office] for help and they always reply really quickly," said Ignacius Tay (Class of 2019).
Echoing her thoughts, Scott Chua (Class of 2020) added, "The myInfra app is not only a sign of the Infrastructure Office's commitment to innovation, but also of its dedication to serving the Yale-NUS community's needs, whether big or small."
Mr Aw also highlighted that Yale-NUS College "presents an excellent ground for the app to flourish due to its demographics, a fully residential model and a very encouraging senior leadership team that persistently advocates innovation and the building of resilience". With more than 1200 students, faculty and staff who hail from more than 60 countries in the world, one gets a broad range of likes, dislikes and preferences when it comes to communication styles and expectations. The mobile app thus provides a convergent platform for this myriad of preferences and expectations to be collected in one site and analysed.
"With the collection of such data, we are able to carry out data-analytics readily. Future versions of the app are likely to include a suite of other features leveraging off artificial intelligence and algorithms that can help us advance predictive maintenance," added Mr Aw.
The attractiveness of Yale-NUS College as an optimal testbed for other smart initiatives has also appealed to industry experts. In 2017, the College signed a Memorandum of Understanding with Surbana Jurong Pte Ltd, a Singapore-owned consultancy firm that focuses on infrastructure and urban development. According to Mr Aw, the firm was looking for a partner who shared a like-minded vision for innovation and had a "suitable physical environment and dynamic cohort of thinkers and doers to test-bed their ideas".
Since the signing, the partnership has allowed the College to leverage on their expertise to pilot new technologies. An example of this is the Yale-NUS Smart Elevator System, which involved the addition of the 60GHz wireless solution in the lift monitoring system's sensor boxes on campus. In contrast, the conventional 3G/4G connection could only transmit a limited amount of data. With greater bandwidth and a higher speed of connectivity (more than 10X the speed of Wi-Fi), more data can be collected in real time. The data is then used to improve the elevator systems through the identification of patterns linked to faults and usage, and the development of algorithms to tackle these.
With the upgrade, the College would reduce recurring operational costs and spending on subscription plans. The new setup also provides more opportunities in the ways data transmission can be tapped on, such as interfacing with other smart applications and solutions. These include the potential for a centralised surveillance and alert system, and technologies such as bio-metric and threat recognition to be integrated in buildings' security systems to enhance safety and security. These innovations could potentially extend beyond Yale-NUS College, should they prove to be scalable and sufficiently robust.
"Although the campus is small, our daredevil sprit and commitment to innovation can result in practical solutions that can be replicated at a larger scale," said Mr Aw.