By Joshua Wong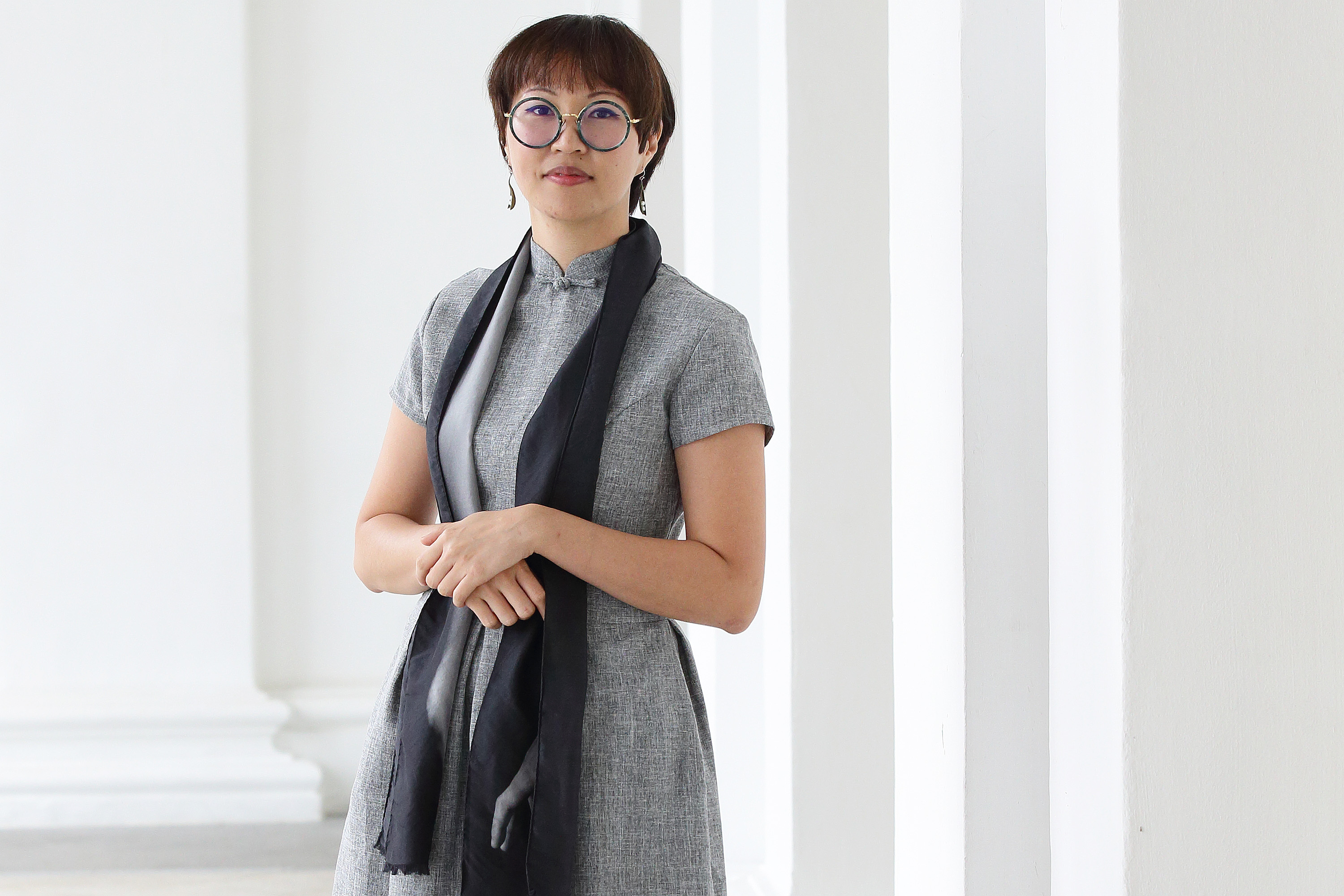 Dr Yanyun Chen. Image provided by National Arts Council of Singapore.
Flipping a coin seems like a haphazard way to decide one's life trajectory, but that was precisely how Lecturer of Humanities (Visual Arts) Dr Yanyun Chen determined to pursue art instead of mathematics for her undergraduate studies. "Obviously, at this point, I can no longer count," she said.
Yet that does not seem to matter. Last week, Dr Chen was among four artists who received the Young Artist Award, one of Singapore's most prestigious arts accolades. Administered by the National Arts Council (NAC), the Award recognises the artistic excellence and potential of local artists aged 35 and below who have made a positive impact on Singapore's arts scene, and comes with a $20,000 grant to further the recipient's work.
"The Young Artist Award marks a milestone in my journey: it gives me confidence and support that the path I have walked thus far is a solid one, and that I continue to push forward. I am very grateful for the doors it may open, humbled by the recognition it brings, and encouraged to keep my feet on the ground to keep on keeping on," said Dr Chen.
While the Award may be the latest and brightest feather in her cap, Dr Chen is no stranger to recognition. She received the Prague International Indie Film Festival Q3 Best Animation Award earlier this year, the ArtOutreach IMPART Visual Artist Award in 2019, and the Singapore Art Museum President's Young Talents People's Choice Award in 2018, to name a few.
Her notable projects include Women in Rage, an animated short film co-directed with fellow Singaporean artist Sara Chong reimagining the stories of mythical female characters including Medusa, Pontianak, Rokurokubi, Venus, and Lilith commissioned for the 2019 Women in Film and Photography Short Film Programme, and Scars that write us, an installation about genetic keloid scars that run in Dr Chen's family, commissioned by Singapore Art Museum for the 2018 President's Young Talents' Programme.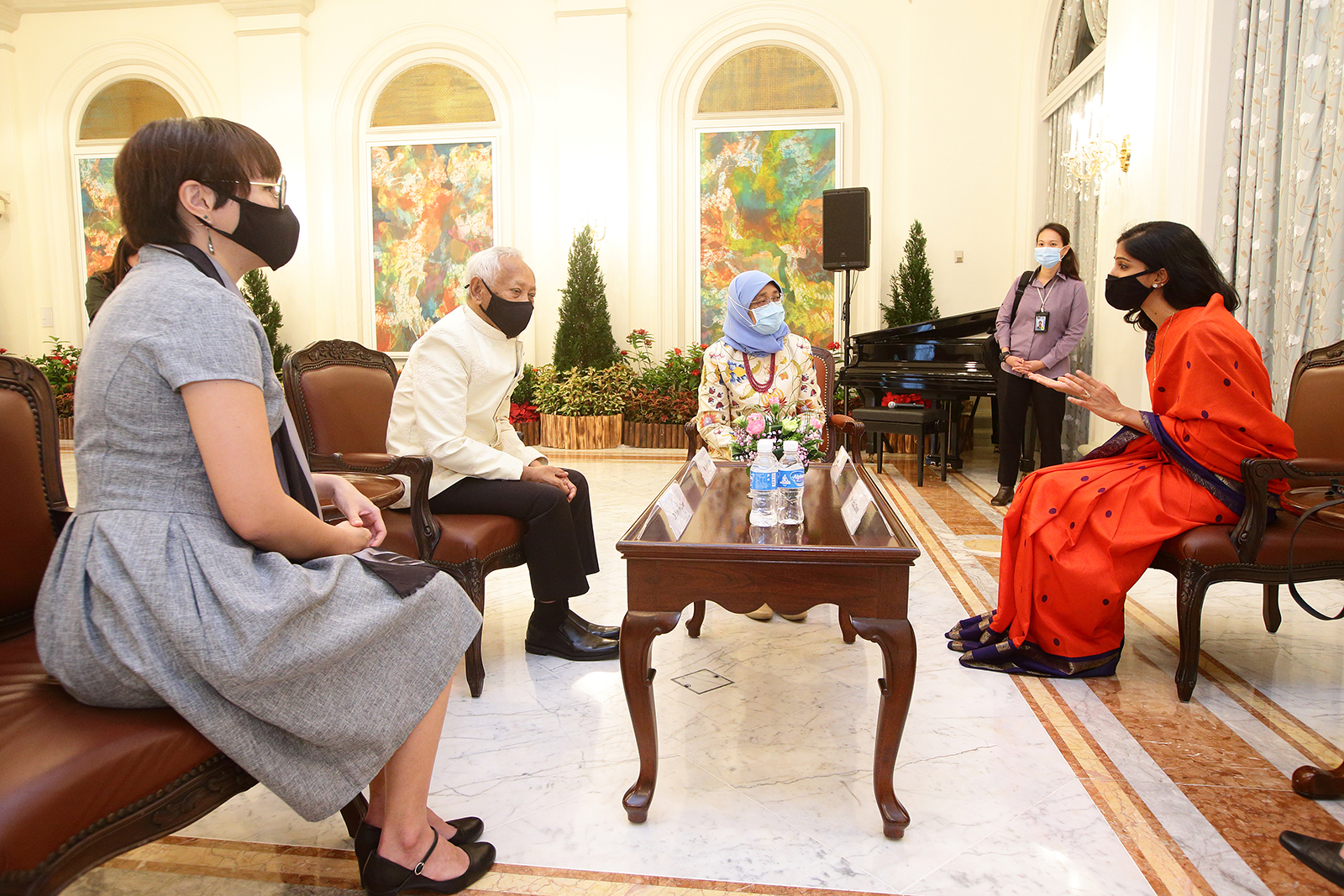 Dr Chen (far left) in conversation with President of Singapore Mdm Halimah Yacob (third from left) and other award recipients at the Istana, the official residence and office of the President of Singapore. Image provided by National Arts Council of Singapore.
Beginning as an escape from the pressures of school, drawing became a craft that Dr Chen devoted more and more time to honing. This path, and a fateful coin-toss, eventually resulted in a BFA in Animation from Nanyang Technological University, and an MA in Communications and PhD in Philosophy, Art and Critical Thought from the European Graduate School.
"A lot of my works respond to literature and philosophy, and I have recently discovered how much gaming, comics and animations have influenced my storytelling approaches," said Dr Chen. "Spending time with the thinkers at European Graduate School opened a space of questioning and layering of thought which was unfamiliar to me previously. At the same time, I was honing my drawing craft at Florence Academy of Art in Gothenburg, Sweden. Those years of pursuing thought and craft are what I harness today to create my works."
Dr Chen joined Yale-NUS College as a part-time lecturer in 2015, eventually becoming a full-time faculty member in 2018. "Yanyun brings a unique fourfold to everything she does at the College and in the local community: self-effacing modesty as a person and a colleague; surefooted mastery as an artist; the capacity to guide and inspire as a teacher and mentor; and the critical acumen – as a scholar and historian – to bring about a much-needed conversation between the body politic and the female body as refracted by art in Singapore," said Professor Rajeev Patke, Director of the Division of Humanities at Yale-NUS, who also wrote a recommendation letter to the NAC regarding Dr Chen's suitability for the Award.
Dr Chen herself finds great meaning and value in being part of the intellectual and artistic community at the College. "I thoroughly enjoy working with the students at Yale-NUS, who have taught me so much about courage and vulnerabilities, persistence and drive, love and care for a community. It is also a fertile space for exchanges in thought and research with the diverse faculty involved at the College, and for collaborations to grow over time," she said.
Her latest such collaboration is with three artists – Alex Scollay, Corentin Debré, and Yale-NUS alumnus Jevon Chandra (Class of 2017) – on a virtual reality (VR) experience under the auspices of the National Arts Council's Digital Presentation Grant. Titled In times like these…, it utilises slow-motion, CGI graphics and exploding environments combined with a stereo soundscape, designed by Mr Chandra, to create an immersive experience for viewers, signalling an internal landscape during the pandemic lockdown.
When asked about what counsel she would give to aspiring young artists, Dr Chen is reflective. "I hesitate to give advice, especially since a major part of how I got here is by luck, friendships, persistence and hard work, and mad gambles," she said.
Instead, she passed on a nugget of wisdom from her mother: "It doesn't matter what you do; just pick something and become incredibly good at it. The rest of it will come, but it will remain 'the rest'."