Text by Jessica Teng Sijie | Images provided by Yale-NUS Southeast Asian Society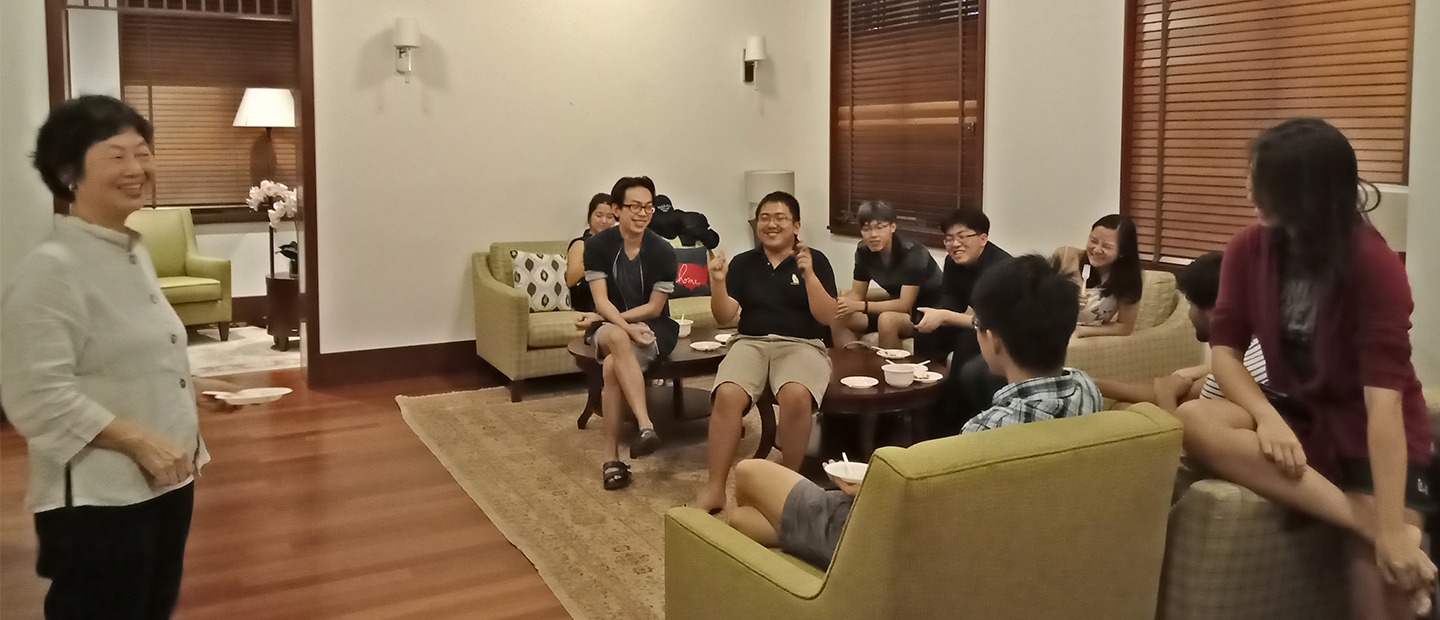 On 18 April 2018, Yale-NUS students gathered in the Cendana Rector's Commons, rolled up their sleeves and worked together to whip up Southeast Asian delicacies such as pad thai, cha kdav, nom plae ai, and sambal kangkong. Organised by the Yale-NUS Southeast Asian Society, the 'Southeast Asian Cooking Night' involved three chefs, nine participants, and many Yale-NUS students who dropped by for a taste.
"Food is the main star of this event because it best encapsulates the diversity that we have in Yale-NUS," explained Calvin Yeo (Class of 2020), who is the incoming President of the Yale-NUS Southeast Asian Society. "Southeast Asian food is very diverse. Different localities can use the same or similar ingredients, yet cook them in different ways." Additionally, Calvin observed that having a community come together to prepare and share a meal symbolises the forging of strong bonds among friends.
"The event also allowed us to tap on the rich human resources of the Yale-NUS community. We wanted to provide a platform for students and professors to share their culinary skills with their friends," Calvin added. So Kuon and Hanna Wdzieczak (both from the Class of 2021) and Sage College Rector and Associate Professor of Science (Life Sciences) Khoo Hoon Eng were the three chefs who stepped up to the plate.
As a Cambodian student at Yale-NUS and a self-described sous chef since her childhood, So Kuon believes that cooking is a great way to share her cultural background with her friends. "It brings home closer to them," she explained. So Kuon selected two of her favourite Cambodian recipes for the event – the cha kdav, a spicy chicken stir-fry dish, and the nom plae ai dessert, which is made from glutinous rice balls with palm sugar. "I chose the cha kdav because it is commonly eaten in Cambodia and activates many different taste buds with its sautéed lemongrass and chilli mix. Nom plae ai also tastes incredible even though it is a simple dish to make."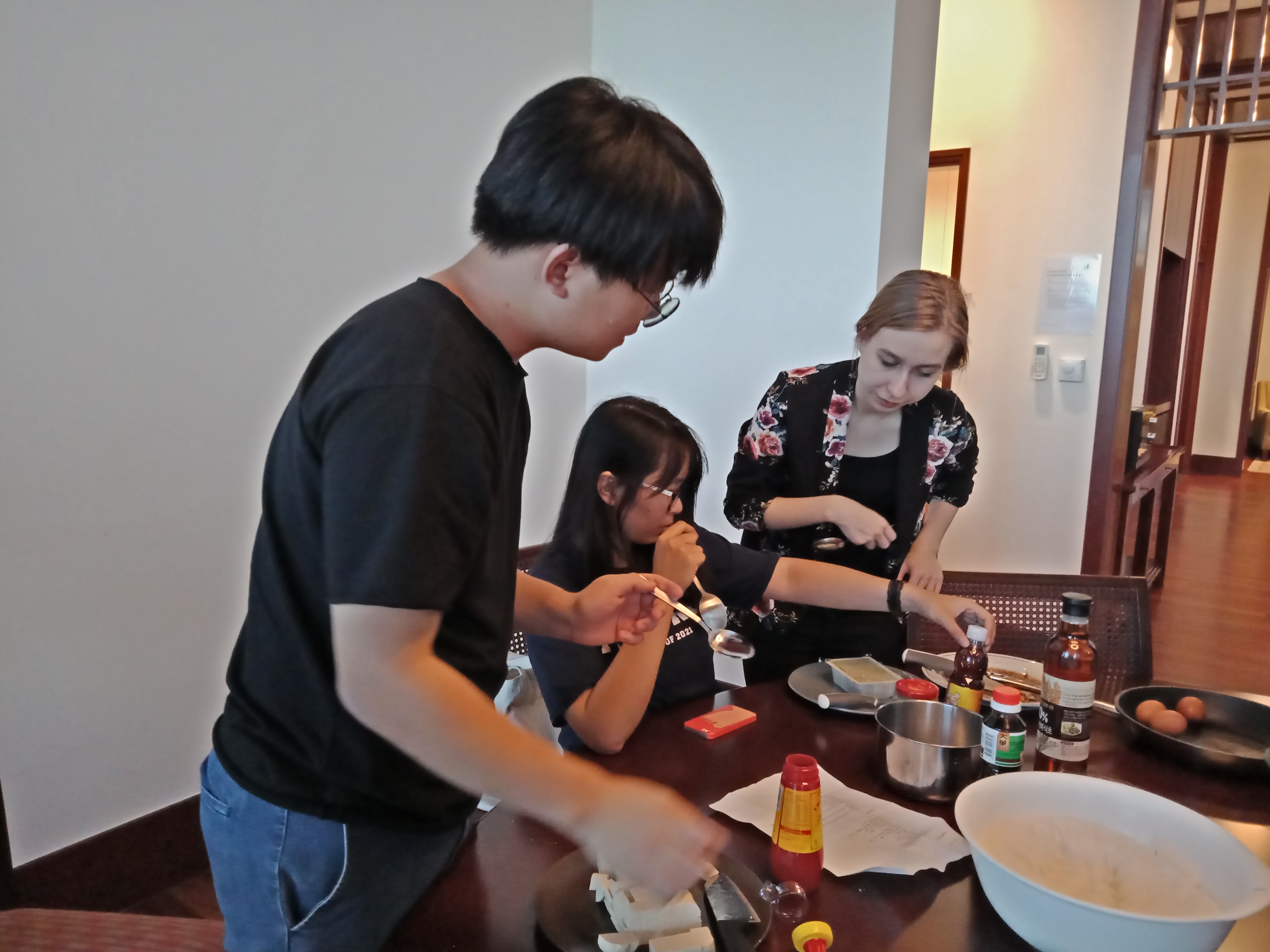 Hanna (pictured above, right) chose to teach her friends how to make pad thai, a popular Thai noodle dish that is vegetarian-friendly. The dish consists of tofu, eggs, bean sprouts and a distinctive sauce that is a mixture of tamarind paste, lime, vinegar, peanut oil and sriracha sauce. For Hanna, pad thai is an example of how Yale-NUS has broadened her horizons. "I had never been exposed to Thai cuisine before coming to Singapore and the first time I tasted pad thai was in the Yale-NUS dining hall," she shared. "When I returned to Poland for the winter break, I looked up the recipe on various cooking blogs and cooked it for a friend."
Ingrid Saito Maciel, an exchange student from Waseda University, was one of the participants who helped with the preparation of the nom plae ai dessert. "I love cooking for my friends so this event was an exciting opportunity for me to bond over great food. The chefs also told us why these dishes were special to them, and these intimate stories made the experience even more memorable," she reflected.
Although Daniel Ng (Class of 2019) did not sign up as a participant, he enjoyed sampling the dishes cooked by his friends. He particularly liked the cha kdav cooked by the participants in So Kuon's group, which he described as spicy with a nice tinge of lemongrass.
Like Ingrid, Daniel observed that learning about the stories behind the dishes was the highlight of the event. "These stories made me think more deeply about the multifaceted role of food," he explained. Daniel cited the example of how Assoc Prof Khoo, who taught the participants how to cook sambal kangkong or stir-fried water spinach in chilli sauce, shared the story of how her mother taught her the recipe. The simple home-cooked dish is a reminder of close familial ties. "I also learnt why different types of ingredients were used, and tried my hand at pronouncing the names of the food in Southeast Asian languages," he added.
The Yale-NUS community can expect more Southeast Asian cultural events next semester. "We have a few events in the pipeline", Calvin shared. "We will be organising a batik (a technique of wax-resisting dyeing applied to whole cloth that originated from Indonesia) dyeing workshop, a Javanese massage workshop and a Southeast Asian coffee appreciation event." These events would enable the Yale-NUS community to learn more about the rich heritage and culture in the region.