Written by Wen Kin Lim | Image provided by Wayne Xu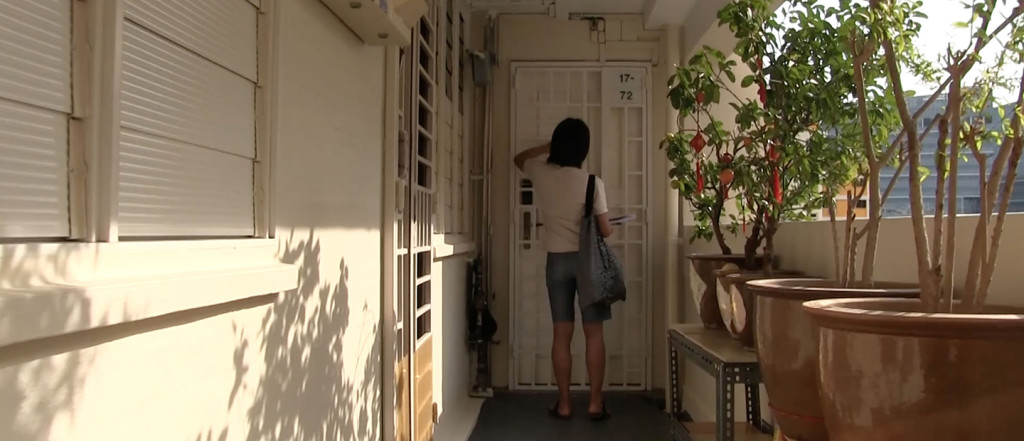 Dave Lim (Class of 2019) on a field survey at a HDB estate. 
Stacey Yuen (Class of 2017) was working on what seemed like just another college assignment for her Human Rights class. However, while searching for information on the 2013 Little India Riots, the topic of her paper, Stacey was struck by how challenging it was to find information on how foreign workers are managed in Singapore. This made her increasingly intrigued by migrant rights in Singapore and the levels of rights awareness among migrant domestic workers.
To explore her interest in migrant rights, Stacey took up the 2016 Summer Independent Research Programme offered by the Centre for International & Professional Experience (CIPE).
"For my project I aimed to quantify and study the levels of rights awareness among migrant domestic workers in Singapore to understand if any differences in levels of awareness exist across nationality lines, age, education, and other demographic variables," Stacey shared.
The programme gives students the opportunity to craft and propose a project for the summer with guidance from Yale-NUS faculty members. Assistant Professor of Social Sciences Anju Paul, who focuses on sociology and public policy, guided Stacey through her project and linked her up with several professional contacts from other universities and non-governmental organisations (NGOs) to further her research.
Stacey was not the only student who strove to learn more about pressing social issues that she witnessed. Employing what they learn through research to understand these social issues better, students at Yale-NUS can choose to do their own projects or contribute to a larger project led by a faculty member or another professional. For example, Ruchika Goel (Class of 2019) collaborated with Assistant Professor of Social Sciences Parashar Kulkarni, who specialises in political science, to lay the foundations of his research on gender rights of women in India and their relationship to religious belief and social status from 1871-1971. To do so, Ruchika stayed in New Dehli, India over the summer of 2016 to collect data from the National Archives of India. Explaining how her work will contribute, Ruchika shared, "The research will overlay patterns of occupational inclinations and land ownership by women in many districts of colonial India, and through observing the relationship between these features, across ethnic groups categorised by language, be able to state accurately of the status of women at that time."
The low faculty-to-student ratio of about 1:8 at Yale-NUS College means that students have more opportunities to work directly and closely with faculty members, which increases their chances to participate in research work which will be published. Another such student is Avery Simmons (Class of 2019), who collaborated with Assistant Professor of Social Sciences Chin-Hao Huang to study the Chinese Coast Guard (CCG). Being extremely interested in the international relations of East and Southeast Asia, Avery wanted to learn more about the issue of disputed islands in the South China Sea and how China is deploying the Chinese Coast Guard to assert territorial claims.
As the Chinese Coast Guard's work is relatively unknown, Dr Huang and Avery's research involved creating a database of all reported CCG activity since its establishment in 2013. Avery said: "It's actually quite exciting – our research paper really fills a gap in existing literature. No one else has done such a comprehensive study of what the Chinese Coast Guard actually does." Avery and Dr Huang are in the process of co-authoring a paper that they are submitting to an academic journal for publication.
CIPE also offers a Summer Social Science Research Programme, through which Celine Khoo (Class of 2019) chose to explore psychology in communication and technology, specifically how mobile and online dating applications affect the perceptions of partners. Celine's interest in the topic was sparked by a conversation with her friend about communication and technology, which she later brought up with her faculty supervisor, Assistant Professor Jean Liu, who encouraged her to pursue it in a research project.
"One of the things I like about Yale-NUS is that it gives students the opportunities to do research with a professor, which are harder to find at other larger universities," said Celine. With no previous research experience prior to the summer, she said that Dr Liu was patient in teaching her about psychology research and answering her questions. Celine's research, which she is continuing throughout the year, has complemented her Psychology course, helping consolidate her learning as she is able to apply what she learned in research to her class.
Several students, such as Dave Lim (Class of 2019) and Cheryl Cosslett (Class of 2018), also took part in Assistant Professor of Social Sciences Guillem Riambau-Armet's project, gathering information from residents living in Housing Development Board (HDB) flats in Singapore. Students were scattered across different HDB estates to interview residents using a one-page survey on a wide range of social issues.
One of the takeaways for Cheryl was how research often "starts with tedious and uncertain processes".
"You have little control over how much data you're going to get and how people's responses will be," she explained. "I think the experience was also valuable to prepare me for when I similarly need to do research, either for my capstone, or for my career in the future. This experience wasn't just about data collection; I gained a lot of insight on designing survey questions and also on the processes and bureaucracy of research."
"At a more personal level, this was a unique experience. Knocking on strangers' doors was scary and tiring at first, but I got to chat with some of the residents in more depth out of spontaneity and that was very refreshing!"
Find out more in the video below!