By Lim Tian Jiao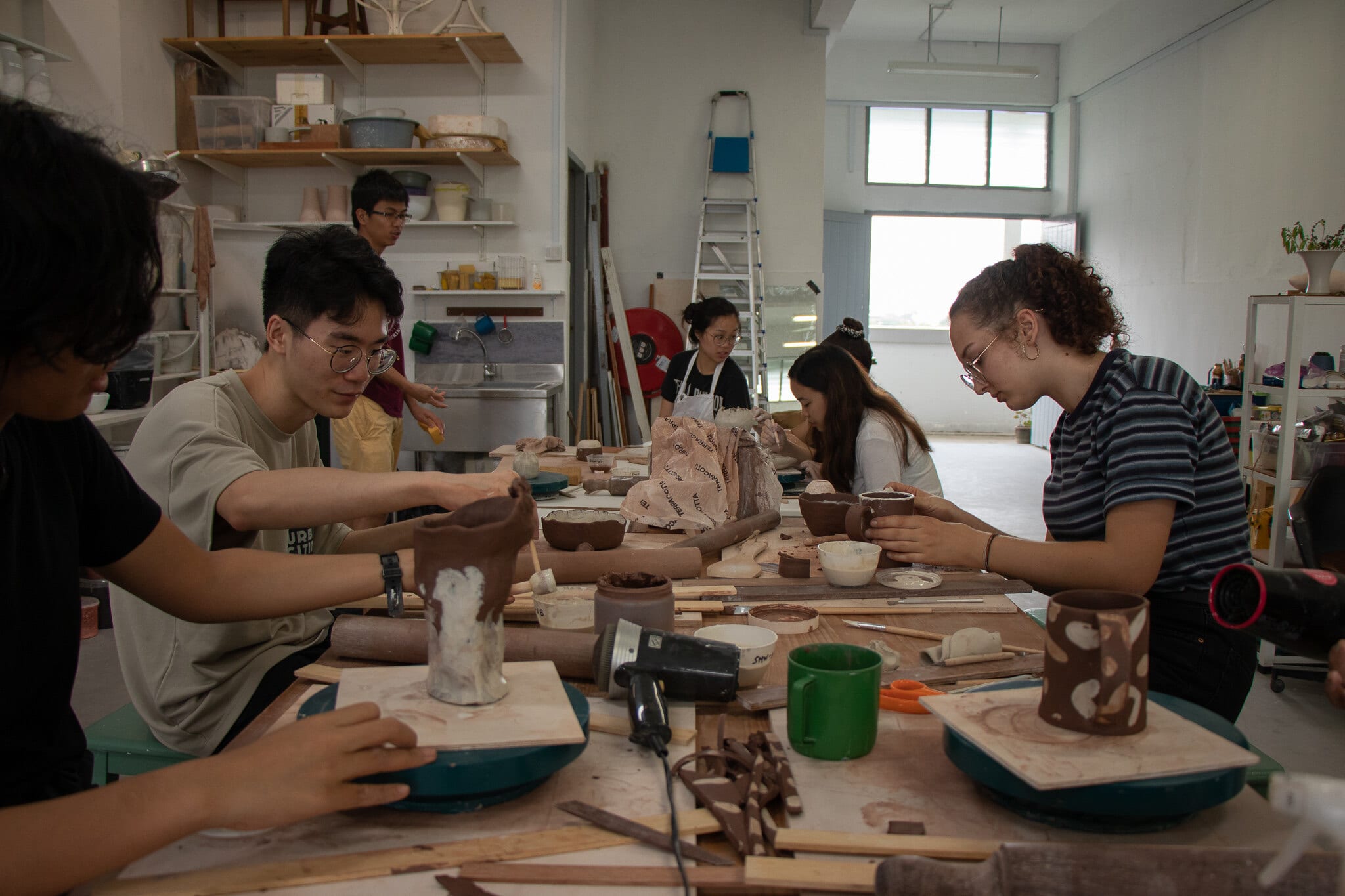 Photo by Yoon Sun Woo for Yale-NUS College.
 Every October, the Yale-NUS Visual Arts Society (VAS), a student organisation, organises Artober, a month-long series of visual arts-related activities open to the wider College community. Ranging from printmaking to pottery and museum exhibition tours to alumni sharing sessions, the varied line-up of events ensured that there was something for everyone.
Ruchel Phua (Class of 2022), VAS chairperson, explained that inclusion and involvement are constant objectives of every iteration of Artober.
"We want Artober activities to encourage participation in the arts," she said. "That's why we have a number of beginner-friendly activities such as clay jewellery workshops and art jamming sessions, to ensure that our programmes are accessible to people with no artistic background."
This sentiment was echoed by Yoon Sun Woo (Class of 2023), a VAS member who led a watercolour workshop. "Conducting this session is a way for me to share what I enjoy doing with other people," he said.
"Painting together with your friends is a really enjoyable experience, and I would like people to create more art, learn basic art skills, and have fun through these workshops."
In this spirit, Artober activities were carefully curated to cover a range of activities and artistic mediums. This gave participants a good sampling of the many art-related possibilities to explore, while acting as a gateway to art should they enjoy a certain medium and wish to explore it further.
The attractive selection of activities had attracted many participants with little prior experience in art.
"I've always wanted to become more involved in art, and this series is one way for me to do that," said Muhammad Firdaus Bin Abdul Karim (Class of 2023), who participated in a watercolour workshop. "Because it takes place at the end of a long day, this session is also a great way to simply have fun and de-stress."
Lim Yan Zhen (Class of 2023), who attended an Art Jam session with a friend, concurred.  "The Artober series seems like a fun way to explore making art on my own," she said. "Since it's held in an informal setting, with friends around, it is not very intimidating for people with no foundation in art to join in."
Yan Zhen also appreciated the way that Artober gave students an opportunity to engage in activities that they might not otherwise have considered.
"I'm looking forward to the Artober Pottery Workshop," she commented. "Pottery seems really interesting but lessons are usually quite expensive, so I've never tried it on my own. The Artober workshop is partially subsidised, so I jumped at the opportunity to go."
At the same time, some Artober activities also catered to participants with a more serious interest in art. For example, a talk with Yale-NUS Arts and Humanities alumni was organised specifically for students who are considering a career in art. Similarly, a guided tour of the Abstraction in Southeast Asia exhibit in the National Gallery, followed by a sketching workshop, was geared towards participants with more technical experience and specialised interests.
This year, all on-campus programmes were conducted by members of VAS. However, externally based events were made possible through additional financial assistance.
Funding from the Arts Spaces Committee, intended for arts programmes and activities, allowed VAS to conduct the pottery workshop. In addition, the Chen Chong Swee Asian Arts Programme, which aims to promote Singaporean and Southeast Asian Art, helped to fund the museum workshop on Abstraction in Southeast Asia, helping to broaden the scope of events held in Artober.
"We greatly appreciate this support, which allows us to expand the range of activities we can offer in Artober this year," said Ruchel. "In this way, the VAS is better able to craft a programme that appeals to more students and allows them to engage with art in a meaningful way."