By Meddley Bourdeau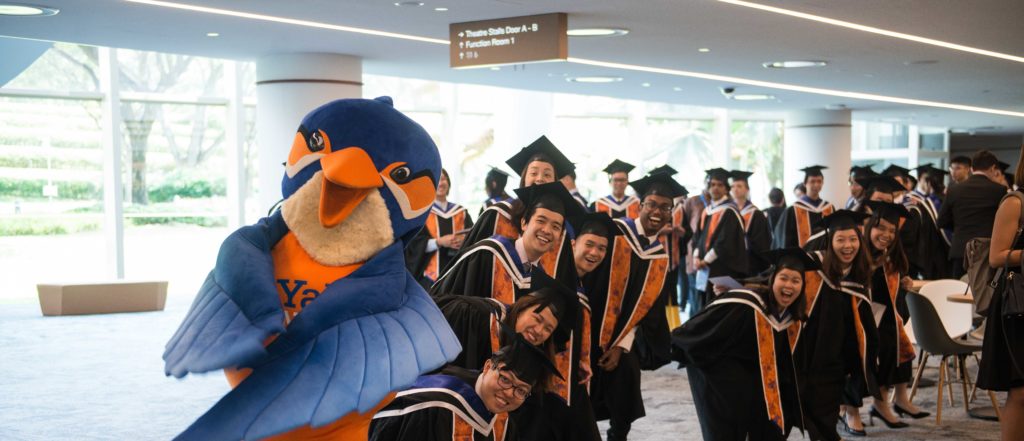 Image by Yale-NUS College. 
On 13 May 2019, over 1000 guests joined in the celebrations as the College marked the graduation of its third cohort of students at the Yale-NUS Graduation Ceremony 2019. Held at the National University of Singapore (NUS)'s University Cultural Centre, the event was attended by VIPs including Senior Minister of State for Trade & Industry and Education Mr Chee Hong Tat, former UN Under-Secretary-General Dr Noeleen Heyzer, members of the Yale-NUS Governing Board and NUS Board of Trustees, as well as faculty, students, parents, donors, and industry partners.
Ambassador Chan Heng Chee, Member of the Yale-NUS Governing Board, presided over the ceremony.
The College celebrated its third cohort of 182 graduands, including 14 from the Double Degree Programme in Law and Liberal Arts, jointly offered by Yale-NUS and the NUS Faculty of Law; one graduand from the Concurrent Degree Programme in Public Policy with the Lee Kuan Yew School of Public Policy; as well as one graduand from the Concurrent Degree Programme in Public Health with the Yale School of Public Health.
As was the case with their predecessors, the future is bright for this graduating class. Many have already secured positions in a variety of sectors including scientific research and development; information and communication; education; business and management consultancy; finance and insurance; and public administration and defence. They have been offered roles in both the public and private sector, at organisations such as Facebook, Visa, Goldman Sachs, AT Kearney, McKinsey, Oliver Wyman, A*STAR, National Environment Agency, Ascendas-Singbridge and GIC, among others.
Those who are furthering their studies have been accepted into top-tier schools around the world including Cambridge University, Johns Hopkins University, Oxford University, Peking University, Stanford University, Tsinghua University and Yale University.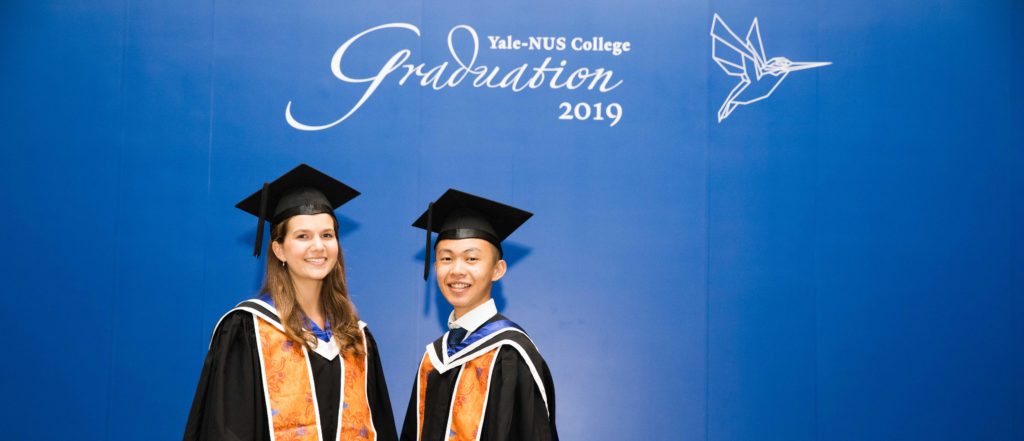 Helena Auerswald (left) and Sean Cham (right), recipients of the Class of 2017 Award and the Emerging Young Leader Award, respectively. Image by Yale-NUS College. 
This year, Helena Auerswald (Class of 2019) was awarded the Yenching Scholarship, becoming the first Yale-NUS student to receive this prestigious award to pursue an interdisciplinary master's programme focused on the role of China within the humanities and social sciences at the Yenching Academy of Peking University in China.
The Yenching programme aims to shape new generations of global citizens with a nuanced understanding of China, focusing on six key research areas: economics and management; history and archaeology; philosophy and religion; politics and international relations; law and society, as well as literature and culture. The Academy enrols approximately 125 students each year from partner universities, which recommend only their top contenders to the programme. Since the programme started in 2015, only two students from Singaporean institutions have been awarded the Yenching Scholarship. Scholars have taken various paths with about 30 percent progressing to PhD level studies at renowned institutions like Cambridge, Oxford, Harvard, Yale and Duke University. Others have taken up key positions in international companies like Google, The Associated Press and General Electric.
Helena will start classes at Yenching Academy in September 2019. After completing her Master's, she aims to return to Washington, D.C. to work on US foreign policy in the Asia Pacific.
At the graduation ceremony, Helena also received the Class of 2017 Award, made possible through the generosity of Mrs Doris Sohmen-Pao. This Award recognises a student who, in the eyes of their peers, has been instrumental in shaping the College and has contributed positively to the community over the last four years.
Helena was heavily involved in the Student Government, serving as the representative for the Class of 2019 and on various committees. One of the initiatives she spearheaded was Senior Week, a series of events and activities for graduating seniors the week after graduation. She also served as a peer tutor in the Writers' Centre, a student ambassador for the Global Affairs major – during which she helped to set up the Global Affairs Roundtables, a series of discussions about current world issues – and a member of the Centre for International and Professional Experience (CIPE) Student Advisory Committee.
"I tried to listen widely within the community and capitalise on any opportunity I saw for projects big and small that could bring value to the community," she said.
The Emerging Young Leader Award, made possible through the generosity of Madam Kay Kuok, was presented to Sean Cham (Class of 2019) in recognition of his outstanding contributions in addressing a local or global challenge to enhance the quality of life in the community.
Sean has worked on a number of socially conscious artistic endeavours including This Is Where, a photography exhibition featuring migrant workers in various industries at the M1 Singapore Fringe Festival; Yesteryears, a photography exhibition capturing lesser known Singapore sites that hold cultural or historical significance, launched at the Singapore Art Book Fair; and First Storeys, an interactive drama performance which interrogates the "kampung to metropolis" narrative of Singapore's development, presented at The Future of Our Pasts festival.
"I am grateful for the support and guidance I have received from peers, faculty and staff. I will continue championing communities and unearthing stories through the arts," said Sean.
Professor Tan Tai Yong, President of Yale-NUS College, opened the ceremony with a speech encouraging graduands to think for themselves what it means to live a good life.
"Many of the problems the world currently faces require creative, courageous, and compassionate solutions. Solutions that perhaps you as an individual, or you together with a group of like-minded individuals, are equipped to provide," he told them.
"As you move on to exciting things ahead, I hope that you take with you fond memories, firm friendships, and, above all, the desire to use what you have been given to make the world a better place."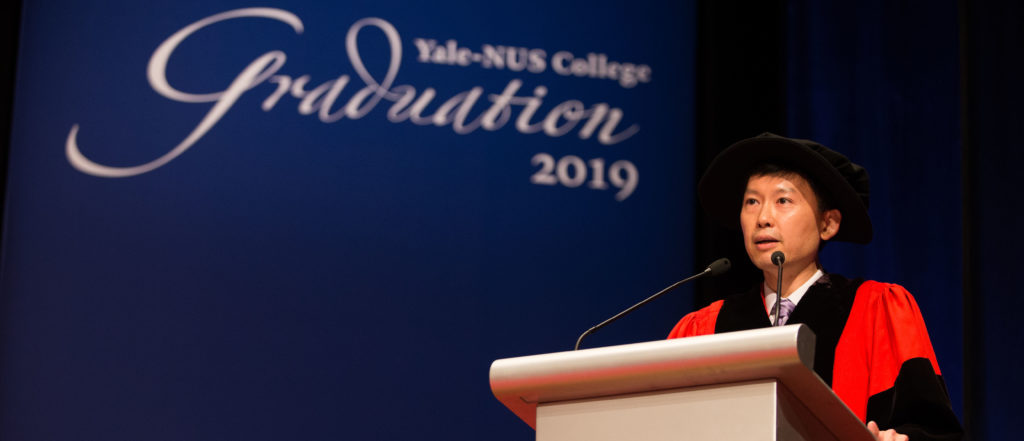 Image by Yale-NUS College. 
In his speech, Senior Minister of State Mr Chee Hong Tat encouraged graduands to pursue their dreams and turn their passion into reality.
"And when we succeed, we do not forget that part of our success stems from the support and opportunities which others in society have given us, so we find ways to give back and help others. These are some of the values which Yale-NUS graduates have demonstrated, and which the College has embedded in its many programmes and initiatives," said Mr Chee.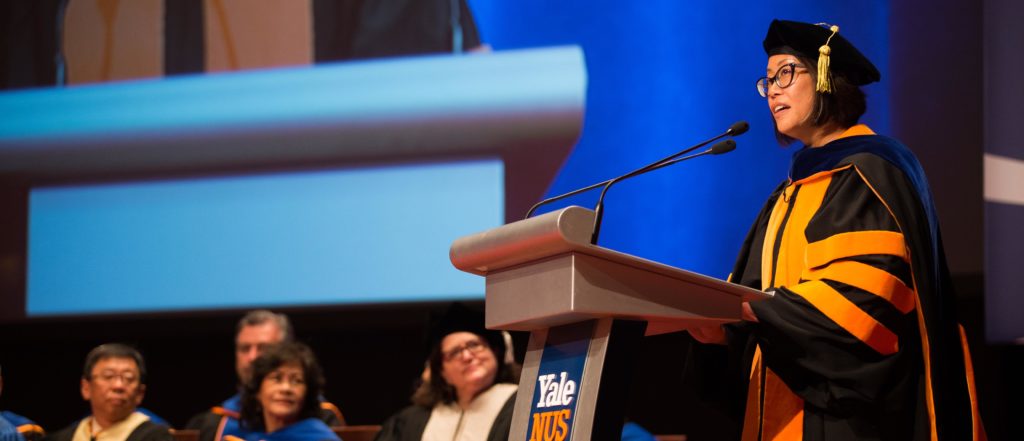 Image by Yale-NUS College. 
Associate Professor of Humanities (Literature) Mira Seo spoke on behalf of the College faculty. She said, "As a faculty member who's taught here for six years now, I am entirely confident that our Yale-NUS students, and now you, the Class of 2019, know what you love. As you may recall from the Trojan War, Eros (the Greek god of love) can give you the courage to interrupt, to change the discussion, and to decide what you feel is the most beautiful."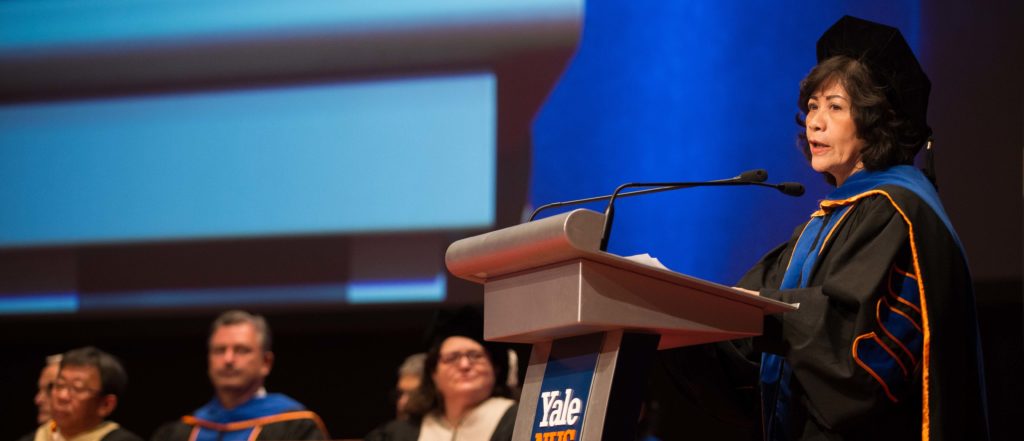 Image by Yale-NUS College. 
Graduation speaker Dr Noeleen Heyzer, former UN Under-Secretary-General, spoke on the turbulence of the world that graduates would be entering, and how they had been given the tools for growth and leadership at the College. "My main message to you as you graduate is be the best that you can be. Harness new opportunities that come your way. Exercise ethical leadership wherever you are. In so doing you will discover the greatness and grace that live within each of us," she said.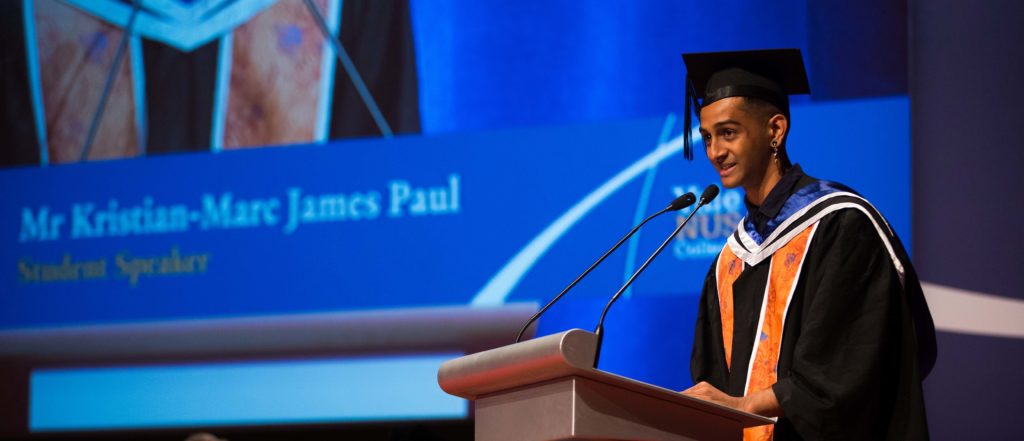 Image by Yale-NUS College. 
Student speaker Kristian-Marc James Paul was greeted with enthusiastic applause as he went on stage. In his speech, he highlighted the diversity of the graduating class, and how their differences taught them to be charitable to one another. "Our differences give us the opportunity – the privilege – to practice being charitable to one another." he said. "Being charitable grounds us. It reminds us that we all need each other in this world. It reminds us that we live in this world with each other, but that we also make this world with each other."
Congratulations to the Class of 2019. May you make the world a better and more charitable place wherever you go!