By Melissa Wang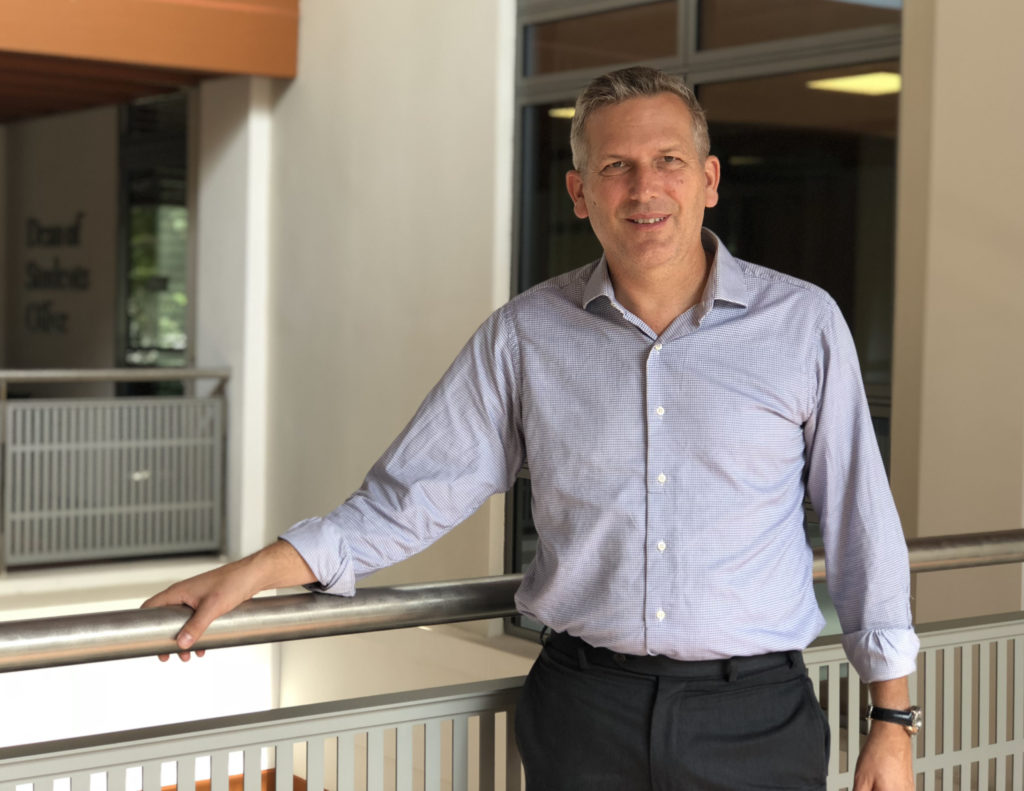 Image by Yale-NUS College.
Since the inaugural cohort started classes in 2013, Yale-NUS College has had six batches of students and has "reached a critical moment in its evolution – no longer in the pioneer early days," shared the new Dean of Students Robert Wessling. Dean Wessling, who took the helm in February, has extensive experience in handling student matters in various institutions.
"The variety of experiences at educational start-ups as well as at more established universities will help me to address some of the unique challenges that Yale-NUS College faces during this phase," Dean Wessling said.
Crediting his former students and colleagues for exposing him to many different perspectives, Dean Wessling noted that it was important to consider as many different viewpoints as possible when making key decisions. He also hopes to bring the best of the East and West to the College's fully-residential student experience, backed by a wealth of experience that has seen him traverse both hemispheres.
No stranger to Asia, he came to Singapore from nearby Hong Kong, where he served as the Dean of Students and Director of Student Affairs at the Hong Kong University of Science and Technology (HKUST). He made the move to Asia in July 2013, to take on the role of Associate Master and Chief of Students at Choi Kai Yau College in the comprehensive undergraduate residential college system at the University of Macau's new campus in 2014. Before that, Dean Wessling served as the inaugural Academic Director of Stern Hall, an undergraduate residence at Stanford University.
At HKUST, he championed the first all-university, multicultural New Student Orientation, changing the old practice of having separate orientation programmes for locals, international and mainland Chinese students. He also worked on the blueprint for a major expansion of new residential halls on campus, and launched the first "Campus Challenge", through which he invited students to propose innovative improvements to student life.
By placing multiculturalism and student needs at the forefront, and equipped with the skills and experience that he learnt serving as Dean of Students at a large public institution like HKUST, he hopes to translate those skills to suit the more intimate setting of Yale-NUS College. This will enable him to take a more personal approach to working with students and managing staff at the Yale-NUS Dean of Students (DoS) Office.
Dean Wessling looks forward to working with students to build and improve the College's unique culture, and create a home where members of the community feel valued and inspired.
"I would like every student at Yale-NUS College to feel that their voice is important and that they have an ally and advocate in the Dean of Students and all the DoS staff," Dean Wessling shared, highlighting that this would be one of his immediate goals.
On his long-term plans, Dean Wessling aims to "build a thriving student culture with some long-lived student organisations and traditions, while maintaining the flexibility and spontaneity that has made Yale-NUS College so remarkable".
On an academic front, Dr Wessling was also an Adjunct Associate Professor in the Humanities at HKUST. He holds a PhD in Slavic languages and literatures from UC Berkeley and graduated magna cum laude in Slavic Languages and Literatures and Russian Studies as an undergraduate at Princeton. He has also published articles on Russian literature, poetry and illness.
Dean Wessling looks forward to contributing to the College's language tables initiative, where informal conversations in a particular language are held over a meal in the dining halls.  He also keen to contribute to the non-academic aspects of residential life, such as joining the swimming team as he did at Choi Kai Yau College, where he won a gold medal at the University of Macau's Swim Gala.  Dean Wessling also previously enjoyed hosting parties for students on Shrove Tuesday (Mardi Gras) and is keen to explore the many festivals in Singapore where he can do the same.