Text and images by Courtney Carter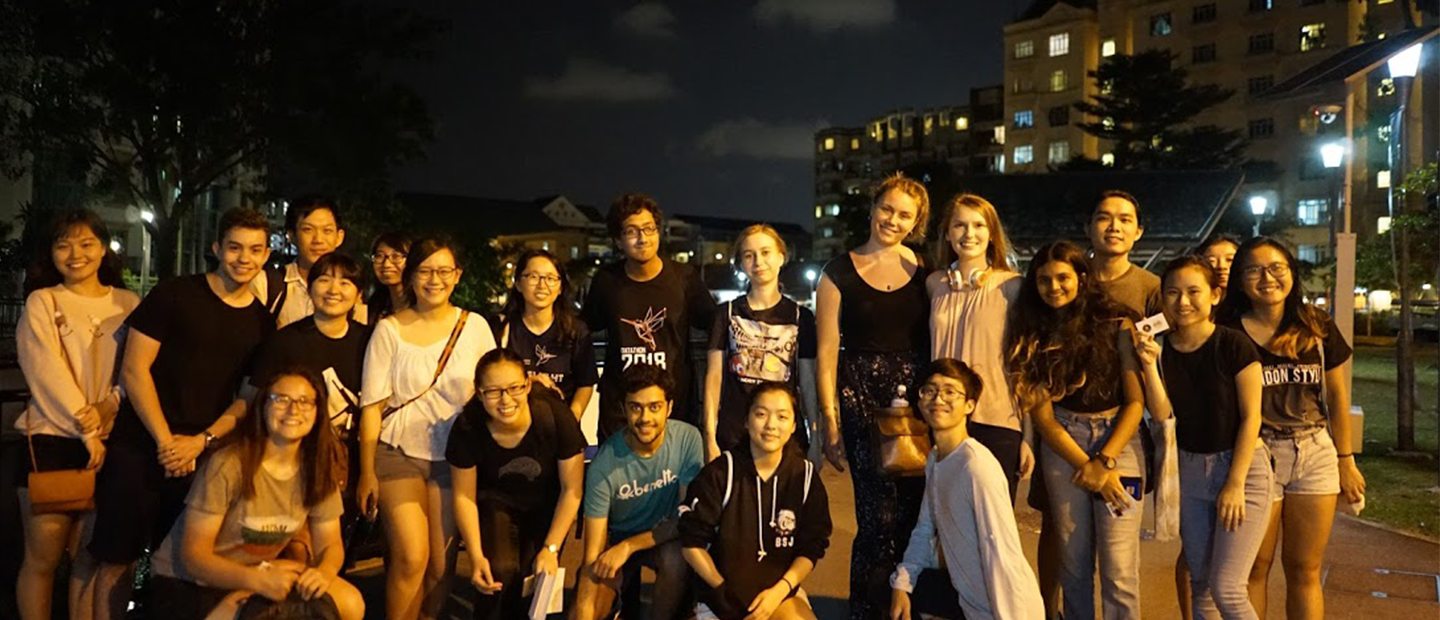 In March 2018, the new Becoming Sing-Fishers programme took 43 first-year students to three locations around Singapore—Bukit Brown Cemetery, Geylang, and Emerald Hill—to learn more about Singapore's history and culture. Each tour focused on a different perspective of Singapore not usually seen or discussed. Both international and local students were encouraged to be inquisitive and learn more about the country that they reside in.
This programme is part of the larger Becoming Kingfishers initiative, which is a year-long programme series started in September 2017 by the Dean of Students office for first-year students to acclimate to Yale-NUS College after orientation. Becoming Sing-Fishers is facilitated by Senior Manager of Residential Life Andrew McGeehan, with assistance from Dean's Fellows.
Dean's Fellows are guides, mentors and advisors for the Yale-NUS student body. They play a pivotal role in supporting their personal growth through various learning opportunities as well as fostering intercultural community building in the Residential Colleges. They also contribute to the development of the College's programmes and initiatives.
Mr McGeehan explained that the Sing-Fishers programme fulfills a particular goal of the Becoming Kingfishers initiative. "It has been designed to help first-years engage with local and global issues that are important and relevant to their development as critical thinkers and global citizens," he said.
Dean's Fellow Rachel Tan, who was key in the conception and development of this new programme, shared, "In order to support first-year learning and critical engagement with the local community, we organised trips to places around Singapore that people may only be familiar with through stereotypes. This programme provided an opportunity for both international and local students to engage with community stories and hidden histories we seldom see."
On the Bukit Brown tour, students learnt about tomb design and historic preservation, the cultural and historical context of Bukit Brown, and the life stories of individuals buried there.
Khym Fong (Class of 2021), who attended the Bukit Brown Cemetery tour, said, "I was really curious to investigate a place I had heard so much about. I was amazed that a tour around the cemetery could deconstruct so many notions I had held about Singapore's history and the narratives that have been retold throughout my life."
Another Dean's Fellow working on this programme, Detmer Kremer, shared his experience on organising and attending the Bukit Brown Cemetery tour. "I learnt unexpected stories about Singapore's history. The guide had challenged the idea that Singapore was underdeveloped before its independence, and explained the importance of Singapore during World War II and as a trading post in the early twentieth century," he said.
The Geylang tour taught students about the only legalised red light district in Singapore and the social and environmental issues faced by migrant workers who live in that neighborhood.
Woon Yong Jie Josef (Class of 2021), who attended both tours, reflected, "Being at Yale-NUS College has made me see how many of my friends are fighting passionately for a cause. The two tours had tackled social issues such as preserving history and equity. I felt that this was a good opportunity for me to take the first step towards being civic-minded."
The Emerald Hill tour was hosted by Oh! Open House, and used contemporary Singaporean and Southeast Asian art installed in people's homes to tackle the colonial legacy in Singapore.
Adeline Loh (Class of 2021), who attended the Emerald Hill tour, shared, "Despite being a Singaporean with what I think is a generally good grasp on my country's history, it was an eye-opening experience to see how rich Emerald Hill's history was and to hear the anecdotes of its occupants, both past and present."
All three tours in the Becoming Sing-Fishers programme provided first-year students the opportunity to experience little told narratives of Singapore, and gain a deeper understanding of the histories, cultures and struggles of the Bukit Brown, Emerald Hill and Geylang communities of the past and present.
In reflecting on the extra-curricular programmes offered by the College, Adeline commented, "This tour enhanced my first-year experience because it rounded out the international exposure and experiences that the College offers. It also left me with a deeper appreciation and understanding of my own local history as well."