By Melissa Wang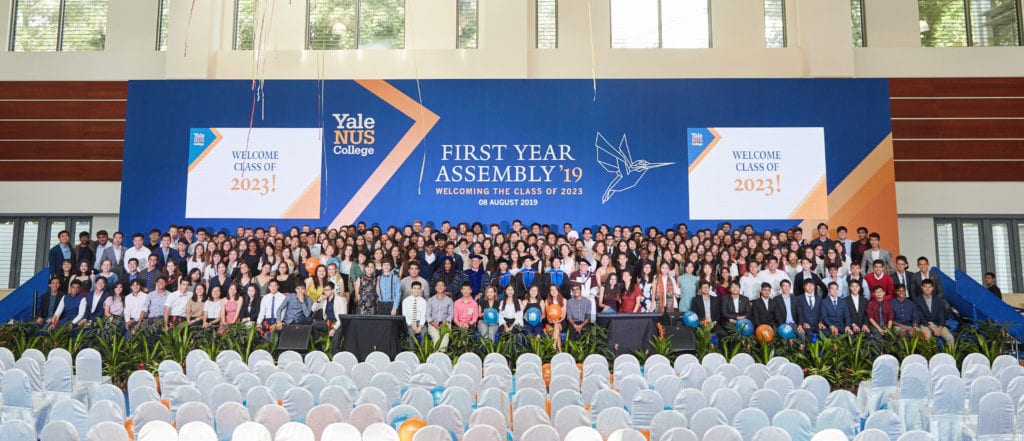 The Class of 2023. Image by Yale-NUS College. 
On 8 August, Yale-NUS College officially welcomed the Class of 2023 at the First Year Assembly. The seventh intake of students comprised 246 exceptional students from 39 countries. Singaporeans continue to make up the largest pool of students in this year's intake, hailing from 30 schools across Singapore.
With the addition of the new class, the Yale-NUS student body now stands at 981 students, and the diversity of students continues to grow, with 71 nationalities being represented across the four cohorts.
For some students, this diversity is part of Yale-NUS' appeal. One such student is Bin Choi, a South Korean student who hails from the American School of Doha.
"Over the last twelve years of attending international schools, I came to appreciate the immense learning opportunities that people from different backgrounds bring into conversations both within and outside of class. Moreover, I've experienced first-hand the importance of understanding multiple viewpoints and learning to negotiate them respectfully as a citizen of the global community," he said.
More than 500 guests graced the occasion, with Pro-Chancellor of the National University of Singapore and Yale-NUS Governing Board member Mr Gautam Banerjee presiding over the event.
Dean of Admissions & Financial Aid Laura Severin reiterated to students that the robust and holistic admissions process was designed to ensure that each student who comes to Yale-NUS shares the desire and motivation for the journey they are embarking on.
"That does not mean that each of you shares the same opinions or ideologies. In fact, we hope that you don't. After all, we learn the most from those who cause us to question our own beliefs," she said.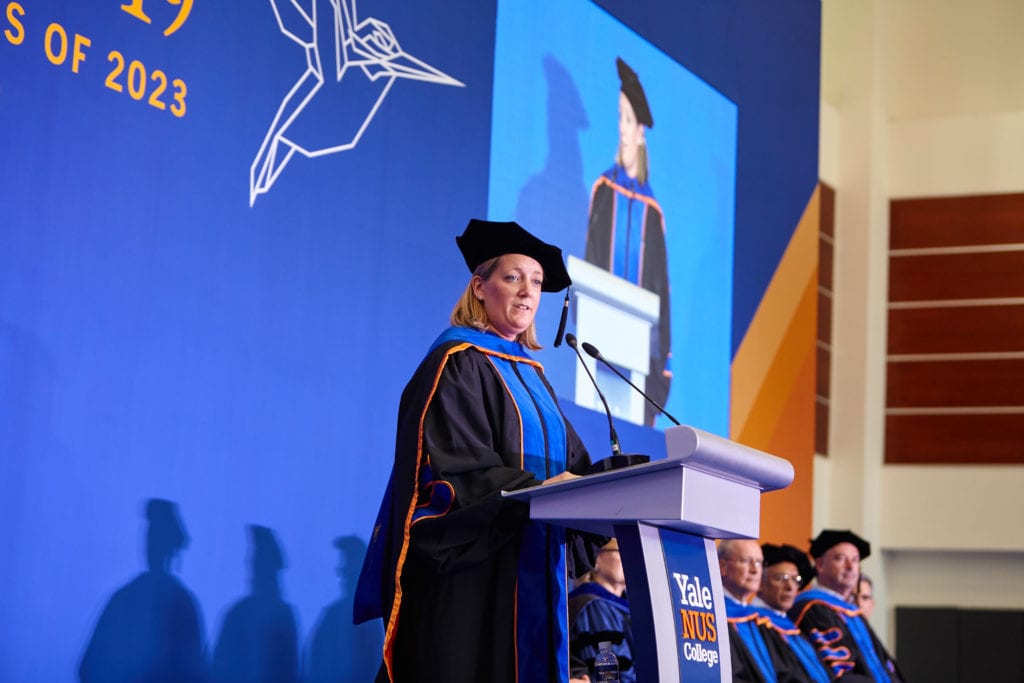 Dean of Admissions & Financial Aid Laura Severin addressing the students and guests at First Year Assembly 2019. Image by Yale-NUS College. 
Dean Severin also highlighted the different paths that students took to get to Yale-NUS.
For example, Aidan Reiyen Wheeler who hails from the United States, had not originally planned on travelling halfway across the world to study in Asia, although her strong interest in Asia eventually influenced her decision. As her mother's family is Taiwanese, she wanted to study Mandarin so that she would be able to communicate with them and widen her circle of contacts in this language.
"Other than Yale-NUS, I had only applied to colleges in the US. However, I had always planned on doing a study abroad semester in Asia at some point. When I was accepted, it seemed like the perfect opportunity to do four years of study abroad and to gain a better understanding of the topics I already wanted to study," she explained.
In contrast to Aidan, who is drawn to exploring Asia and Yale-NUS, Nur Aina Binte Sapari shared that she chose to come to the College because of its "collaborative learning environment" and the multiple perspectives that she will be exposed to.
She had joked in her admissions interview, "If I can't go out to see the world, the world will come to see me!"
"Other perspectives fascinate me as it expands my own knowledge about the world around me and the people who occupy it. It also forces me to rethink my own ideals, values, and fundamental beliefs at times," she said.
Having earned her diploma in Applied Drama and Psychology from Singapore Polytechnic, Aina shared that her course explored culturally evasive issues like mental health, sexuality, freedom of speech, privilege, and so on to elevate their crafted theatre performances. Yale-NUS therefore "seemed like the perfect next step" for her. Aina is also actively involved with the Association of Women for Action and Research, a gender equality advocacy organisation.
"I can't wait to immerse myself in an environment that will continue to challenge me and feed my curiosity in the evolution of our societies and how it transforms the people who live within it. In the future, I want to be able to articulate and add to the many important global conversations that will (hopefully) transcend over many generations," she explained.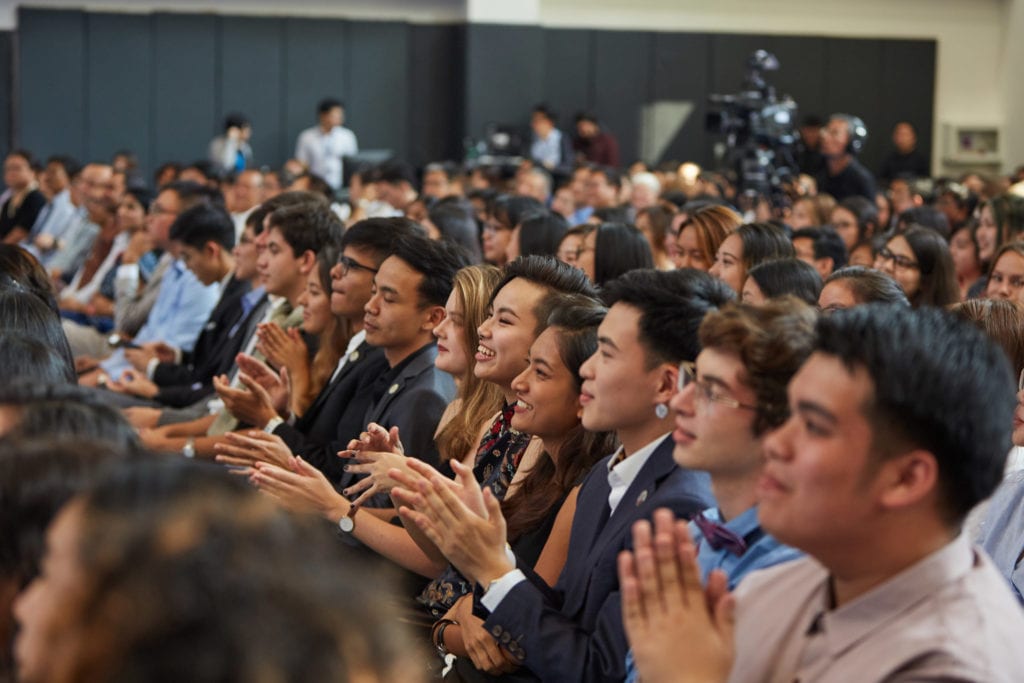 Image by Yale-NUS College. 
Like Aina, many from the Class of 2023 are deeply involved in their community, and seek an education that will equip them with the skills and critical thinking that will prepare them to become the next generation of leaders, change-makers and professionals impacting society.
To that end, Bin Choi, who is on the Yale-NUS & Duke-NUS Liberal Arts and Medicine pathway also explained that recognising privilege and the value of service is important.
"Growing up in a region where the population mainly comprised wealthy locals, comfortable expatriates and low-paid migrant workers, it was not difficult for me to realise the inequity of our society. Through my various interactions with people of diverse backgrounds, I began to see the potential that I hold to cause positive changes in the lives of those around me."
He added, "Ever since, service has become one of my core values."
Yale-NUS College Class of 2023 at a glance:
| | |
| --- | --- |
| Number of students | 246 |
| Number of nationalities | 39 |
| Percentage of female students | 52% |
| Percentage of male students | 48% |
| Acceptance rate | 6% |
Yale-NUS College at a glance:
| | |
| --- | --- |
| Total number of students | 981 |
| Total number of nationalities | 71 |
| Percentage of female students (total) | 54% |
| Percentage of male students (total) | 46% |