Written by Clare Isabel Ee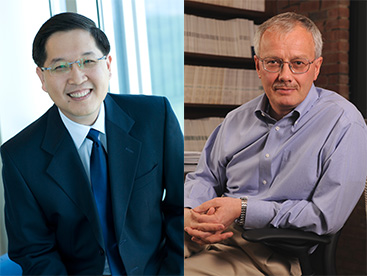 In March 2014, the Yale-NUS College Governing Board welcomed two distinguished members, Professor Sir Peter Crane, Carl W Knobloch Jr Dean at the School of Forestry and Environmental Studies, Yale University, USA, and Mr Lam Yi Young, Deputy Secretary (Policy) (DSP) at the Ministry of Education (MOE), Singapore.  
Professor Crane is known internationally for his work on the diversity of plant life – its origin, fossil history, current status, conservation and use. He received his BSc and PhD degrees in botany from the University of Reading, United Kingdoms (UK), and subsequently joined the faculty. Professor Crane also served as Director of the Field Museum in Chicago, overseeing the Museum's scientific programs, and established the Office of Environmental Programs and the Center for Cultural Understanding and Change at the Field Museum. From 1999 to 2006, he was the Director of The Royal Botanic Gardens, Kew, one of the largest, most prestigious gardens in the world. In 1998, Professor Crane was elected to the Royal Society – the UK academy of science. He was knighted in the UK for services to horticulture and conservation in 2004.
Professor Crane has been visiting Singapore for more than a decade, and has been an enthusiastic supporter of the Yale-NUS partnership from its inception.
"It is inspiring to see how far Yale-NUS College has already come in such a short period of time," he said. "I look forward to doing my part to make Yale-NUS College a unique community of learning that will pioneer and showcase the best of American liberal arts education in this part of the world. We live in a complex and interconnected world and I am deeply committed to the international ideals that are central to the founding vision of Yale-NUS."
Professor Crane currently serves on the Board of the Chicago Botanic Garden, the Field Museum in Chicago, the Lady Bird Johnson Wildflower Center at the University of Texas, WWF-US, The Global Crop Diversity Trust, The Cary Institute of Ecosystem Studies and the Gaylord and Dorothy Donnelley Foundation.
Mr Lam, who holds a Master of Arts in Engineering from the University of Cambridge and a Master in Public Administration from Harvard University, joined the Singapore Civil Service in 1996 and has served in the Ministry of Defence and the Ministry of Finance. Prior to his current position in the MOE, Mr Lam was Chief Executive of the Maritime and Port Authority of Singapore from 2009 to 2013, where he primarily developed and promoted Singapore as a premier global hub post and an international maritime centre, while advancing and safeguarding Singapore's maritime interests. As DSP in the MOE, Mr Lam oversees the development and implementation of education policies in support of the Ministry's mission to provide our children with a balanced and well-rounded education, develop them to their full potential, and nurture them into good citizens, conscious of their responsibilities to family, society and country.
Mr Lam sees Yale-NUS College as an exciting venture that is making a significant impact on the tertiary education scene in Singapore.
"I am very honoured to join the Yale-NUS College Governing Board and I look forward to working with fellow board members and staff and students of the College," Mr Lam said. "I am sure that with all the stakeholders working together, the College will grow from strength to strength and contribute significantly to Singapore."
Mr Lam also sits on the boards of the Agency for Science, Technology and Research (A*STAR), CapitaCommercial Trust Management Limited, Dover Park Hospice, Education Fund Board of Trustees, Lee Kong Chian School of Medicine, Singapore Institute of Technology, Singapore University of Technology and Design, and Yale-NUS College.
—
Yale-NUS College Governing Board
The Yale-NUS Governing Board consists of 12 members, six from Singapore and USA each, and is chaired by Mdm Kay Kuok, Executive Chairman of Shangri-La Hotel Limited, Singapore.
Members: