By Wen Kin Lim | Images provided by Joel Yew Wei Jie and Jiang Haolie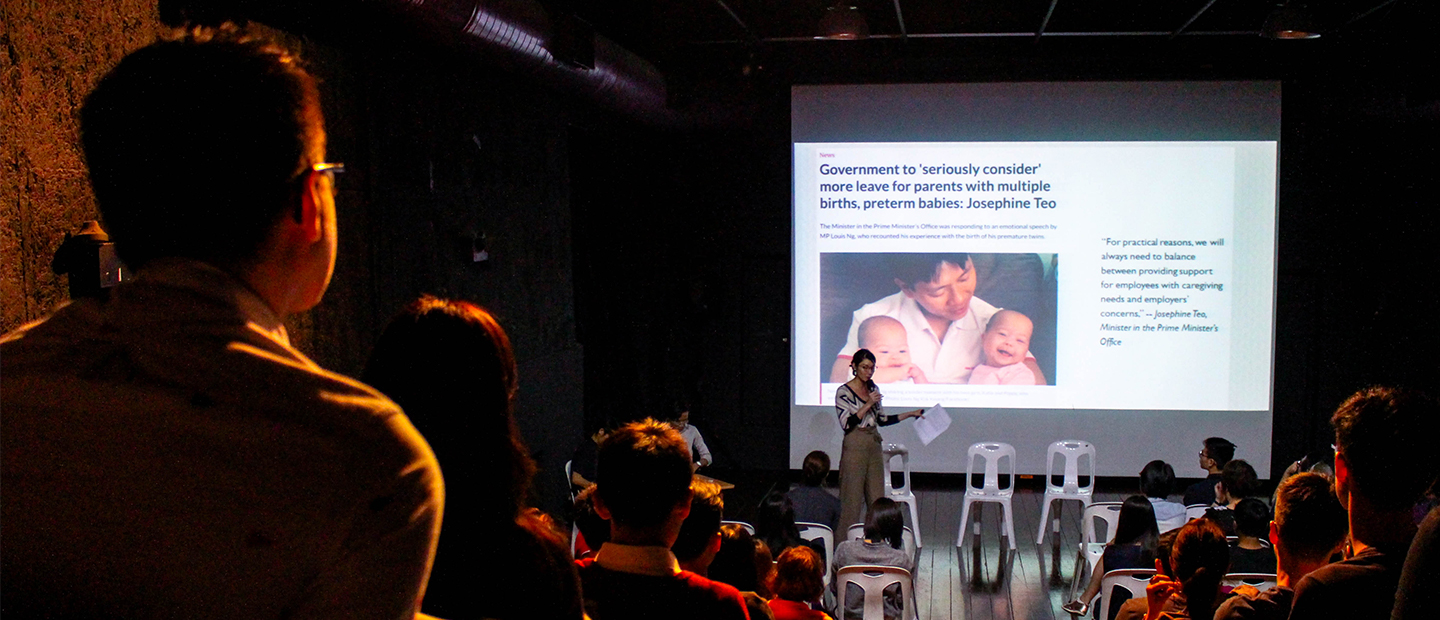 Legislative procedures, judiciary rulings and political advocacy – these are complicated matters that involve an interconnected range of factors, stakeholders and issues. As the younger generation in Singapore reach an age where they can actively contribute to discussions on politics, having a good understanding of these topics will be of increasing importance for the political future of Singapore.
Student organisation CAPE, or the Community for Advocacy and Political Education, founded in August 2017, aims to increase political literacy among peers and to encourage greater social engagement.
Khwa Zhong Xuan (Class of 2020), who is the group treasurer for CAPE, shared that many of the members came from various forms of advocacy backgrounds. "We realised that there was a rift in terms of resources accessible to the general public that could educate them on the best ways to engage in discussions on politics in Singapore," he said.
Students from Yale-NUS, National University of Singapore (NUS) Law programme and the University Scholars Programme (USP) started CAPE in September 2017 and the diversity in the team allows a richer range of perspectives as they make a conscious effort to reach out to more people to make politics accessible to everyone. Daryl Yang, who is in the Double Degree Programme in law and liberal arts said, "A lot of our collaboration has been quite informal and based on personal relationships we have forged. This is why we are called a community in our student organisation's name."
Since their founding, CAPE has organised multiple events for the Yale-NUS community as well as the community at large. These included panel discussions on topics of interest such as the Presidential Elections and Parliament 101, a workshop in January 2018 hosted by Member of Parliament (MP) Mr Louis Ng to help young people learn about the political processes involved in law-making.
Benedict Tan (Class of 2020), who attended the Parliament 101 workshop, said, "It was heartening to see the turnout for this event. The attendance suggests that there are plenty of young Singaporeans who are keen to be more politically active. MP Louis Ng's legislative assistants gave a comprehensive overview of parliamentary functions while the MP's personal philosophy, work ethics and anecdotes humanised the process for me."
A large part of CAPE's work is making complicated political procedures simple and accessible. To try to accomplish this, they produced a CAPE e-booklet to bridge this gap. Xing Yi Li, a student from the NUS Law programme who manages the magazine and social media for the organisation, said, "We try to engage the audience by cutting through the jargon and producing content that is easily digestible in this booklet."
On the relevance of CAPE in today's Singapore, Daryl shared, "There will always be a need for policies to be more inclusive and authorities to be more transparent. We are motivated by the fact that our generation has reached the age where we have the capacity and potential to contribute to politics and we want to galvanise that."
Since the start of the year, CAPE has held several seminars and events on campus as well as for the community at large. This includes an international human rights seminar with AWARE Singapore, a gender equality advocacy group, a book display on social issues and change at the NUS Central Library and a seminar on the role of the judiciary in Singapore's constitutional democracy. Some CAPE members also conducted workshops on Singapore's political systems and processes in schools such as Raffles Institution and Eunoia Junior College to increase political literacy among young people. In the new academic year, CAPE plans to hold more of such events to make political education accessible to everyone.