By Mathias Ooi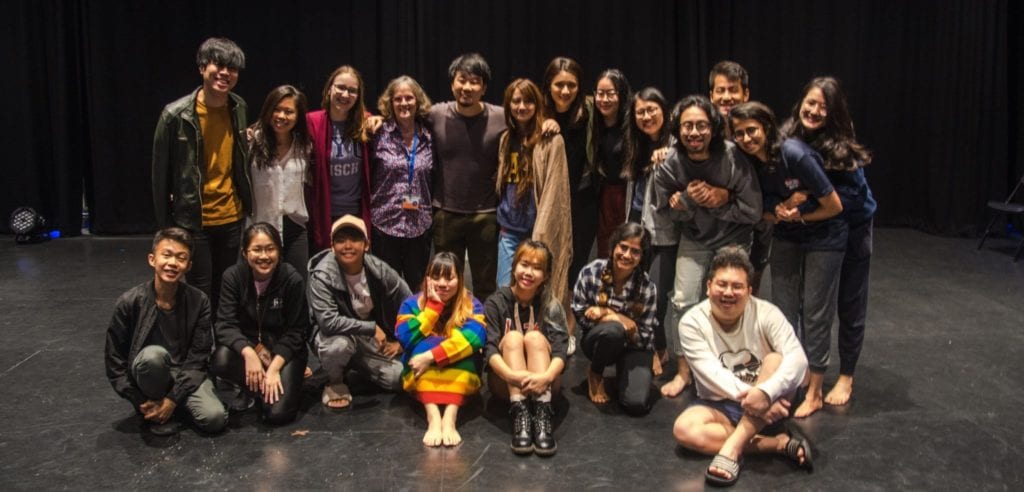 Associate Professor Joan MacIntosh (fourth from left, back row) with students in the An Actor's Journey class. Image provided by Cora Ceipek and Vasudha Kataruka. 
Last semester, Yale-NUS College students had the opportunity to take courses taught by two established arts practitioners – American stage actor Joan MacIntosh and local playwright Alfian Sa'at. Such offerings complement the curriculum taught by Yale-NUS' full-time faculty, most of whom are academia.
Joan MacIntosh is an Associate Professor of Acting and Theatre Management (Adjunct) at Yale University, and has performed many leading roles on Broadway, off-Broadway, and in theatres across the US and other parts of the world. While at Yale-NUS, she taught two courses, namely American Avant-Garde Theatre of the 1960's and 1970's and An Actor's Journey.
The American Avant-Garde Theatre course examined the "political, social, spiritual, aesthetic and economic forces that gave rise to the arts of the 1960's and 1970's" through the lens of experimental American theatre companies that proliferated during that time. As a former member of the internationally acclaimed The Performance Group troupe, Assoc Prof MacIntosh knew these theatre companies first-hand and could thus share with the class all her knowledge about these groups and their work.
Nathaniel Mah (Class of 2020) appreciated the insights shared by Assoc Prof MacIntosh, who had herself lived through the period they were studying. He said, "It was a wonderful experience to hear her talk about her personal interactions with these people we were studying on paper, which sometimes offer a different perspective from what we learn from our readings."
Likewise, Assoc Prof MacIntosh was able to translate her decades of experience as an actor and arts practitioner to her students in An Actor's Journey, an acting class. She wanted to give her students a taste of the entire process: from scene work and developing craft to performance.
The class experimented and practised with both scripted work as well as work they created themselves.
"I teach them everything I know about acting. I love seeing the lightbulbs go off as they master an aspect of the craft," said Assoc Prof MacIntosh.
Like Nathaniel, Andrew Kwan (Class of 2020) also appreciated the way Assoc Prof MacIntosh sought to create intimacy and safety within the class through group sharing and warm-up games. Andrew found it helpful that she created "a safe space for the students so that we could open up emotionally and physically, which allowed us to invest more of ourselves into our acting."
The final showcase for the class comprised scenes that the students devised and developed from scratch, which Andrew felt made for a touching and personal closure to the semester. He said, "Assoc Prof MacIntosh wanted this class to be meaningful for us, and I feel that having us devise all the scenes really helped bring out the personal healing qualities of acting and theatre."
The other arts practitioner who taught at the College last semester is local playwright Alfian Sa'at, who is a resident playwright at the W!ld Rice theatre company in Singapore. His course, Introduction to Playwriting, not only taught students how to write a play, but also focused on the practice of doing so in a Singaporean and Southeast Asian context. In the course, students are exposed to a brief history of Singapore theatre as well as its current landscape, and how it is influenced by regional and global trends.
"Whatever I teach in class is based on the prospect that the students would want to be practising playwrights in Singapore one day," said Mr Alfian.
Lawrence Lacambra Ypil, Lecture in Humanities (Writing) who is also the coordinator for the Creative Writing Track in the Arts and Humanities major, said that part of the distinctive quality and the challenge of the track is to provide students with a critical and creative introduction into the art and craft of the different genres.
"We hope that we produce art practitioners who are not only concerned with the nurturing of excellent craft practices, but situated and relevant art production. Through the contribution of classes like these, we look forward to supporting already popular art forms on campus and encouraging students to explore genres and forms in addition to poetry, fiction and nonfiction," said Mr Ypil.
Nathaniel and Andrew, who both took the Introduction to Playwriting course, treasured in particular two special sessions that Mr Alfian arranged with his connections in the local theatre scene. The students had the opportunity to engage Singaporean playwright Jean Tay in a dialogue and meet local actors Pamela Oei and Siti Khalija through a devising session.
More than anything, Nathaniel and Andrew both gratefully observed the love that Assoc Prof MacIntosh and Mr Alfian have for their craft as well as their care for their students' growth, which manifested in the way they taught their classes.
As they finished teaching their courses at Yale-NUS, both practitioners left Yale-NUS with great hopes for their students, regardless of whether they continue to practice acting or writing. Mr Alfian hopes that more students will appreciate an education that equips one with a criticality and curiosity that is not only limited to the workplace while Assoc Prof MacIntosh hopes that she has inspired her students to have the courage to forge their own paths, as long they nourish their minds, bodies and souls.