Written by Clare Isabel Ee | Image by Weave for Yale-NUS College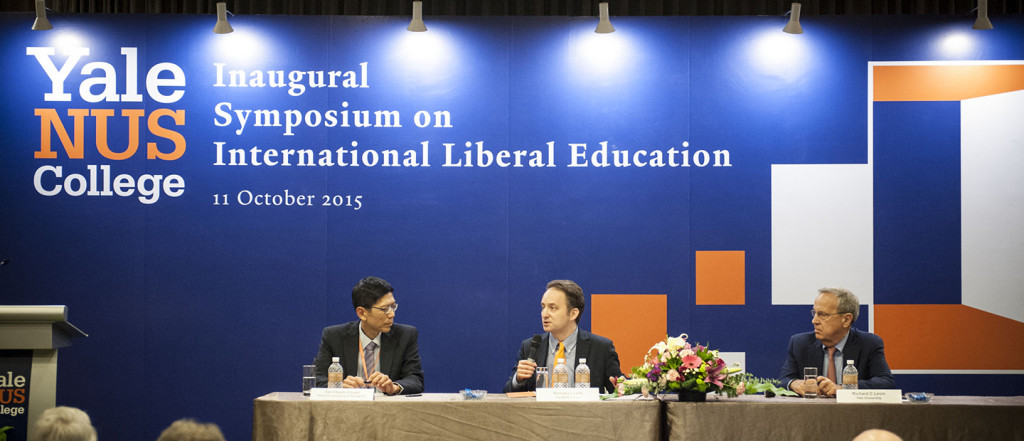 Today, Yale-NUS College hosted its first Symposium on International Liberal Education. More than 30 university leaders from global educational institutions attended the Symposium, where they discussed trends in higher education worldwide.
In his welcome remarks, Founding President Pericles Lewis, Yale-NUS College, touched on the rich histories of liberal arts in Asia and the West.
Linking it to Yale-NUS' place in higher education, he said: "We at Yale-NUS draw on the great traditions of both Asia and the West…our ideal of forming a well-rounded person capable of taking on challenges from multiple perspectives would be recognisable to educators of earlier generations in Asia and the West."
Yale University President Peter Salovey presented the opening remarks on 'International Initiatives at Yale and the Strategic Importance of Yale-NUS', after which followed two panel discussions.
The first panel, 'Founding Yale-NUS College: Dialogue Among Presidents' was a insightful discussion between Professor Richard Levin, President Emeritus of Yale University and CEO of Coursera, and President Tan Chorh Chuan, National University of Singapore, as they highlighted the key moments in the founding of Yale-NUS College.
The second panel discussion delved into 'The Future of International Liberal Education', and featured plenary presentations by Vice-Chancellor Andrew Hamilton, University of Oxford; President Zhang Jie, Shanghai Jiao Tong University; and President Catharine Bond Hill, Vassar College. Each spoke on the issues their universities are facing, and the trends they have noticed in higher education worldwide.
The Symposium on International Liberal Education was organised as part of Yale-NUS College's celebrations of its milestone, the Inauguration of the Yale-NUS College Campus, which will be held tomorrow, 12 October 2015.