By Dodi Yap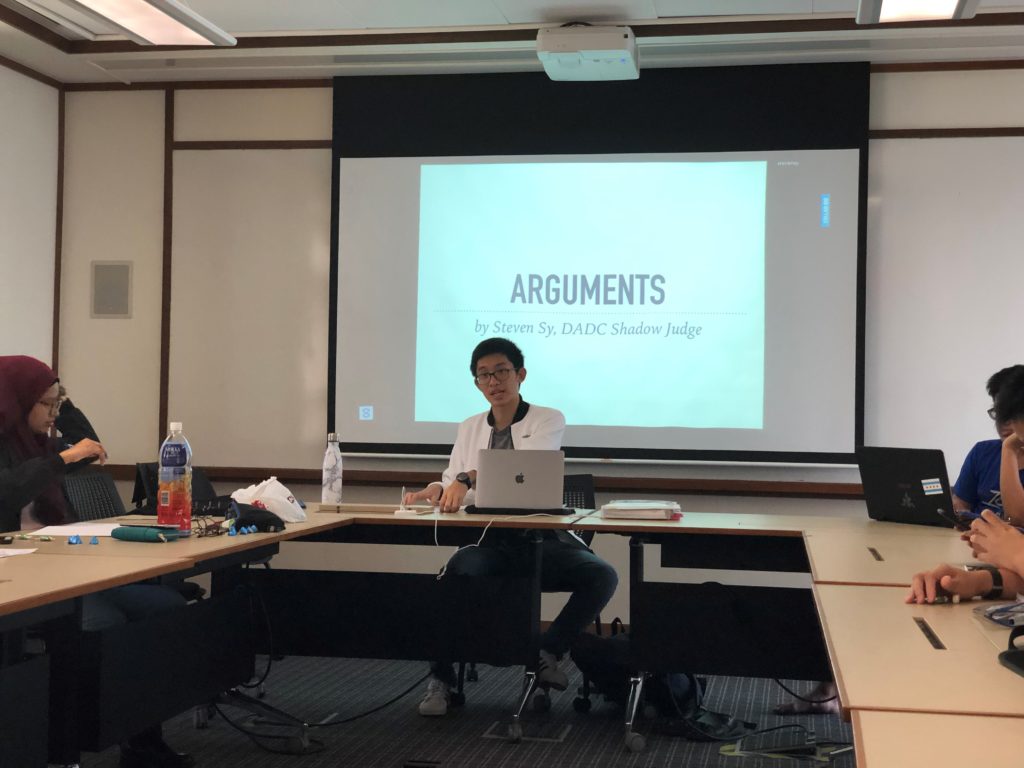 Image provided by Benjamin Goh.
For many Yale-NUS College students, the College provides the avenue and opportunity to pursue their diverse interests. Students from the Yale-NUS Debating Society, however, also recognise that such opportunities can be extended to those outside the College community.
From 2 February to 24 April, the Society ran the Yale-NUS Debate Tuition programme, targeted at teaching debating skills to new debaters and people interested in debating. Taking place over six weekly sessions, it was run free of charge by volunteers from the Society, and aimed to impart the fundamentals of debating in an easily understandable way.
The programme saw the participation of 11 students from six different institutions around Singapore, namely School of the Arts (SOTA), Bartley Secondary School, Outram Secondary School, Whitley Secondary School, Eunoia Junior College, Singapore Polytechnic and the National University of Singapore.
"While there are many youths interested in current affairs and debating, many youths in school have little access to proper coaching, and debate clubs in many schools are invested only in training the school's competitive team. Our programme hopes to equip students with fundamental skills in debating and make it a more accessible sport for all," said David Boo Koh (Class of 2022), communications director of the Yale-NUS Debating Society.
"The programme was designed to teach the students to think out of the box, strategically synthesise arguments, and critique as well as appreciate policies put in place. We hope this programme can train students to become more open minded and empathetic to people who share different beliefs and opinions, and to create a culture of learning between people of all creeds and beliefs," he added.
Each session started with a lecture taught by the Yale-NUS student trainer, followed by a debate session in which participants could practise the skills they had learnt. These included case construction, policy formulation, refutation and various debating styles.
Throughout the six-week programme, each participant was assigned a mentor to guide them in cultivating their debating skills. The mentors also gave constructive, tailored feedback to help their mentees achieve their desired skillset from the programme.
"Both my mentees had some prior experience with debating. What I did was to refine their existing skills through teaching them new tips and tricks. Having benefited from a similar programme before, I am grateful for this opportunity to pay forward what I have learnt from seven years of debating," said Benjamin Goh (Class of 2022), mentor to two programme participants. Benjamin was Chief Adjudicator at Dunman High School's annual Debating Against Humanity tournament for the past two years.
With the skills learnt from the programme, participants from SOTA emerged as 1st Runner Ups in Division II at the Singapore Secondary Schools Debate Championships 2019 which took place in May 2019. They were undefeated until the Grand Finals, despite it being their first year in a more challenging division.
While the Debate Society has no definite plans to run the Debate Tuition programme again, David said that if they chose to do so, they would need more volunteers to make the programme bigger and better.
Yale-NUS Associate Professor of Humanities (Philosophy) Andrew Bailey, the faculty advisor for the Yale-NUS Debating Society, said, "The fires of public debate – when you have to make up an argument on the spot even though 45 people are watching and judging you – make you stronger; they test and stretch you in all sorts of cool and unpredictable ways."