By Jeannie Tay
Innovation can take many forms. To some Yale-NUS College students, innovation can mean developing new ideas or products for the company they work for or the start-up they founded, while for some, innovation can mean creating change within their student organisations or contributing to the improvement of the Yale-NUS curriculum.
This semester, six Yale-NUS students had the opportunity to participate in an innovation 'Intensive' programme by Tsai Center for Innovative Thinking at Yale University (Tsai CITY). The Centre, named for its benefactor, Joe Tsai, the founder and executive chairman of Alibaba, is a new kind of innovation centre that stresses interdisciplinary collaboration, inclusivity, and effective action. In the Intensive, students and learn from innovative thinkers and practitioners who reinvent organisations through intrapreneurship (the act of behaving like an entrepreneur while working within an organisation).
"Yale's Tsai CITY is a terrific and pioneering example of how universities can draw on their diverse talent to find unexpected solutions to real world problems. Our close partnership with Yale allows us to offer opportunities such as this to our students and in return, their voices and experience bring a richness to the whole endeavour. We look forward to greater collaboration with our colleagues at Tsai CITY," said Dr Trisha Craig, Yale-NUS Vice President for Engagement.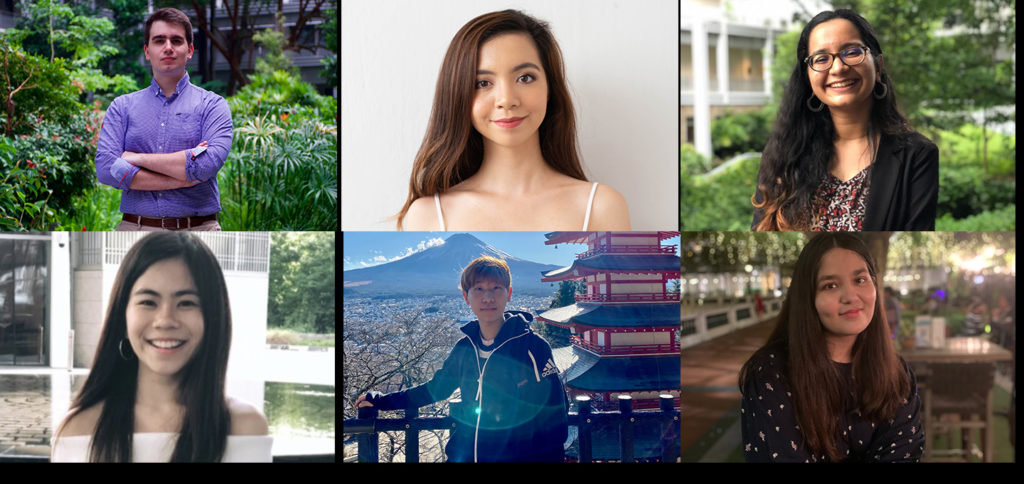 Yale-NUS students who participated in Tsai CITY's 'Intensive: Innovation from the Inside'. Clockwise from left: Nikita Taratorin, Isabelle Tan, Tanya Sharma, Akanksha Madan, Richard Shim Jo, Poon Yi Lin. Photos provided by the students.  
Through six group sessions held via Zoom from September to November 2020, students heard from private-sector innovators on how organisations can find a way forward in the midst of a global pandemic, using the same 'Lean' practices known to so many start-up founders.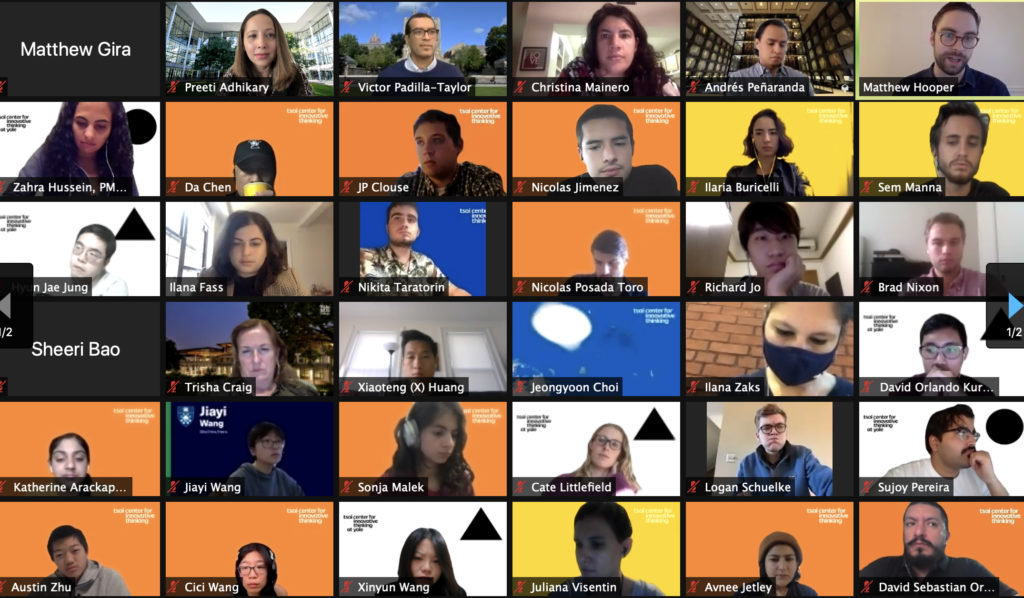 A group session from the innovation Intensive by Tsai CITY. Image provided by Tsai CITY.
"This was the first time, and certainly not the last, that Tsai CITY opened up its virtual doors to undergraduate and graduate students from an international network of 15 academic institutions around the world", shared Mr Victor Padilla-Taylor, Director of Mentor, Advisor, and Partner Networks, Tsai CITY. "Now more than ever, our shared ingenuity needs to tilt our world in a better direction", said Mr Padilla-Taylor, reflecting on the conversations that students also had on mitigating the impacts of COVID-19. In a time defined by increased isolation and challenge, he is proud of the team that put together this Intensive and hopeful that the specific examples and lessons students learned will help them "unleash their full potential as individuals and members of teams and organisations".
Yale-NUS students joined 69 other students from Yale and other universities to explore topics related to intrapreneurship, and worked in teams of five to develop a final group project that was presented to a panel of global leaders.
For Nikita Taratorin (Class of 2023), the Intensive presented him with fresh insights on innovation, which have been very helpful to the innovation projects that he is involved in. As part of TECO, an educational start-up established by a group of Yale-NUS students, Nikita focuses on his company's expansion into European markets, and he is making use of what he has learnt from the Intensive to contribute productive and useful ideas on product development for his company.
Nikita is also part of the Student and Alumni Advisory Group of the Yale-NUS' Common Curriculum Review. "My main goal is to improve on Yale-NUS's Common Curriculum, driving its innovation in the liberal arts and science education. I hope to represent students and alumni in this process, and I am sure that frameworks I have learnt in this programme will help me increase the impact students and alumni have on the Common Curriculum."
For Akanksha Madan (Class of 2023), the programme has emboldened her to think of changes to improve her student organisation Yale-NUS Womxn in Business, where she is the president. Over the semester break, she plans to explore some of the ideas she developed through the Intensive to create a more meaningful experience for its members by actively creating a culture that welcomes new ideas to the table.
On the ideas that influenced her during the programme, Akanksha cited two thoughts shared by the guest speakers. "I've always seen problem-solving as a team effort, and Jeff Hoffman, founder of Priceline.com, said that innovation must be made possible by working together and also by bringing together people who may otherwise never work or speak together. What he called "kinetic collisions" are made possible when the secretary, CEO, and sales team get in the same room."
The second thing that has stuck with her is the CTO of TIME Bharat Krish's description of TIME's culture as a "culture of humility", which creates an environment where everyone can express their ideas. "I hope to be part of, or facilitate, kinetic collisions and create, or contribute to, a culture of humility in my experiences," said Akanksha.
Isabelle Tan (Class of 2023) decided to apply for the programme as she is fascinated by the idea of intrapreneurship. She said, "This wonderful concept serves as an internal incentive to accelerate employee-led innovation and I truly believe it to be far more effective in facilitating change in corporate culture as opposed to external incentives like remuneration."
The Intensive has also complemented her involvement in a product management mentorship programme hosted by Rakuten Asia, which took place from October to November 2020. For the mentorship programme, Isabelle was tasked with coming up with a novel product feature to boost the user experience of an existing e-commerce platform. The Intensive has proven useful for her product management project by encouraging her to let go of constraints during the brainstorming stage and unleash her creativity.
Isabelle hopes to continue to apply the knowledge acquired from the Intensive vis à vis intrapreneurship and uninhibited innovation to her future internships.
"Innovation should not start from a place of constraint-awareness. From the Intensive, I've understood the importance of letting myself think big and out of the box when it comes to problem-solving, even if my ideas seem silly at first!