By Daryl Yang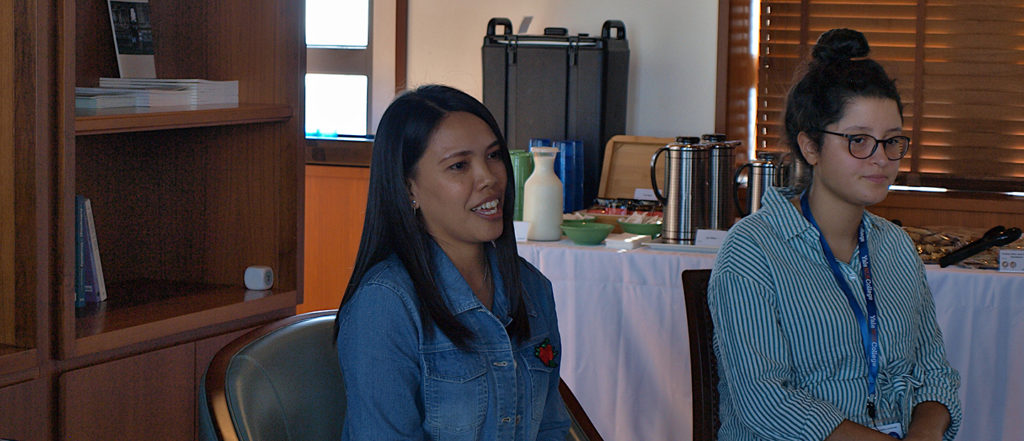 Rea Maac (left) sharing her poetry writing experience at "Open Borders: Stories have no Boundaries" held at Saga College Rector's Commons, Yale-NUS College. Image provided by Joel Yew. 
Rea Maac has been living in Singapore since 2010. In the early years, she was discouraged and sad because her friends and family back in her hometown of Marinduque, Philippines, would belittle her when they found out what she did for a living.
"'What, you're just a domestic worker?' That's how my friends and family used to react when I told them," Ms Maac said. "I used to remind myself that I have to behave because I am just a maid. Because someone told me, 'you are just a maid' and that is what has stuck on my mind," she said.
All that changed in 2016, when she came across a poetry competition for migrants in Singapore. The opportunity excited her because she used to write poetry for her school newsletter in the Philippines. She grabbed her pen and started writing that same night.
"On the day of the finals, I went alone and my legs were trembling while I delivered my poem. I didn't win but it was that day when I felt alive again. That is the day I showed my existence, that I felt like I am not 'just that maid,'" she said.
Even though she did not win, her poem "Alikabok" (Dust) was shortlisted for the Migrant Workers Poetry Competition Singapore 2016 and was included in the anthology, Songs from a Distance.
Rea was one of several speakers at "Open Borders: Stories have no Boundaries", a reading event in September co-organised by the College's community service group, ComPact, with Migrant Writers of Singapore.
During the event, speakers from diverse backgrounds took turns to share stories and poetry they had written on the themes of borders and belonging.
After performing "Scarecrow", another poem that she had written, Rea added that "behind her writing accomplishments are the struggles of being a domestic worker."
"No matter what I do, there are still some people out there who will still pull you down, belittle you simply because I am just a maid. For them, I might be just a maid," she said.
"But behind the word 'maid' is a loving mother who chose to leave her son in search of greener pastures for their family. Behind the word 'maid', is a loving sister and a caring daughter who promised her parents a better life. Behind the word 'maid' is a human. I am a human, I am not just a domestic worker. I am more than that if only people would just open up their hearts."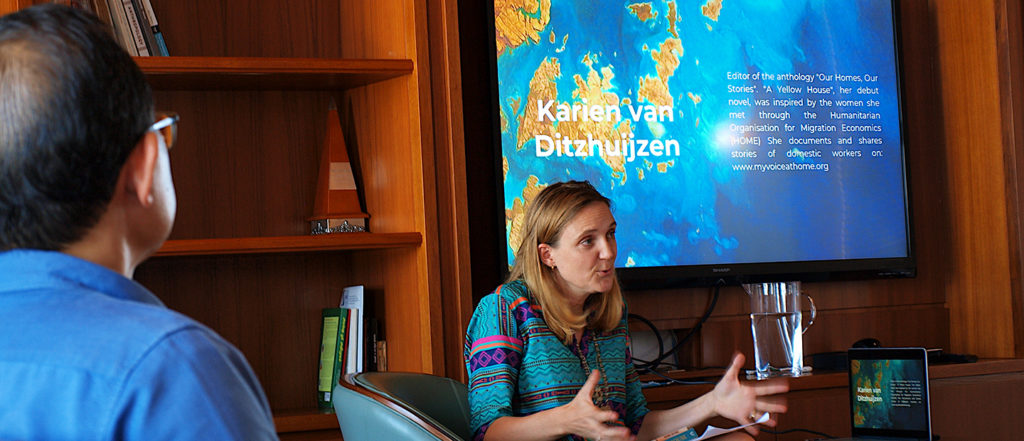 Image provide by Joel Yew.
Rea's story is recorded as part of an anthology that another speaker, author Karien van Ditzhuijzen (in photo above), had written. Our Homes, Our Stories features stories of women in Singapore working as foreign domestic workers. The proceeds from the anthology go towards supporting the Humanitarian Organisation for Migration Economics (HOME).
Interested in how stories can open boundaries, Ms van Ditzhuijzen shared about her personal journey as a migrant in Singapore.
"When I first arrived in Singapore, I found it difficult to make friends. At the same time, as an expatriate, we live in what is often known as a 'luxury bubble'. It made me reflect on what the experience being a migrant is like for other types of migrants, like Employment Pass holders and foreign domestic workers," she said.
She recently published a novel, A Yellow House, which was inspired by the women she met while volunteering with HOME. At the event, she read an excerpt from the book.
Another migrant who spoke was Debabrota Basu, who recently completed his PhD on Artificial Intelligence at NUS.
Part of Migrant Writers of Singapore, he shared about how the group came about as a result of the shared love for poetry as a universal medium for communication and giving voice to the thoughts and stories of migrant workers in Singapore. He is also the translator of Migrant Tales, an anthology of poems by migrant Bengali poets in Singapore
"Whenever people talk about borders, and how they separate us, there are many different borders that we construct. But they are ultimately what we construct," he said. "To get past them, we need a universal medium of communication. What we are doing through migrant writers of Singapore is to try to express that shared understanding and to tell our own stories."
"This is what opening borders mean to me. That is why I don't want to read my own writings, but to read some parts of Toba Tek Singh."
A short story written by Saadat Hasan Manto and published in 1955, Toba Tek Singh focuses on the independence of Pakistan in 1947 and the effects and meanings it had on the idea of borders and boundaries.
He added that the motivation behind reading this piece was because it embodied the idea of rebellion against borders in the story. "I think this story really captures the idea of how stories can open boundaries," he noted.
According to Jay Ong (Class of 2021), the student organiser from ComPact, the idea for such an event first came from Zakir Hossain Khokan, the main organizer from the Migrant Writers of Singapore.
"He had contacted another Yale-NUS professor who works on migrant issues, Professor Anju Paul. She roped me into the conversation and that is how the event came about," he shared.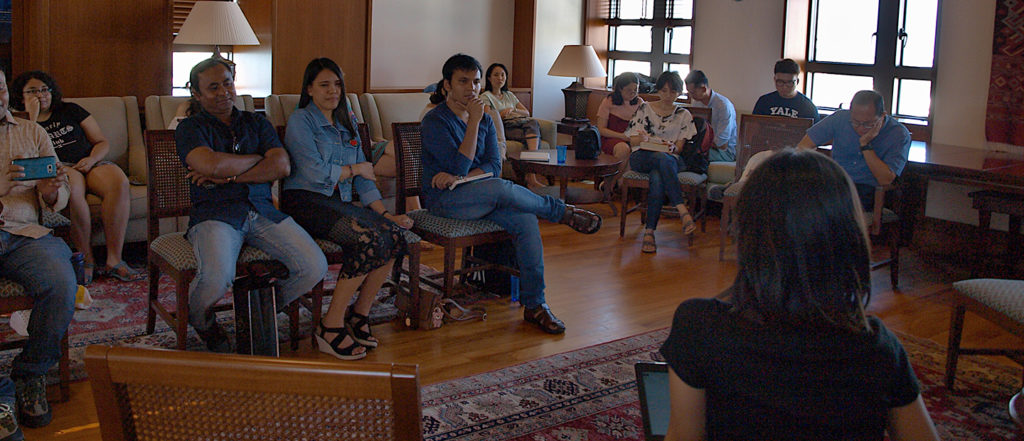 Image provided by Joel Yew.
Two Yale-NUS students, Aaliyah Longden and Ng Min (Class of 2022), also had their writings shared at the event, alongside Mr Lawrence Lacambra Ypil, Writing Lecturer at the Yale-NUS Writer's Centre. A poet and essayist from Cebu, Philippines, his first book of poems, The Highest Hiding Place, was given the Madrigal Gonzalez Best First Book Award.
Following the September event, ComPact has since collaborated with the Yale-NUS Bhangra dance troupe to host a Bhangra dance session with migrant workers as well as a second iteration of "Open Borders" in November.