Written by Valerie Yeo | Image by Samuel He for Yale-NUS College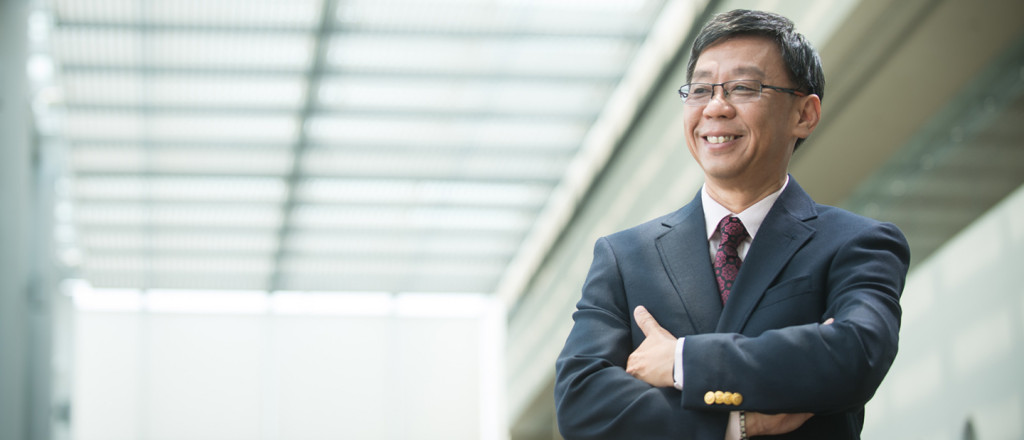 Noted historian Professor Tan Tai Yong has been named the Executive Vice President (Academic Affairs) of Yale-NUS College and he is looking forward to joining the vibrant and energetic community of learning here. "Yale-NUS is a very exciting and innovative initiative – the first of its kind in Asia," said Professor Tan, "I am thrilled by the opportunity to be involved in this trail-blazing effort."
Professor Tan brings to Yale-NUS College his rich experience in residential and co-curricular life gleaned from his years as the Vice-Provost of Student Life at the National University of Singapore (NUS). There he oversees student matters, University Town and the Residential Colleges, the Centre for English Language and Communication as well as the Office of Student Affairs and the Halls of Residence. He is concurrently the founding Director of the Institute of South Asian Studies, an autonomous university-level research institute in NUS.  Professor Tan was formerly Dean of the Faculty of Arts and Social Sciences.
"My top priority is to meet everyone in the College as soon as possible – faculty, staff and students – to get to know everyone well," shared Professor Tan, who will be starting his appointment at Yale-NUS on 1 October 2014. "At the same time, I will need to learn, very quickly, the College system and processes, and will strive towards making the work environment as productive and enjoyable as possible."
As Executive Vice President (Academic Affairs), Professor Tan will be responsible for the academic and co-curricular aspects of the liberal arts experience, including all faculty matters and academic affairs. Besides championing the personal, ethical and intellectual growth of students in the College, both inside and outside the classroom, the Office of the EVP (Academic Affairs) also aims to cultivate a culture that celebrates both teaching and research excellence, guided by a passion for intellectual pursuit and a commitment to academic freedom.
Professor Tan added, "Ultimately, the College is only as successful and strong as the people who make up its community. The challenge is to build and sustain a community of passionate, capable and committed faculty, staff and students."
A strong believer in the impact and value of a liberal arts education, Professor Tan noted that the broad and multi-disciplinary approach to learning will help students see the world's issues in a broader context, from different perspectives, and across cultural boundaries. "I believe there's a place for a strong liberal arts college in Singapore as the country evolves and faces a range of issues that will become more challenging and complicated. Our system needs to create opportunities for students to understand issues across domains, think critically and creatively, and be reflective and articulate. These are educational outcomes which a liberal arts education is especially well-placed to accomplish."
Recently appointed as one of nine Nominated Members of Parliament (NMPs), Professor Tan will also be actively contributing new ideas and fresh perspectives on different Singapore issues. As NMP, Professor Tan will be drawing on his expertise and passion around Singapore's heritage. Professor Tan specialises in South and Southeast Asian History and he has published extensively on the Sikh Diaspora, social and political history of colonial Punjab, de-colonisation and the partition of South Asia, and Singapore history.
In his free time, Professor Tan enjoys going to the gym or a run after work as he believes that a good physical workout is a great way to unwind after a long day of meetings and emails. A movie buff, Professor Tan is especially fond of the creatively choreographed fight scenes in kungfu movies and Bollywood movies with social themes, such as The Three Idiots.