By Lim Tian Jiao
This year, the COVID-19 pandemic made for an atypical May-to-July semester break. Some of Yale-NUS College's international students had to return to their home countries on short notice. Students who stayed in Singapore spent three months in partial lockdown, where residents were asked to avoid non-essential trips outside of the home.
Making use of this downtime, some Yale-NUS College students took the opportunity to kick-start their passion projects and bring them to fruition.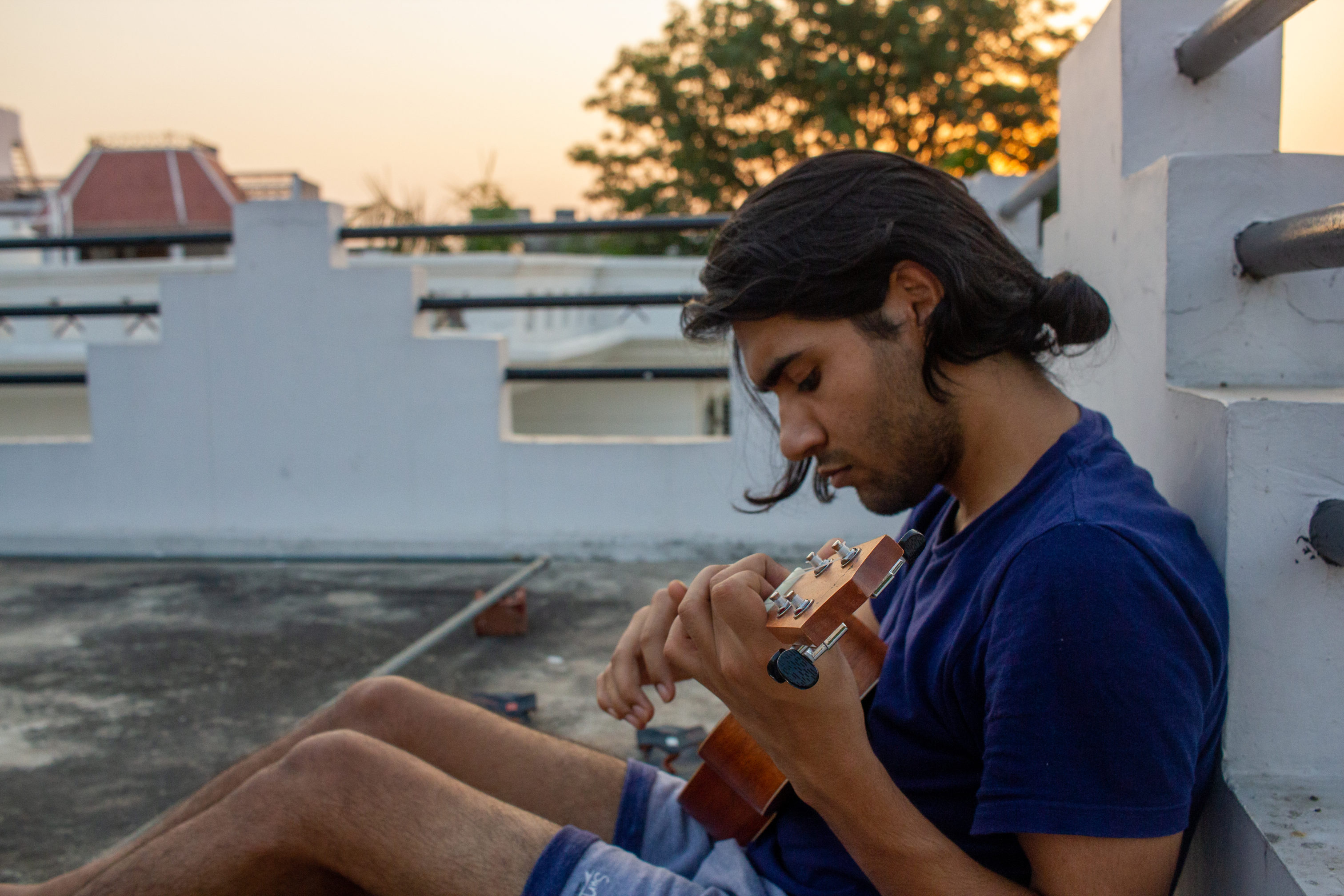 Saksham Mehrotra at home in India, as pictured in his documentary. Image provided by Saksham Mehrotra.
Saksham Mehrotra (Class of 2021) is working on a documentary exploring the meaning of 'home'. It features several other Yale-NUS students as interviewees, and is interspersed with clips of Saksham's summer with his family in India.
Inspiration for the documentary began in March, when Saksham was recalled from his semester abroad programme at New York University (NYU) due to COVID-19. He was torn between spending his summer in Singapore or in India. "I didn't know which home I felt more comfortable spending five months quarantining in," he said.
Not long after, Yale-NUS' campus closed due to the pandemic as well, with many international students facing the same dilemma. "I wanted to know if other students also struggled with defining home," said Saksham, who had taken filmmaking courses in NYU — one of which required him to make a five-minute documentary about 'home'— and plans to make a documentary for his final-year capstone project. "Is home mainly their family, or their friends?"
A highlight of Saksham's filmmaking experience was having candid conversations with his Yale-NUS schoolmates, interactions facilitated by Yale-NUS' fully residential living environment. "Family is a very personalised concept, and during interviews I had open conversations about this with people I've never met."
Saksham also treasured the time he spent with his family while working on this project. "As I worked, I realised that my parents make up a large portion of what home means to me," he said.
"At first, college seemed to me like a very open-minded, progressive place, very different from things back home. But the more time I spent with my parents, the more I realised that I just wasn't giving them a chance."
Saksham is in the process of editing his documentary, and plans to release it in December 2020.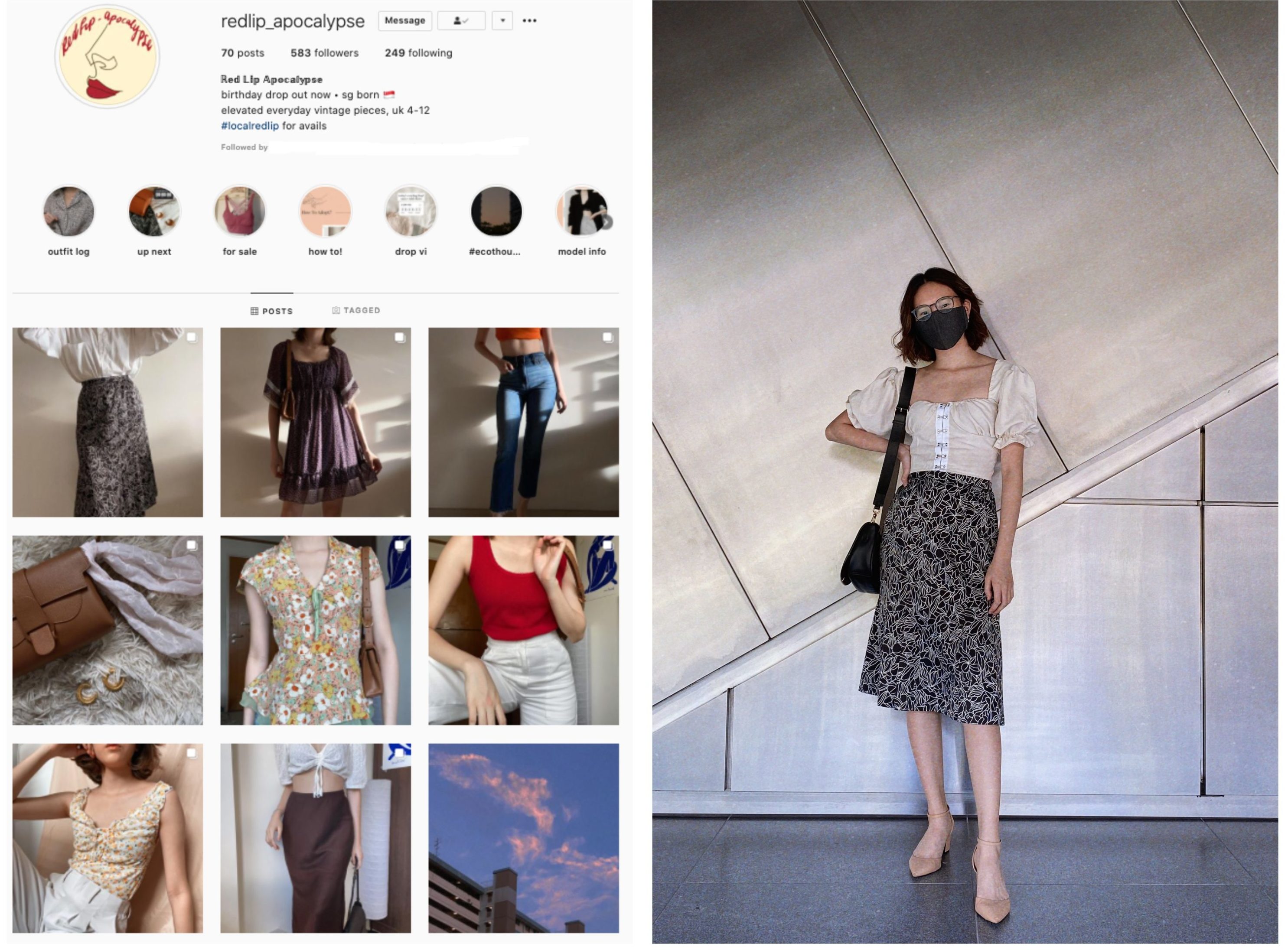 Foong Xiu Ting and a screengrab from her Instagram vintage thrift shop, @redlip_apocalypse. Images provided by Foong Xiu Ting.
Meanwhile, social isolation amidst Singapore's circuit breaker restrictions propelled Foong Xiu Ting (Class of 2021) to set up a vintage thrift shop on Instagram.
"There isn't much of an affordable vintage scene in Singapore's mainstream market, making my online shop a unique business," Xiu Ting remarked. "I try to bring in items that are no longer in stock — either the brands are no longer made, or the materials are no longer used."
In creating a cohesive brand, Xiu Ting drew on her previous internship with a retail consultancy, where she researched on consumer and marketing insights. "In the saturated online thrift shop scene, it's important to find your niche. You have to be intentional about curating your style."
The hectic semester means that Xiu Ting is unable to continually source for clothes during the school term. However, she plans to use her Instagram account as an educational platform, posting content about topics ranging from sustainability and fast fashion to care tips for vintage clothing. For instance, she has already created and posted an infographic about polyesters and their environmental costs. "I've learnt a lot from creating this shop, and I would like to share that knowledge," she said.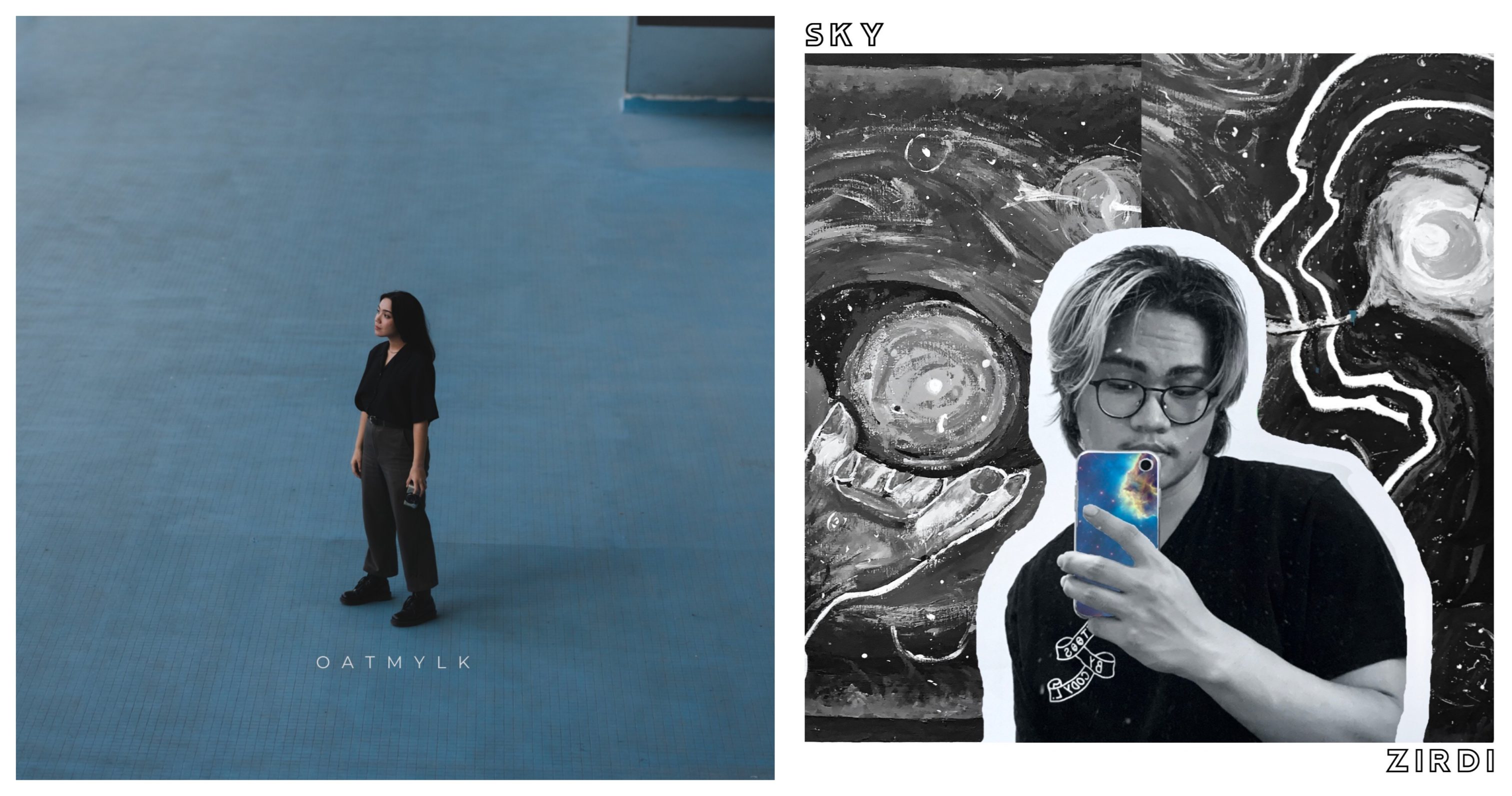 The covers of Found (left) and Sky (right). Images provided by Angela Hoten and Zirdi Syukur.
The unexpectedly long break also allowed Zirdi Syukur and Angela Hoten (both Class of 2023) to devote more time to their original music. Over the summer, Zirdi put out a six-track Extended Play (EP), Sky, while Angela released a single, Found.
Found is Angela's first foray into solo music, and writing it impressed upon her the power of simple lyrics. "I often think that I must write with poetic jargon and use fancy metaphors. But I've learnt that writing about abstract things in a very literal way can be extremely powerful," said Angela, who is studying remotely this semester from her home country of Australia.
"It's been emotionally challenging to draw out some very painful experiences and lay them raw and bare in a song. Found speaks to my journey of feeling confused and lost, but being able to find a sense of peace and reassurance that my life is bigger than myself."
Meanwhile, Zirdi recorded and produced his EP as he stayed on campus during the semester break, using equipment borrowed from the Educational Resources and Technology (ERT) Arts department, which the College makes available to all students for their projects. "I started writing the songs last year, and moved into digital production over the break," he said.
Zirdi has been heartened by the reception to his EP so far. "The highlight was the support I got from everyone— it's nice to see my efforts being enjoyed."
Both artists have more music in the pipeline, and would like to tap into Yale-NUS' creative community in future projects.  "I'm working on a couple of songs at the moment that I hope to release by the end of this year," Angela commented. "I'm also looking forward to possible collaborations in the future with Yale-NUS students as well, once I come back to Singapore!"
Added Zirdi, "I hope to start collaborating with more artists. I'd like to encourage more people into the music production scene in school, especially since we have a recording studio here. I'd love to have people to bounce ideas off of — I'd imagine if I make another track or EP, I'd work with other musicians to create a vision together."