By Clare Isabel Ee | Images provided by Team Tata Crucible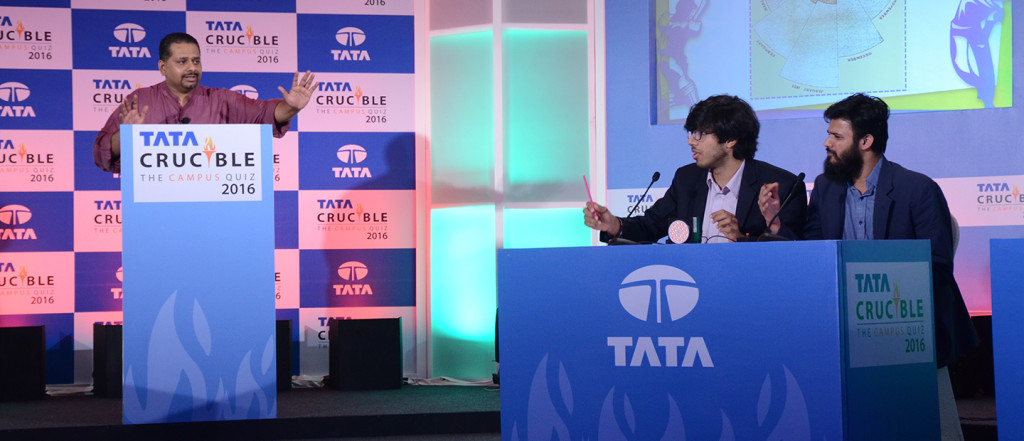 Seated: Rohan Naidu (Class of 2017) and Shivam Bhardwaj (NUS, postdoc) in the midst of answering a question
At the tender age of nine, Rohan Naidu (Class of 2017) was selected by his schoolteacher to compete in a trivia competition. He gamely participated, but was only able to answer one out of the 20 questions correctly.
Regardless of the result, the impact was made – he had fallen in love with quizzing.
"I found it really cool," he shared. "All those people being cheered on for what—for knowing more? I said, 'Wow, knowing a lot of things is a prized trait? I want to be a part of this circle!'"
In the years to come, Rohan's passion for quizzing won him nearly every national quiz he competed in, and three prestigious Tata Crucible Campus Singapore Quizzes.
Most recently, Rohan and his quiz partner, postdoctoral student Shivam Bharadwaj from the National University of Singapore (NUS), competed in the international finals held in Mumbai, India, and emerged the international champions.
"This platform is getting people like us together, putting us on one stage and keeping the competitive spirit up, and rewarding us for our knowledge," Rohan said in an interview with the Tata Group after their win.
"Today, I have witnessed the excitement, passion and ability of these young kids who have reached this stage of the competition. They are the best of the best and have shown curiosity, sheer dedication and ability, and the large amount of effort they have put in to be in the game," said the guest-of-honour, Dr Nirmalya Kumar, member of Tata Sons' Group Executive Council, in a short speech.
Dr Kumar, who fêted the winning teams, added that these qualities were highly valued in the business world, and that participants "have shown the desire to learn which is necessary to remain continuously relevant in the world."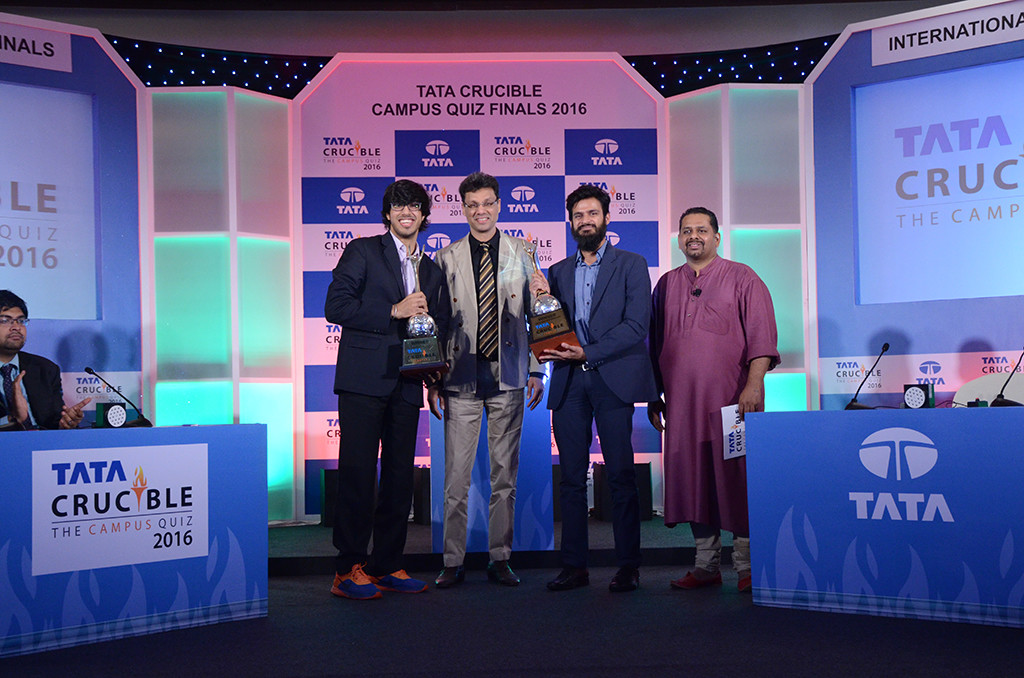 Rohan (far left) and Shivam (second from right) receiving their trophies
Organised by the Tata Group, the Crucible competitions began in 2004 in India with a team-based format of two participants per team. It has since grown incrementally over the past 12 years, with the latest edition featuring close to 5,000 groups from 36 cities in India alone, not to mention the international teams.
Crucible came to Singapore's shores in 2007, and has seen strong participation from NUS, Singapore Management University (SMU), Nanyang Technological University (NTU), the Singapore Institute of Management (SIM), among others.
"It's an annual quiz competition similar to what you see on a television show," Rohan explained. "What usually happens is every team takes a preliminary written exam, and you'll be invited on stage if you're one of the top few. After that, it's like a game show – you press a buzzer and answer a question."
Although questions asked are typically related to business, Rohan was pleased to find that some of the questions asked in the 2015 Singapore finals were about Singapore.
One memorable question for him was the last question of the finals in Singapore last year, which asked for the identity of a businessman in Singapore during World War II who "ironically" sold chewing gum to raise money.
The answer: Lee Kuan Yew.
The clue: the inclusion of the term "ironically", as the former Prime Minister was well-known for later introducing the country's ban on chewing gum in public spaces.
"Quizzing in India is not so much about trivia, but more about finding interesting things and wording them in nice, cryptic ways to set up a deduction game," Rohan said, describing his attraction to the game.
"[The question] is set up as a situation in which a reasonably well-informed person can deduce the answer to!"