By Joshua Wong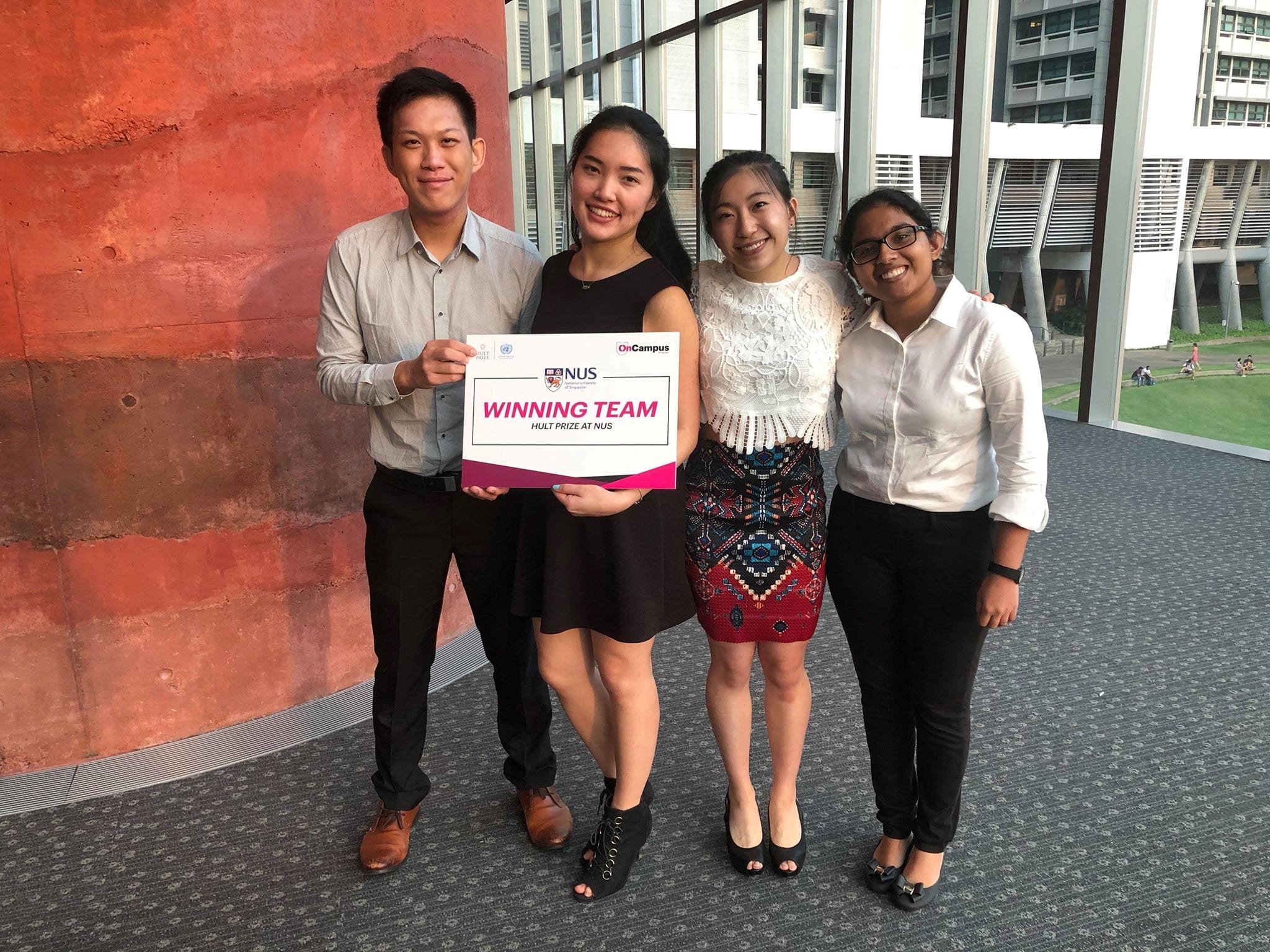 From left: Damon Lim, May Wang, Rachel Lim, Thaveesha Thenuwara. Image provided by Damon Lim.
Beyond the classroom, Yale-NUS College students' concern for bettering the world around them has borne fruit in a variety of innovative projects and social impact initiatives, some of which have received prestigious awards.
These include first place in the National University of Singapore (NUS) Hult Prize competition – part of the larger Hult Prize competition, which challenges young people to solve the world's pressing social issues through creating for-good for-profit startups – and a Gold award at UNLEASH 2019, a global innovation lab which gathers 1,000 talented individuals annually to collaborate on solutions to meet the United Nations Sustainable Development Goals (UN SDGs).
On 9 November, Damon Lim (Class of 2021), May Wang, Rachel Lim (both Class of 2022) and Thaveesha Thenuwara (from NUS) won first place for the NUS Hult Prize competition. Established in 2009, the Hult Prize is sponsored by the Hult International Business School and features ideas from university students to tackle social issues. In response to this year's theme, "Bold Businesses for a Better Planet", the team pitched May's startup, Linens N Love.
Started in 2014 by May and her sister Vivian, Linens N Love is an award-winning 501(c)(3) non-profit organisation[1]  that collects unwanted pillows, bed sheets, towels, blankets, and more from franchise hotels to donate to charities in need including animal shelters, homeless shelters, teen outreach centres, and veteran homes, with over 15,000 items donated to date.
"Every donation is 100 percent student-coordinated. Students practise professional correspondence, learn how to request donations and create partner relationships with hotel managers, choose where they want to donate linens to, and coordinate delivery. Students are the ones who are empowered to benefit the community," said May.
"Our team worked really hard over many late nights on our pitch and business model. I am grateful to the organising committee for the opportunity to pitch our green business idea, and I hope to contribute towards a more sustainable world in my work in future," said Damon.
Winning the NUS competition qualifies the team to compete in the regional round for the Prize, which they can attend in any of over 25 cities including London, Tokyo, and Dubai. Successful teams will progress through another round until they reach the Hult Prize Finals at the United Nations headquarters in New York, with the overall winner awarded US$1,000,000 to fund their start- idea.
"Winning the Hult Prize is a dream and opportunity. It's incredible and almost terrifying to begin to imagine the possibilities that this door can open, because I've never considered making non-profit work a full-time career path," May added.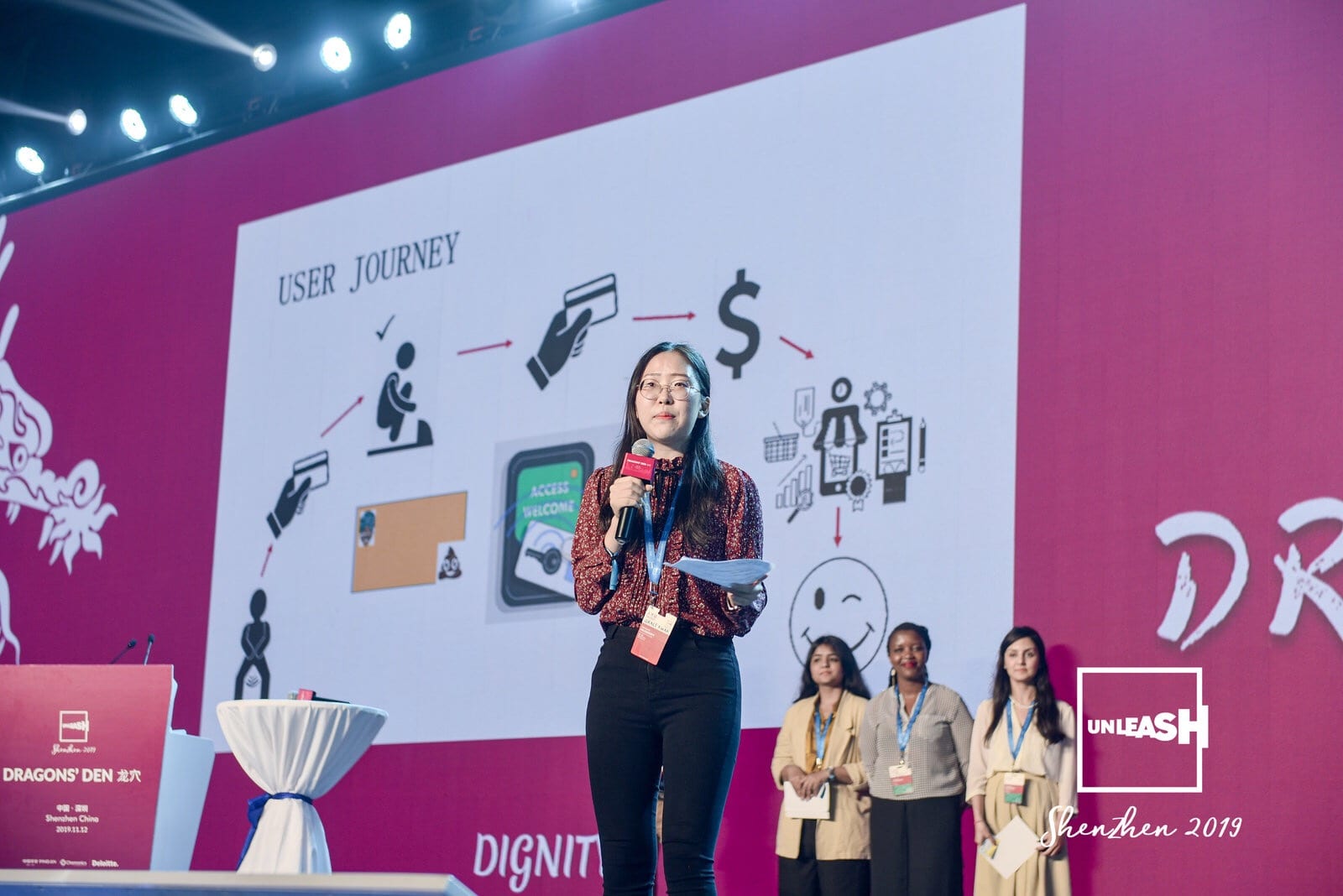 Grace Kwak presenting her team's idea at UNLEASH 2019. Image provided by Grace Kwak.
Not to be outdone, Chae Woon (Grace) Kwak (Class of 2020) and her team – comprising herself, three working professionals, and one Masters student – won Gold award at UNLEASH 2019, held at Shenzhen from 6 to 13 November. UNLEASH is an annual global innovation lab which gathers 1,000 talented individuals aged 20 to 35 to collaborate on solutions to meet the United Nations Sustainable Development Goals (UN SDGs).
Grace's team was one of eight who were celebrated for having the best solutions out of 212 participating teams in addressing the UN SDGs. They were among 1,000 individuals selected out of over 18,000 applicants.
The team tackled the problem of open defecation in regions such as South Asia and Africa, to address SDG 6: "Clean Water and Sanitation". Their solution for creating behavioural change, "PoopIT", is a reward-based credit system where users gain credits for using toilets properly. These credits can then be used to buy products at retail stores.
The idea came when Grace and her team were brainstorming ideas on how to tackle the problem of open defecation in a plausible, cost-effective manner. Using a physical card which users tap to gain credits every time they use a toilet was good as it was low-tech, scalable, and financially viable.
Grace presented her team's proposal to over 1,200 people, including investors, corporations, and Nobel laureates, and is planning on working with her team to take their idea forward and implement it in India.
"Before attending the UNLEASH opening ceremony, I really didn't know how big of a deal it was to have been selected as a 'talent' for this programme," said Grace.
"Winning was an unexpected blessing that also serves to encourage me, showing me that I can really make a big impact and create positive change – whether it be in public health or in other areas of life."
[1] One that is exempt from United States federal income tax