Text and image by Melissa Wang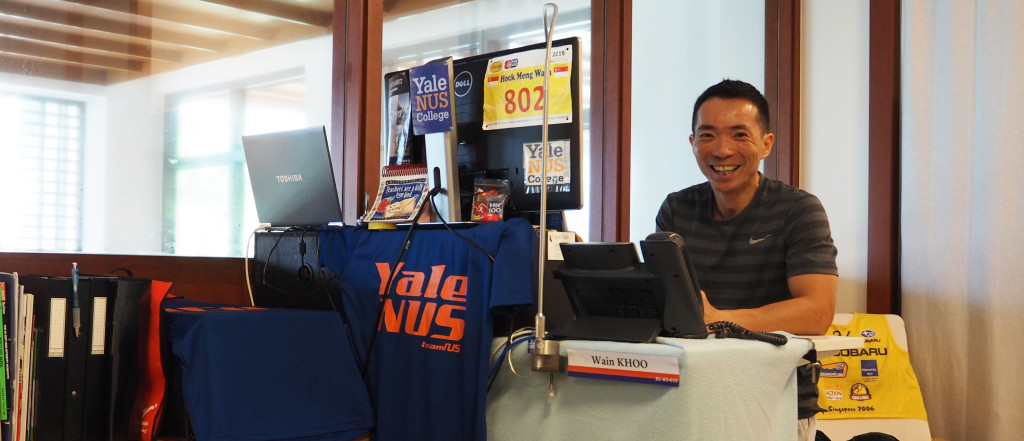 Typing away at his standing desk, it was hard to even think that he ran 23km to work in the morning. But this is in fact a common ritual for Associate Director of Athletics & Fitness with the Dean of Students office, Mr Wainright Khoo, who is a firm believer that humans are made to move.
"Sitting is the new smoking, which is why I am an advocate for being active and I'm always standing when working," shared Wainright, who also goes by Wain, still standing while being interviewed.
Out of the house by 6.15am to run at least every alternate day, Wain incorporates his training and workouts into his daily life – in this case, as a part of his commute.
He explained, "I think it is important to be flexible and creative with your training, so that it is less boring and this is also something I try to impress on students and my colleagues."
Each of these runs are actually part of Wain's training for the The CCC® race in Chamonix, France this August, a 101km ultra-trail marathon. The CCC race will be the third and final qualifying race for Wain to secure enough points to ballot for a slot at next year's Ultra-Trail du Mont-Blanc (UTMB), where he will take on the 100-mile (161km) race. The UTMB is the pinnacle of ultra-marathons, and something Wain himself had thought impossible to accomplish.
He revealed that Dr Eduardo Lage-Otero, Vice Rector of the Saga College, was the person who planted the idea of taking on the UTMB in him.
"At that time, the idea seemed incredulous," he conceded. "You had to participate in enough races to even ballot for a slot!"
But in a little less than two years, Wain is now en route to qualifying for this fabled race – he has since participated in two ultra-marathons in Hong Kong that contributed to his qualification. One of these races, which reached sub-zero temperatures in the mountainous regions even saw his clothes frosting up – an experience Wain deemed to be his toughest race yet.
In spite of this, Wain revels in the beauty of trail running and the sport of ultra-marathons. He appreciates that the races have lowered barriers of entry, where "any average Joe can take part, as long as you put in the time and effort".
This spirit in ultra-marathoning goes hand in hand with Wain's mantra for his work of promoting athletics and fitness at Yale-NUS College.
"I hope to motivate the college community, colleagues and students alike, to understand that it does not take a big change in their life to become healthier and more active," he stressed.
With this mindset, Wain has made multiple steps in the course of his work, to help students lead a more active lifestyle. Having been with the College since 2013, he started with on-the-ground work, where he stationed himself at the climbing wall at Stephen Riady Centre every Wednesday, to assist any student who may be interested in rock climbing. He also conducted speed interval sets for students at the track, especially in view of the Singaporean men who have to take the mandatory annual Individual Physical Proficiency Test (IPPT), in which a component is to run 2.4km. At 43 years old, Wain is not letting age become an excuse, and definitely setting a role model, having himself clocked a timing of less than 9 minutes for the last ten years.
Wain reflected that a great deal has changed over the course of the last three years, from not knowing where student interests lie and having just one Multi Purpose Hall, to having numerous facilities on the Yale-NUS campus, and established sports and wellness groups that students can join. Feeling a sense of fulfilment from being entrusted with the responsibility to effect change in terms of athletics and fitness, Wain considers this as his drive to work.
This effect was also exhibited more recently, when Wain piloted the Fitbit Challenge, together with the Dean of Students Office to help active students know if they were getting enough rest, and to encourage sedentary students to move more.
"I have had students telling me that they were taking the stairs because of the Fitbit, which really motivates me," Wain recounted. "It makes me feel that my work has an impact."
When asked if he has any pearls of wisdom for the College community, he adds: "Inactivity kills, so keep moving!"