Written by Clare Isabel Ee | Image provided by Kalya Kee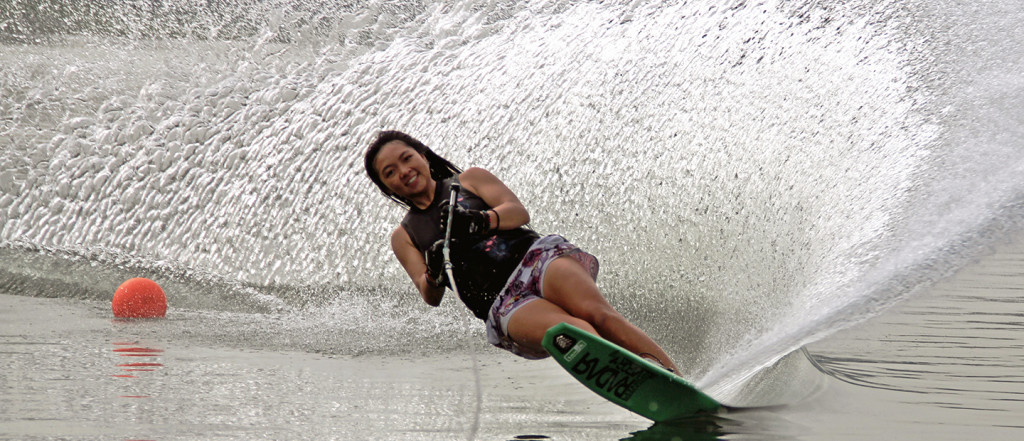 Waterskier and Yale-NUS Class of 2018 student, Kalya Kee, on the water.
In 1959, the South East Asian (SEA) Games was held for the first time in Bangkok, Thailand. There were a total of 650 athletes from six countries who participated across 12 sports.
Since then, the SEA Games has grown more than sevenfold, with nearly 5,000 athletes from 11 countries competing across 35 sports.
In June 2015, Singapore hosted the 28th SEA Games, after a 22-year long hiatus. The country was gripped by an intense sporting fever, with video footage and photographs from the Games flooding mainstream and social media, while many flocked to stadiums and sports halls to catch the live action and cheer on their favourite athletes.
For some Yale-NUS students, their SEA Games experience was in the heart of the action.
Willie Khoo (Class of 2017), Kalya Kee (Class of 2018) and Nicholas Siew (Class of 2018) represented Singapore in Fencing, Waterskiing and Rowing respectively. Willie bagged a silver medal in the men's epee, while Kalya clinched a bronze in the overall women's event (slalom, jump and trick).
They were nervous but excited to represent Singapore, as it was their first time in the SEA Games on home ground.
"There was a lot of pressure for us to do well – especially on home ground," said Kalya, whose parents are both waterskiers, "but with it came a lot of love and support from the public, which made us a lot more driven to win!"
"It was tough for sure, trying to get assignments done while trying to squeeze in time for training, but I think that all the sacrifices were worth it in the end, and the two medals definitely validate the time I took away from my studies," added the cheerful Kalya.
A rising sophomore, Kalya hopes to continue training and competing in regional tournaments while prioritising her studies in the coming academic year. She trains on the water three times a week during school term, once a week with the Yale-NUS Ski, Board and Surf Team, and heads to the gym twice a week.
"[This semester,] I will be really involved in the Yale-NUS Ski, Board and Surf Team, and maybe we can try to get us competition-ready! The team has been showing really great potential and I think that it's been a good way for us to get off campus and into the sun," she said.
Willie, who will be in his junior year come August 2015, initially planned to take a break from fencing after this year's SEA Games, as he typically dedicates five nights a week to training.
However, it is a decision he is reconsidering after narrowly losing the gold medal to Vietnam in the finals.
"If I have a chance, I definitely will want to come back," he said in an interview with The Straits Times. "Especially after today's match when I am much more fired up."
Willie was named Singapore's top fencer in 2014, and has been training and competing worldwide since 2007.
Apart from our athletes, Rakesh P (Class of 2017), stayed out of the sporting field but very close to the action – as an announcer for cue sports events.
"It was quite an experience, something very different from what a student normally does in the summer, so I was very lucky to get the role," he said.
As part of the job, Rakesh thoroughly enjoyed getting audiences to cheer their national athletes on, and says that his most memorable moment from the Games was witnessing Myanmar supporters enthusiastically cheering on their player during an intense snooker match.
"The referee for the table had to stop play to make the audience quieten down but they didn't care," he related. "They just kept cheering for every ball their player sunk. It was great to see their energy and the aura it created in the hall."
Rakesh is thankful to have this unexpected opportunity of announcing for such a big event, thanks in part to his position as a broadcaster at NUS' campus radio station, Radiopulze.
"I really owe it to Radiopulze for having me, and to Sports Singapore for reaching out to budding broadcasters like me," he said. "I love sports and I was open to trying something different and amazing, so I simply had to take it!"
The 29th SEA Games will be hosted by Malaysia in 2017.
For more about sports at Yale-NUS College, check out our 3 June 2015 article: link.