By Mathias Ooi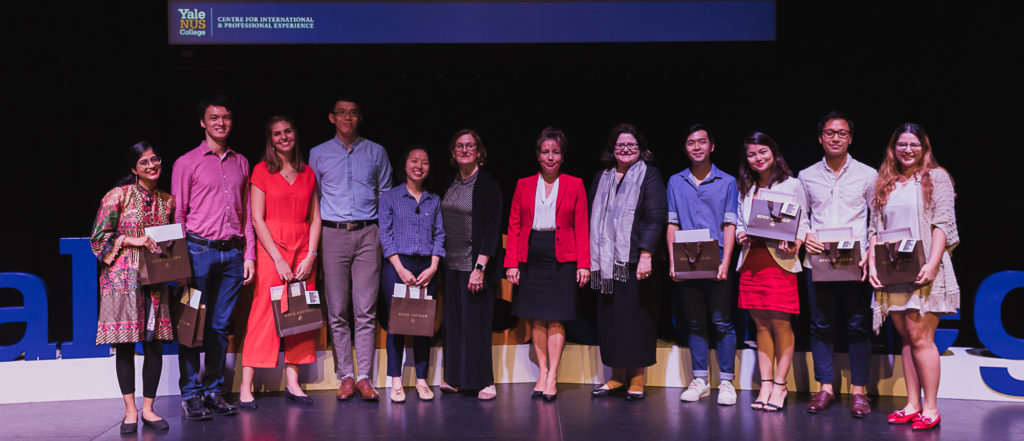 Graduating seniors at the Leadership Symposium held on 13 March 2019 at the Yale-NUS Black Box Theatre, with keynote speaker Ms Stephanie Syptak-Ramnath (centre of photo), Chargé d'Affaires at the US Embassy in Singapore. Photo by Ashbel Chioh for Yale-NUS College.  
The Yale-NUS Centre for International & Professional Experience (CIPE) organised its annual Leadership Symposium on 13 March 2019. The Symposium marked the conclusion of a multi-year journey for nine graduating seniors who underwent the Yale-NUS College Leadership Certificate Programme (LCP).
Started in 2014, the LCP aims to support Yale-NUS students who wish to develop their leadership skills through personal development and service, regardless of prior experience. Participants over the years included a mix of students with varied personal and professional interests. According to Programme Manager Ms Tan Yock Theng, "At Yale-NUS, leadership is a process rather than a position; it is viewed as inclusive and values-based, with the aim of driving positive change." She added that the Symposium not only celebrated the participants' completion of the certificate, but also served as an opportunity for them to develop public speaking skills and actively reflect on their summative experiences.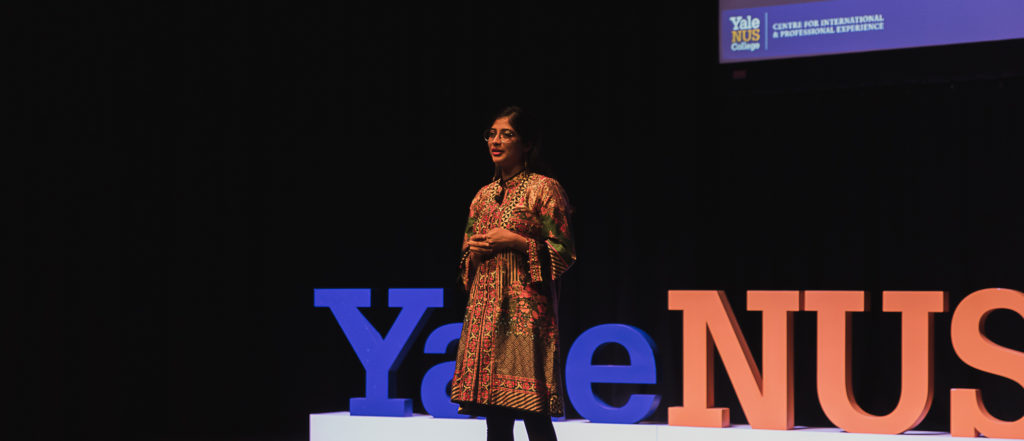 Photo by Ashbel Chioh for Yale-NUS College.  
For Vasudha Kataruka (Class of 2019, in photo above), her main takeaway from the Leadership Certificate process was that leadership can mean very different things to different people. Beyond just emphasising the importance of confidence and responsibility, the programme also encouraged participants to embrace vulnerability, prioritise thoughtfulness and practise empathy, as well as how to work with others. Reflecting upon her experience, Vasudha said, "I realised that an effective leader should try to figure out 'how do I lead with others' instead of 'how do I lead other leaders'."
A Residential College Advisor (RCA), Vasudha constantly seeks to empower others using the lessons and experiences she obtained through the LCP. Keen to pursue a career within the realm of health and migration, she hopes to embody the values of empathy, honesty and vulnerability in her work. She said, "I believe that modelling empathy and vulnerability is necessary for the kind of impact I want to create as a leader."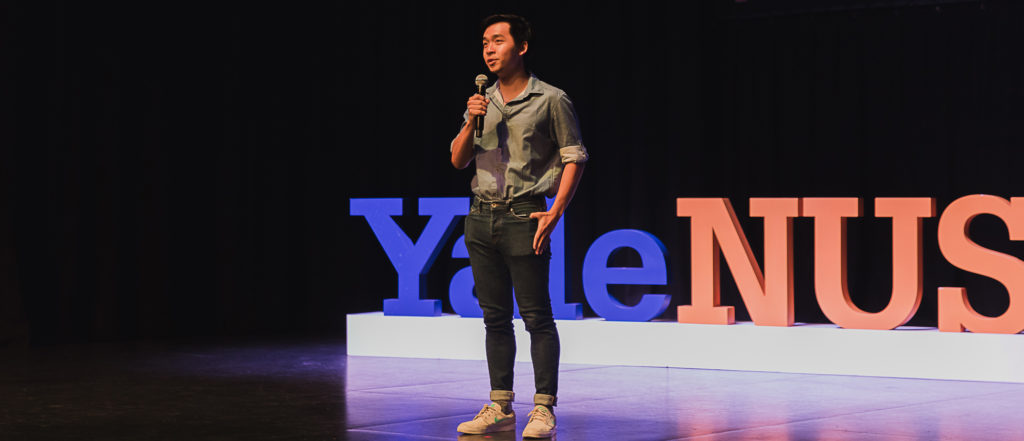 Photo by Ashbel Chioh for Yale-NUS College.  
Similarly, empathising with others is something that Jerald Lim (Class of 2019, in photo above) believes in. During the Symposium, Jerald spoke about how being a leader, for him, has come to mean cultivating and practising three types of listening. He shared that these include listening to yourself by identifying psychological biases and shedding self- and socially-manufactured delusions; listening to others and offering them non-directive, non-judgmental and solution-oriented support; as well as listening to the world through leveraging our experiences and opportunities to solve issues.
In his time at Yale-NUS, Jerald has, among his other achievements, co-founded the student-led environmental movement "Students Taking Action for NUS to Divest" (STAND) and is a part of the P.S We Care peer-counselling team. Beyond these, he hopes to use what he has learnt from the LCP and Yale-NUS to help others cultivate a consciousness to engage in necessarily systematic climate action and social change.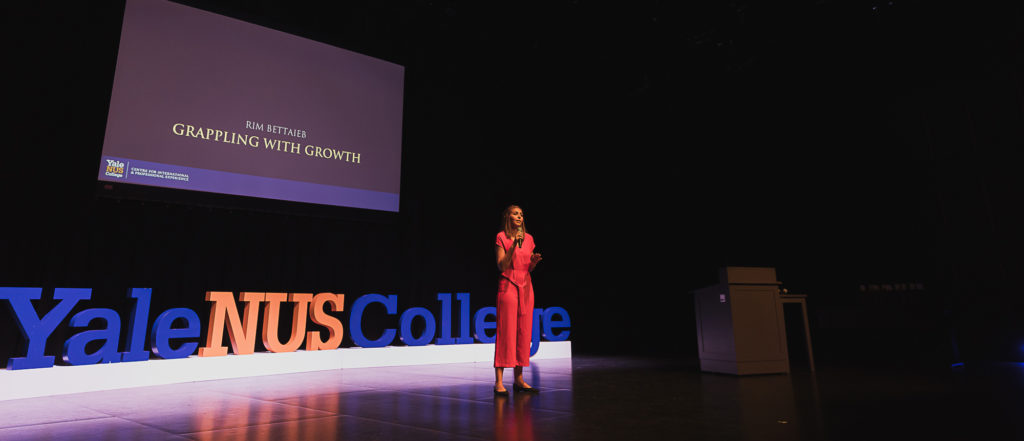 Photo by Ashbel Chioh for Yale-NUS College.  
Like Jerald and Vasudha, Rim Bettaieb (Class of 2019, in photo above) also highlighted the importance of vulnerability and paying attention to one's self. Her presentation at the Symposium was centred on her personal struggles with growth and what she learned from failing to take care of herself in the process of achieving high goals. "To me, being a leader is bringing the best out of people and empowering them to reach their best selves," she said. "I wanted everyone to know that self-care can make us stronger and fitter to reach our goals."
In 2014, Rim founded a youth empowerment programme in Tunisia called 'Empower Education', which she described as one of her toughest endeavours yet. Since then, she has committed herself to a long journey of growth and sharing what she has learnt from her experiences and LCP with others "who are still struggling with defining their own identities and seeking to become better." Looking ahead, she said, "One day, when I manage my own team or even run my own company, I will make sure to remember everything I learned about good leadership from this programme, and I will apply it to the best of my ability."
Indeed, it is individuals like Rim, Jerald and Vasudha that the LCP seeks to mould. Ms Tan said, "Moving forward, we hope the programme will continue to develop and support leaders who will go on to drive positive change in their respective communities, regardless of their field of interest."