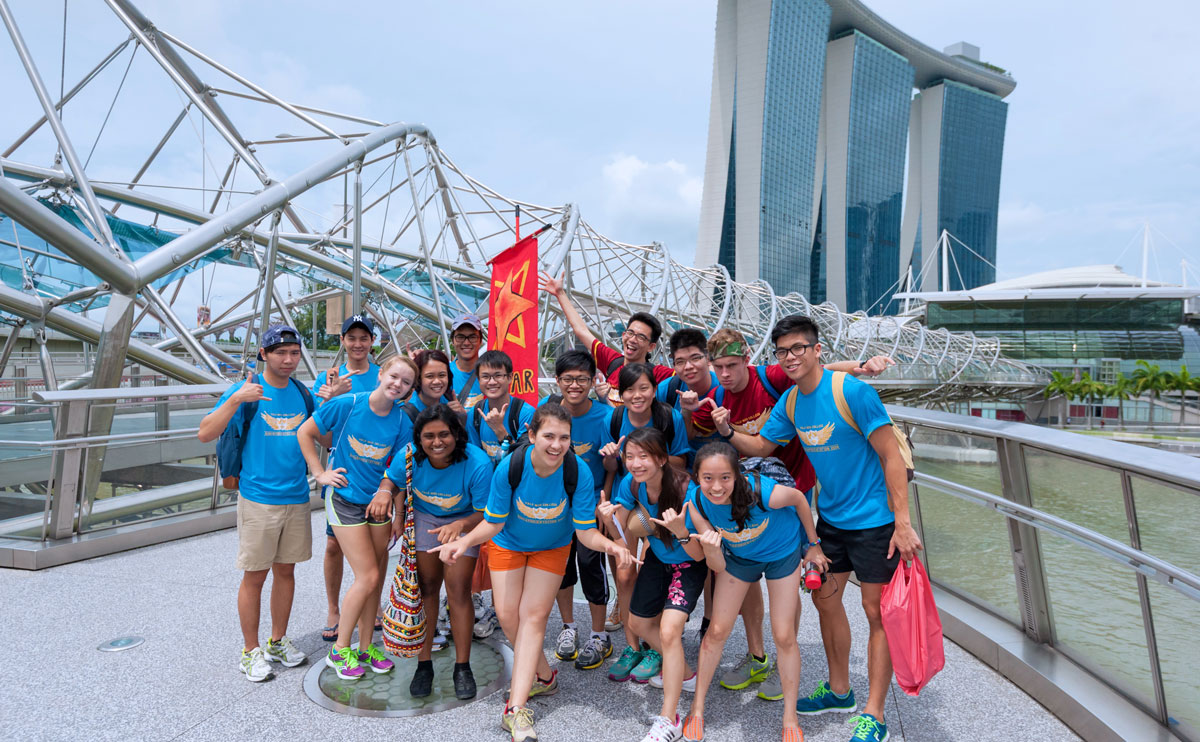 Hello! Congratulations on your offer of admission to Yale-NUS College! We are excited to meet you and hope that you will attend Experience Yale-NUS Weekend. This is an event for admitted students to Yale-NUS and is a great opportunity for you to try out sample classes with our world-class faculty, meet College leadership, and hang out with current students!
Previous Experience Yale-NUS Weekends saw our prospective students from over 40 nationalities taking classes on the Latin poetry of Catallus, exploring the "Mysteries of the Quantum World" and delving into the mechanics of Game Theory. If you're an international student, it is a great weekend to see how our locals live and play. For those of you who know Singapore like the back of your hand, well, get ready for those deep conversations on ancient Chinese philosophy or neuro-biology that will last till the wee hours of the morning.
Experience Yale-NUS Weekend 2016 opens on the evening of Friday April 15 2016, closes on Sunday April 17 2016, and is exclusive to admitted students.
Check out our tentative program schedule here.
Registration:
If you have not already registered, you can do so here: https://apply.yale-nus.edu.sg/register/EYW2016
You will need your Yale-NUS application log-in details to do so. Please register by February 1 2016.
Before you register, please take note of these important things:
If you do not live in Singapore, Yale-NUS College will arrange and pay for your air-transport (and transfers to and fro the airport in Singapore) for you. Do not book your own tickets. Please ensure you have a valid passport (at least 6 months of validity) for travel. Meals and accommodation are also provided.
Parents and guardians are welcome to the weekend but must make their own travel and accommodation arrangements.
What our students say:
Want to hear what our students have to say? Take a minute and check out this video we made for last year's EYW (the 2016 teaser will be uploaded soon):

Parents and Guardians:
Parents are more than welcome to take part in sections of the program reserved for parents! Like the students, you will have the opportunity to speak with faculty, financial aid officers, admissions staff, current students and the College leadership. We will be sending a parent-specific program at a later date.
Accommodation
You'll have the opportunity to stay in one of Yale-NUS College's student suites on campus, eat in our dining halls and hang out in our butteries. You don't have to worry about a thing.
If you are a parent or guardian traveling to Singapore, you might want to check with your preferred hotel groups. Those who would like to book accommodation near us can consider the Park Avenue Rochester – conveniently located 10 minutes from our campus, and accessible by bus and Mass Rapid Transit (MRT) train.
Contact Us
If you have a question about Yale-NUS College, Singapore or Admissions-related matters, please email admissions@yale-nus.edu.sg
If you have an urgent question about Experience Yale-NUS Weekend, please email daniel.cho@yale-nus.edu.sg
First-time visitors to Singapore may want to refer to Your Singapore: The Official Guide to Singapore
FAQs
What is Experience Yale-NUS Weekend?
Experience Yale-NUS is a weekend event only for admitted students to Yale-NUS. Experience Yale-NUS will introduce you to the groundbreaking possibilities that Yale-NUS' unique education can offer. You will take sample classes of the Common Curriculum with world-class faculty and spend time with our current students. There will be plenty of time to speak with the admissions team and College leadership. International and local students will have plenty of time to explore the city and most importantly, hang out!
Will I have to pay for anything? How much spending money should I bring?
Yale-NUS College is happy to provide food, accommodation, and transport for your weekend with us. You might want, however, to bring some money to purchase snacks or drinks beyond what we provide you at meals. For international students, some extra money (SGD $50) for the weekend is sufficient to cover snacks but if you want to go shopping, well then, that's up to you! We'll be taking care of your international travel – you'd just need to get yourself to the nearest airport, and back from the airport to your home when you return.
Where will we be staying? Do I need to bring a sleeping bag?
You'll be staying on the Yale-NUS College campus and in our fabulous student suites, which house between 4 and 6 students per suite in single rooms. You will be provided with linens, pillows, and towels.
I live outside of Singapore, will I need a visa to enter the country?
All participants traveling to Singapore need a valid passport with at least 6 months validity (from the date of EYW). To check if you require a visa, please refer to the
Immigration and Checkpoints Authority of Singapore
If you do require a visa, we will provide a Letter of Invitation, with which you can apply for a visa at an Embassy of Singapore or Consulate in a city near you. You will also require proof of intention to travel – so don't worry, we will be in touch!
What is the dress code?
Casual – it's Singapore! We want you to feel comfortable. We'll also be doing some walking on campus and taking you to see a hidden side of Singapore so you should dress appropriately for warm weather! T-shirts, jeans, bermudas, and sandals are all fine. Bring a jacket for the times we'll be indoors because the air-conditioning can get cold!
Do I get to take a class?
Yes! During the weekend, you will be able to take sample classes with our Yale-NUS professors who will be happy to talk to you and answer your questions. This weekend is a great time to ask questions about Yale-NUS!
Can parents attend?
If your parents are interested in coming for the weekend, please forward them the schedule. We do have some sections of the program reserved for parents and will send out a parent-specific program at a later date. Otherwise, the event is only for admitted students, as we want you to focus on making meaningful connections with your possible future classmates students and to have a great time!
My parents/guardians will be traveling with me. Can Yale-NUS arrange for their flights?
We're excited to meet all our participants and guests at Experience Yale-NUS Weekend and hope to make the process of arranging for travel as convenient as possible. We will arrange for the participant's flight (specific requests can be accommodated if made early) and we recommend that additional travellers use the same itinerary to book their own tickets. Seat choices can be made during check-in or prior to travel. Unfortunately, Yale-NUS College cannot make flight purchases or receive reimbursement for travellers other than our admitted students.
I'm vegetarian/ have allergies/ have food restrictions.
We're happy to cater to the needs of all our participants. We'll make sure that vegetarian and Halal options are available at every meal. In addition, when you confirm your participation, just let us know what your needs are and we'll do our best to accommodate you.
Who do I call in the event of an emergency?
There will be Yale-NUS staff present throughout the weekend. Yale-NUS College is also very near the National University Hospital, in case someone requires medical attention. In addition, when you confirm your attendance with us, we'll ask for an emergency contact and medical details.